Anyone Can Learn HOW TO RAP: The Origins of Rap Coaching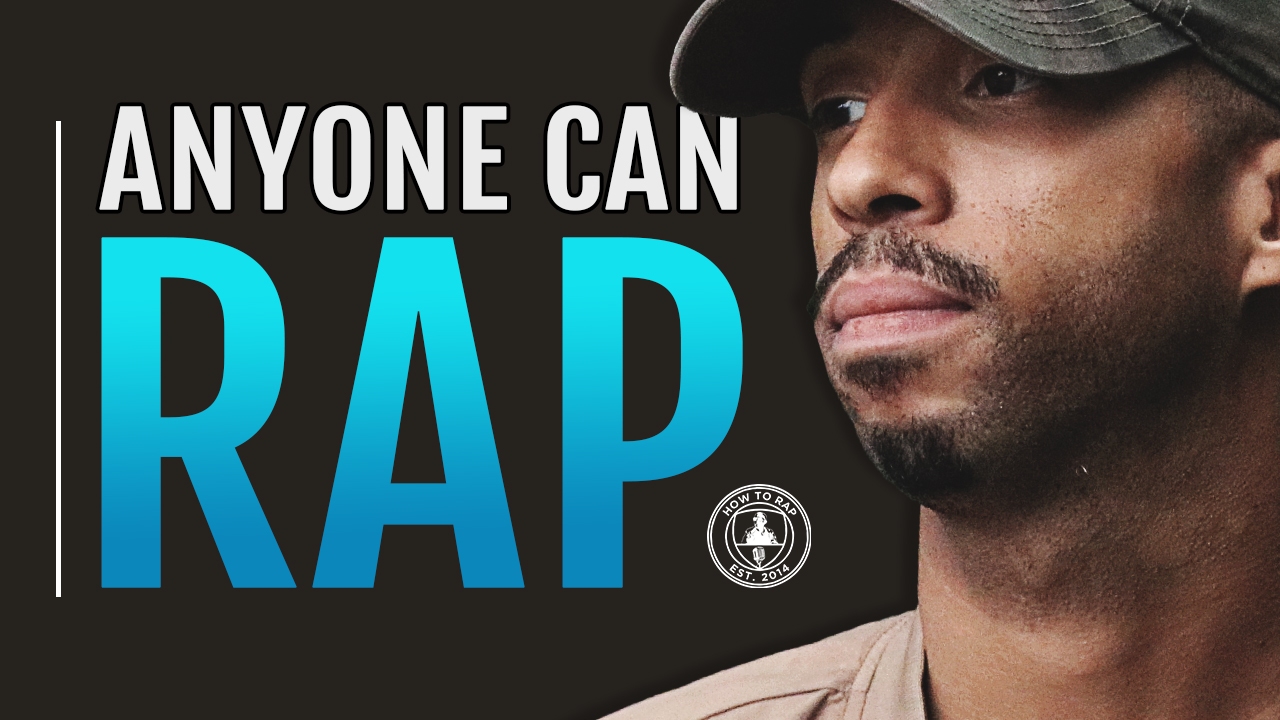 INTRODUCTION – Learn How To Rap
Y

ou can think of this article as sort of a re-introduction to "How To Rap".
Its origins as a movement, culture, and disruptor of the industry as it stands.
I get a lot of questions that circle around the motivation for something like this.
People want to know about rap coaching, music education in Hip-Hop, and why I started this gig at all:
"How does somebody learn how to rap? Can it be taught? Why are you even doing this in the first place?"
I figured the best way to answer all these questions in one fell swoop is tell you my backstory –
Where I'm from, how I got into music, why I started teaching it, and how it proves that anyone from any circumstance can do it too.
Now, in the words of Slick Rick The Ruler… "Once upon a time not long ago…"
THE OUTSIDER
I moved around a lot as a kid.
All on the East Coast of the US, but anybody from that part of the world will tell you every city might as well be on another continent.
I was born in Boston, MA, but quickly moved to Philadelphia, PA when I was around age 5.
(If you were to hardline ask me where I'm from, my gut reaction would say, "Philly". Philadelphians are prideful like that).
Even at such a young age, I felt like we had moved unannounced to a foreign land of concrete and cuss words.
I felt like an outsider.
I was always expecting us to move back to Boston at some point so I could go watch Drew Bledsoe and Patriots at Foxborough.
(Back then, I was happy just getting IN to the playoffs… my how times have changed)
The move back never happened, here I was stuck in Philadelphia in the 1990's.
Philly is and was one of the most working class cities in the entire country. A culture of "no emotion, say what you feel, and BE A MAN" was instilled into my psyche from the minute I stepped into my first day of school.
But me? I was an only child, bookish, class clown with two parents who'd used to school to make their way out of the segregated south.
(My mother can still remember the day they desegregated the schools in North Carolina. "I ain't goin' to school with those white kids!" one child said.)
I was told from day one that education was the only way out of a tough situation. But like any child at the dawn of the Internet Age… I hated school. I was too distracted with my own interests.
Music was played around the house constantly, but I wouldn't say I came from a musical family. It wasn't seen as a real "profession".
My father has a fantastic natural speaking and singing voice, but I never saw him perform anything outside of church hymns.
His true connection with music comes in the form of round-the-clock classical music blaring from the speakers in his home.
(The fact I'm a rapper who knows what the "Eroica" symphony is could be considered telling…)
My mom is a part-time singer who has performed at quite a high level, from the Kennedy Center to traveling tours… but again, it wasn't a profession.
PUT YOUR HANDS WHERE MY EYES CAN SEE
My first musical obsession was The Beatles… my best friend in childhood's father was a Hippie of sorts and introduced me to what is still quite a wild infatuation with the Fab Four.
The thing about The Beatles is — I never understood HOW they played their instruments. I wasn't "musically intuitive" that way.
I literally thought they just banged on the instrument and a preset tune got played like those preset pianos in hotel bars. I never looked at their hands.
The Beatles and a passing interest in my father's classical music filled my interest until one day after church I was being babysitted by some older kids in the hood.
These older kids were "cool" and listened to rap on MTV Jams…
…They didn't know about classical music or "white" stuff like The Beatles.
They took upon themselves to try to find at least ONE rap song that the quiet goofy only child would enjoy.
That particular afternoon, per usual they were letting MTV Jams run full volume in the background hoping young Drew would find something he would like when Busta Rhymes' "Put Your Hands Where My Eyes Can See" came on.
Just as they were about to change to another music channel, something in me changed.
"WAIT. Keep it on this channel."

"Ohhhh… he LIKES that one!"
They'd won.
The next big record was "Gettin' Jiggy Wit It". I liked Will Smith because he was from Philly (like me), funny (like me), and was something my parents didn't mind me listening to.
But my real passion was for the hard stuff.
DMX, Eminem, Jay-Z… the gangsta sound.
IT'S BIGGER THAN HIP-HOP
I liked rap because girls liked it. I liked rap because it's what the older, "cool" kids liked. I liked rap because it seemed "smooth" and "clean" in a way that I wasn't.
I liked it because it was so verbal… it painted pictures and told a story in a way that even "Yesterday" or "Hey Jude" couldn't.
It spoke in a way that I couldn't.
Rap was a way to "belong" in the "cool crowd".
Rap was a way to speak what I couldn't.
Yet… there was a major problem. Much like not understanding how the music came out of John Lennon's guitar…
I didn't understand WHY and HOW rap was better than everything else.
Why did rap SOUND so much better than other genres?

HOW did the vocals get on and lay PERFECTLY on the track like that?

Why did CERTAIN rappers sound good compared to others?

WHY did people think rappers were so COOL?

What's the SECRET to making good RAP?

And the most important question…

HOW CAN *I* BE AS COOL AS THESE RAPPERS?
I HAD to know the answer. So made a decision right then and there… a lonely outsider in the concrete jungles of Philadelphia.
I'M GONNA LEARN HOW TO RAP.
I GOT WHAT IT TAKES TO ROC THE MIC
Even in those pre-social media days, there were Internet sites and forums to reach out to people.
I figured what you do is just "find a manager" to sign you to his record label off of one rap, they put you in the studio… and off you go.
Beanie Sigel move offer, it's Drew's time.
I found a posting for a "music manager" we'll call GP. I chatted with him a couple times and got his number.
He answers the phone and asks me to spit something. As nervous as I am, I begin going acapella with no beat, mumbling what was probably incoherent gibberish for about 30 seconds.
"Stop right there", GP says.
"First off, you need to rap on a BEAT. All great rap tracks are over beats. Secondly, you need to make them into SONGS. People want SONGS, not just rhymes."
So wait, no record deal? No models and Maybachs? Just beats and songs?
"Call me in a few months when you have SONGS".
THE FILES ARE "IN" THE COMPUTER
I hang up the phone and immediately start figuring out how to get my vocals on a beat. This was the beginning of the piracy era, so FINDING an instrumental wasn't hard…
But, HOW DO I GET THE INSTRUMENTAL IN THE RECORDING PROGRAM?
14 years young, my best solution was… play the instrumental ALL the way THROUGH, OUT LOUD into a speaker while the mic records it…
…and THEN record vocals into the mic.
Needless to say THAT didn't work, but it was somewhat audible, so I realized I had to MASTER recording technology.
18 months later of headache and more importantly EARACHE, I had figured out how to embed instrumentals into a recording software, track out vocals, and export it to an .mp3.
ACCESS TO COOL
But I still sounded like a scared pansy on the mic. Again, I needed the cool older kids to guide me.
I started inviting the jocks and street cats in my area to record at my crib. I was living in my Mom's basement so we could go HAM as we wanted to without disturbing her (and no siblings to fight over the computer with).
I got a lot value out of those sessions because it gave me access to people who probably wouldn't have even spoken to me if I wasn't "that smart MF'er with the booth at his crib".
But no matter what, I had some access to cool.
ORGANIZED NOIZE
I started getting better and more comfortable recording, finding my "voice" thanks to quiet, patient study of the street dudes' bars… but my FLOW and RHYME CHOICE were horrendous.
I began on the next journey to find HOW rappers like Eminem, 2Pac, and Jay-Z always sounded so "organized" on a beat.
One epiphany I had centered around 2Pac.
2Pac was able to rap confidently and smoothly on almost any beat thrown at him… in a very consumable way.
(I remember once even my mother saying, "Who is this? At least I can understand what the hell he's talking about!" in reference to hearing 2Pac blasting from my room)
One thing I noticed about 2Pac is that his RHYMES and FLOW always seemed to land in the same spot. The bars all seemed to be about equal length… And the duration of each verse was roughly the same.
From this realization, I began to piece together the concepts of rhyme placement, verse structure, and "end of the bars".
I mastered the ability to write an "organized rhyme" from this insight over the course of the next couple of years. I felt like I finally "GOT IT", but one question remained…
"Did ANYBODY ELSE felt like I've GOT IT?"
I was good to me… but WAS I GOOD TO ANYONE ELSE?
I'd never really rapped for other people or 'shown' my music.
I realized that if I wanted to be taken seriously as a rapper, I'd have to start rapping in public and getting a name for myself.
It was time to test my music on the masses.
PUNCHLINES IN THE LUNCHLINE
Coincidentally, this was right around the time that my family made a move (not my choice) to Washington, D.C. from Philadelphia.
I had spent years trying to finally feel like Philly was "home", got a name for myself in the hood, began feeling like part of the cool crowd, and…
BOOM. An outsider again.
The new kid in another no-nonsense city with a funny accent.
(D.C. people don't say "jawn"… they say "jont"… and they don't "drawling"… they say "lunching". I learn this all the hard way.)
Guess it was time to go back to the only method I knew how to access cool…
…Learn something and test it out to see if people like it.
I began freestyling and playing my music at my new school.
This was sort of the generic "rapping at the cafeteria table" existence, but to be frank…
…The fact that I even had the balls to do it made me a lot of new friends.
Soon I had a little rap crew to roll with. We called ourselves "Fight Club" (still no idea why, but I liked the movie, so… F it…).
One of our crew was actually more naturally talented and "lyrical" than I was, but he didn't really "practice" much and soon I could surpass in him by sheer work rate and vocal intensity.
(I learned an important lesson there.)
While not exactly "dope" at this point, I saw how the power of teaching myself something and at least TRYING to put myself out there could break me out of my shell.
I began to feel like the key wasn't "tricking the cool kids" into letting me in…
…It was teaching myself how to be something more than them. It was learning, practicing, and then overpowering.
I no longer needed to access the cool. I needed to become the truth.
WELCOME TO ATLANTA WHERE THE PLAYERS PLAY
After high school ended, I entered into college at Morehouse in Atlanta.
Though this was yet another "no-nonsense environment" where it was easy to feel like an outsider (a dorm full of young black men listening to Young Jeezy 24/7 trying to find themselves)…
…I had found my footing as a rapper at this point and was able to flip the switch from day one.
I still remember freestyling for a group of brothers week one of freshman year, busting out an admittedly prethought line in the middle of a flow…
"I got a lavish lifestyle and EXPENSIVE HOMES…

B#!%H I'm RICH… my PISS smell like FRENCH COLOGNE!"
Then watched the whole room go crazy and start breaking the cheap off-brand furniture on some "HE THE SECOND COMING!" type of time!
The Atlanta years were no doubt gratifying and came with cool perks. I got my first meetings with record labels. I won street battles. I got other students to pay for my studio time 'cause they thought I'd be the future. I got girls. I made an album.
(Funny enough, one of my best friends in college signed with Swizz Beatz soon after, another dormmate is DJ Era [August Alsina, etc.] and another college acquaintance is none other than Jinx from Complex and State of The Union fame).
But finally feeling like I was part of the "cool crowd" came with temptations. Weed, ego, females… which fed into more insecurities.
"I'm the best in this rap thing in the whole campus… everybody loves me here… why am I not signed yet? Let me smoke this, drink that and think it over…"
My schooling took a hit. My friends stopped paying for studio time… I was too lazy. The girls didn't take me seriously anymore 'cause I wasn't doing shows. I stopped going to class.
WHILE MY GUITAR GENTLY WEEPS
Soon, I was back home with no degree, no clout, no nothing but some unused skills. I "accomplished" everything I wanted… got good at rap, got attention, got accolades… But I still wasn't an "insider".
Maybe it wasn't RAP that was the problem…
…It was the TYPE of rap I was doing.
I decided to rekindle my love for rock and pick up the guitar. If I could mix RAP and ROCK… this could be revolutionary. Beatles melodies and Kanye flows? Sign me up!
I started learning the instrument by watching free lessons and this new website called YouTube.
It was hard to take it serious at the time because most of what was on there was cats doing the moonwalk and minors drooling on themselves after getting a root canal. But there was a little corner of education channels that helped.
Around the same time, some old high school friends who remembered I could "spit a little flow" had started making rock tracks but putting Hip-Hop drums over the guitars… I was interested.
Plus they smoked alot of weed.
I walked over to the manager's house and on the first day we made two tracks that would eventually form into an album.
That album took us around the country on a tour and the adventure started again. This time… I'd finally take advantage. THIS time, I'd make something that last. THIS time, I WAS the cool older.
How naive I was.
Weed morphed into alcohol. College girls blended into groupies. Ego bled into full blown megalomania. I wasn't LIKE Kanye and John Lennon… I WAS THEM. Or so I thought.
Needless to say, after one too many cancelled shows and drunken stage embarrassments, the band broke up. Nobody left to listen to the songs.
Maybe music wasn't a profession after all… just like my parents had said.
THE NEW TELEVISION
I spent the next few years in what I call, "Good Not Great" purgatory. I was still a competent artist and usually the best rapper around, but I wasn't actively doing music. I was getting a "formal education".
Through pure grit and maniacal patience, I was able to move to California and secure a spot at as a transfer student at UCLA.
Los Angeles… city of angels, Tinseltown… HOLLYWOOD.
At the time, music wasn't on my mind, but I figured, again… it could make some friends and gain access to cool.
To pay the bills, I began writing articles for an entrepreneur who had a theory that someone could make a lot of money "coaching" people on a given topic through YouTube.
This guy was your stereotypical Russian businessman who had left the Communist Soviet Union as a child and become an uber-capitalist looking for the next billion dollar idea. This is pre-Gary Vaynerchuk, pre-Jake Paul, pre-YouTube as we know it. This was just a smooth talker who knew how to persuade people.
"YouTube will be the new television!" he would rant. "In five years time, YouTube will be the only video platform anyone will watch!"
I humored him but a part of me just thought he was making up for lost time in a childhood where he was expected to fix boots for a living. But I listened.
"Anybody can make coaching on YouTube! I can't pay you much… but if you know something really well and can explain it… we will make you rich coaching people! What do you KNOW WELL?"
Hmm… I thought. I used to do this music thing but that's all ego and a waste… but this Russian dude seems more passionate about this than vodka and caviar. I'll tell him.
"I mean, I know how to rap a little bit…"

"You know how to RAP? As in, the HIP-HOP?"

"Yes, as in THE hip-hop."

"GREAT! YOU WILL TEACH PEOPLE TO RAP ON YOUTUBE! Make me 30 videos in 30 days about whatever the most famous rapper is and we will do it!"
CONCLUSION
In hindsight, maybe I was just looking for another mentor like GP to tell me WHAT to do more than HOW to do it.
Maybe I was paying back those nameless faceless guitar teachers who helped take me around the country with their free lessons.
Maybe I just thought this Russian guy was funny and I'd do it just to show him it doesn't work for RAP…
…But in any case, I did 30 videos in 30 days trying this YouTube coaching thing.
(NOTE: For more on our current coaching options… click HERE). 
The first couple were rough. I didn't know how to speak to a camera. I had never explained anything I "figured out" in Mom's basement. I wasn't your stereotypical HARD MF'ING GANGSTA rapper.
But I kept shooting.
One thing about coaching, shooting video, or really anything creative is…
…It's the same process as when I first took that call with GP.
An expert gives you a mission… you follow that direction, come back, follow the next direction, and start to see a pattern form.
You don't ask a lot, you DO a lot. You don't think about yourself. You think about the goal.
Before you know it, you're good enough at getting the goal that OTHER people start coming to you.
You become the insider. You become the cool kid. You become the expert on the mission.
You become what you always wanted to be.
 — -
How To Rap was founded in 2014 as the Internet's first rap coaching company and leading 1-on-1 Hip-Hop lesson program. It currently stands at about 200,000 subscribers and more than 1,000 students personally coached by Drew himself.
---
Subscribe to Rap Game Now on YouTube
Follow Rap Game Now on Instagram
Follow Rap Game Now on Twitter
Follow Rap Game Now on Reddit
---
COMMENT BELOW:
How did you discover How To Rap / Rap Game Now?