The New Kendrick Album: Everything You NEED To Know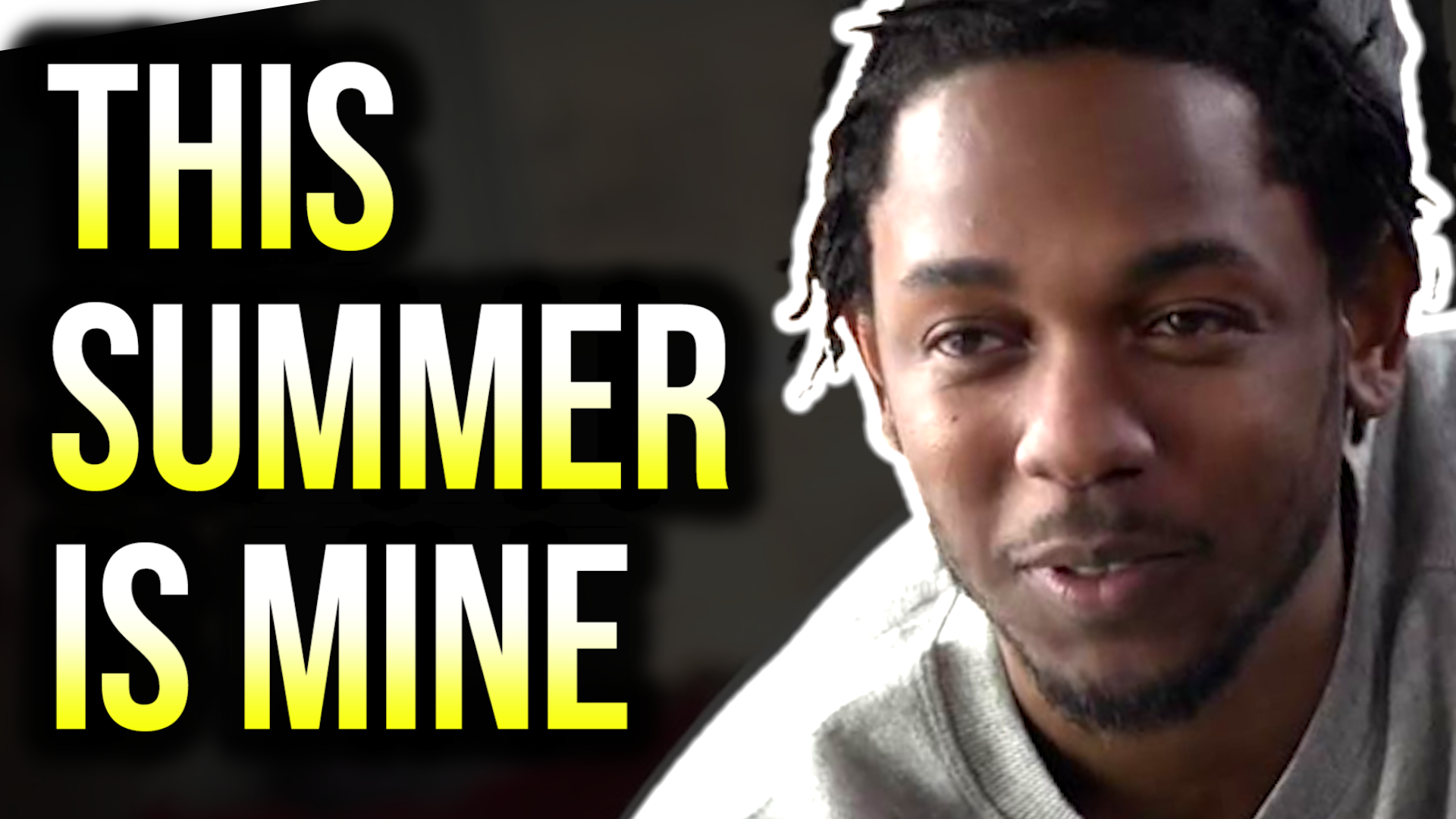 Damn. It's been five years since Kendrick's last album Damn (2017) dropped. 
That album still sounds fresh as hell almost as if it dropped yesterday.
Its ability to weave everything from social commentary in songs like "DNA" to romantic songs that don't sound soft for the fellas like "Love" and "Loyalty" all the way to straight #1 singles such as "Humble" still impresses Hip-Hop listeners in 2022. 
But Damn isn't what we're here to talk about. For all the Kendrick fans out there, this week couldn't have been better. 
News of his new album dropped earlier this week and the internet went abuzz with excitement for Kendrick's new project Mr. Morale & The Big Steppers.
On 18th April 2021, signed oklama, Kendrick shared an image on his website and on social media with a letterhead of PGLang. It read:
"From the desk of oklama.

For immediate release.

Los Angeles. CA. (April 18. 2022) – The following statement was released today by oklama, through his company pgLang at 11:00am PT in Los Angeles, CA:

Album: "Mr. Morale & The Big Steppers"

Release date: 5/13/2022

AII factual information for this release will come directly from this source only. "

Kendrick Lamar Instagram Page
Well, we can never doubt that Kendrick will find an artistic way to drop a napalm bomb on the rap world. 
Today, let's discuss everything you need to know about the new Kendrick album, offer some speculation on what it might sound like, and what we in the How To Rap nation think this album needs to do to keep solidifying King Kenny's place in the greatest of all time conversation. 
However, before we get the fun side of speculation…
5 Years Before The New Kendrick Album…
A lot has happened in Kendrick's life since he dropped Damn in 2017, a commercial and critical success. 
In 2018 he followed up the album with the release of Black Panther: The Album, a soundtrack for the Marvel Cinematic Universe movie Black Panther which he produced and curated. 
The project featured on the Billboard 200 reaching platinum status in the United States. Kendrick contributed vocals to all tracks on the album including contributing additional vocals for which he didn't take credit while producing a number of tracks. 
Sonically, this album showed even more of Kendrick Lamar's range, since it included a much more aggressive tone that a lot of his solo work which emphasizes introspective relaxed tracks as much as actual singleworthy bangers.
Could we look forward to hearing a more aggressive "Control"-verse-style Kendrick come back into the fold with his new album? 
It's totally possible. If you listen to his verse on Baby Keem's "Family Ties" from last year, there was definitely a bit of "I'ma get at ALL you rappers" energy to it. "New flows coming, be patient – brother", indeed.
The Black Panther album also allowed us to hear Kendrick collab with the likes of SZA, SOB X RBE, Zacari, Jay Rock, Future, James Blake, Travis Scott and The Weeknd. Accompanying all this was the opening track "Black Panther" performed solo by Kendrick. 
The album allowed Kendrick to explore new styles and song structures which we wouldn't have heard him do, considering Kendrick's penchant for concept albums.
Pulitzer Prize Kenny
In 2018 Kendrick was a recipient of the Pulitzer Prize for Music for the album Damn. This represented a big step for hip hop at large, being the first non-jazz, non-classical album to win the prestigious American prize. 
Given the almost "novel-like" title of the new Kendrick album, we at How To Rap News figure it wouldn't be much of a surprise if the new project was another ambitious, To Pimp A Butterfly style magnum opus. 
Whereas Damn had a short, to the point title that mirrored the stripped back production and coming-for-your-neck bars of tracks like "DNA" and "Humble"…
To Pimp A Butterfly's title indicated an artistic edge that mirrored the expansive sonic qualities of that record.
The Pulitzer board at the time noted that Damn was "a virtuosic song collection unified by its vernacular authenticity and rhythmic dynamism that offers affecting vignettes capturing the complexity of modern African-American life." 
The New Yorker quoted Dana Canedy, the administrator of the award, noting that "It shines a light on hip-hop in a completely different way. This is a big moment for hip-hop music and a big moment for the Pulitzers." 
That's some GOAT status achievement.
Kendrick Lamar's Mainstream Accolades
In the same year, at the 60th Annual Grammy Awards, Kendrick was nominated for seven awards eventually winning five of them: 
Best Rap Album, Best Rap Performance, Best Rap Song, Best Music Video, and Best Rap/Sung Performance. At The Grammy's, Kendrick performed an epic medley of "XXX", "Lust", "DNA", "Humble", "King's Dead" and Rich the Kid's "New Freezer". 
The stage show showed another side of Kendrick displaying his skill of staging a performance, a spectacle.
In 2018, Kendrick made his acting debut in the fifth season in the TV series Power, portraying the character of a Dominican drug addict named Laces. Kendrick was drawn to the character as he wanted to present a persona that was a departure from his musical persona. 
For the role he drew inspiration from various people he knew in Compton.
In early 2018, Billboard reported that Kendrick's deal with Warner/Chappell Music was coming to an end. 
Top Dawg Entertainment which manages Kendrick was "considering offers between $20 million and $40 million" for his catalog. Kendrick has his business partner Dave Free co-founded PGLang in 2020. 
PGLang is a multi-disciplinary media company that is more than "a record label, a movie studio, or a publishing house" focusing on "cultivating raw expression from grassroots partnerships".
In 2021, Kendrick featured on a single with his cousin Baby Keem's single "Family Ties" from his debut album The Melodic Blue, becoming the first album released through PGLang.
As mentioned before, the Kendrick we heard on this record was aggressive, direct-to-other-rappers… going back to his "Control" and "Backseat Freestyle" era days. 
This might be an indication that at the very least we will get some straight shots to the music industry like we expect every once in a while from Kung Fu Kenny.
The single "Family Ties" received two nominations at the 64th Annual Grammy Awards for Best Rap Song and Best Rap Performance. It bagged the Best Rap Performance for the 2022 Grammy.
What Will Kendrick Tell Us On The New Album?
Signed oklama, Kendrick made a blog post on 20th August 2021 describing his work on the upcoming album,
"I spend most of my days with fleeting thoughts. Writing. Listening. And collecting old Beach cruisers. The morning rides keep me on a hill of silence.

I go months without a phone.

Love, loss, and grief have disturbed my comfort zone, but the glimmers of God speak through my music and family.

While the world around me evolves, I reflect on what matters the most. The life in which my words will land next.

As I produce my final TDE album, I feel joy to have been a part of such a cultural imprint after 17 years. The Struggles. The Success. And most importantly, the Brotherhood. May the Most High continue to use Top Dawg as a vessel for candid creators. As I continue to pursue my life's calling.

There's beauty in completion. And always faith in the unknown.

Thank you for keeping me in your thoughts. I've prayed for you all.

See you soon enough."

Kendrick Lamar Blog Post
And there you have it. Kendrick announced his departure from Top Dawg Entertainment, announcing that the upcoming album would be his last with TDE. The setting up of PGLang was a sign of things to come, of Kendrick taking his rights into his own hands.
A new "free" – or at least – independent Kendrick could be even more of a wild card (in a good way). 
Even though TDE clearly has given Kendrick complete creative freedom on his projects…
Certainly any artist must consider the "tone" of the label as far as branding and marketing when developing their work.
This is part of the reason why something like The Black Panther album would be so infused with a TDE-esque grungy sound and have a lot of the artists from that label on there.
As Kendrick develops his own, non-label tied brand, we could see him get weirder and funkier as he has tended to do between his more commercial albums such as DAMN. 
Trap Commentary Kendrick?
Additionally, the use of "Big Stepper", a common trap rapper slang that has been recently making the rounds in the culture might be an indication of the political commentary we'll hear on the album.
Certainly Kendrick must be aware of Roddy Ricch's single "Big Stepper" and while that wasn't a smash hit, the title of the new Kendrick album be a subtle indication that we'll hear some new statements on the current vibe of the rap game. 
It was just a few short years ago when we heard the title for a new J. Cole album, "K.O.D." and learned one of its meanings was Kids On Drugz. Needless to say that title did align with the album's core messages, as J. Cole dropped iconic tracks on there about money, 15 minutes of fame, and much more… all of which were occurring at the time in the "clout rap" era. 
Lastly, Kendrick has never been one to shy away from address the "elephant in the room" when it comes to the rap industry. 
We all remember the "Control" verse and what it did not only for Kendrick's career, but the for the culture in general when we really had to accept that there was a new generation of rappers such as King Kenny coming for the crown. 
The New Kendrick Album Is Less Than A Month Away
The new Kendrick album comes out May 13th, 2022… just a few weeks away! 
Kendrick has taken full control over the narrative of his work now. The announcement for the album which will be his last with Top Dawg Entertainment was made with a letterhead of PGLang. 
This album looks to be a transitional album for Kendrick, an album that will be his last with the management and label he worked with for more than a decade.
At the same time, the album is already pointing toward a new direction in Kendrick's life.
We only wish that the upcoming album, Mr. Morale & The Big Steppers, will be as great and memorable as his previous outings. 
Let us know in the comments:
What do you think the new Kendrick album will sound like? How do you feel about predictions for the project around trap commentary, a more epic sound than Damn., etc.?