First Steps As A Rapper: Free Resources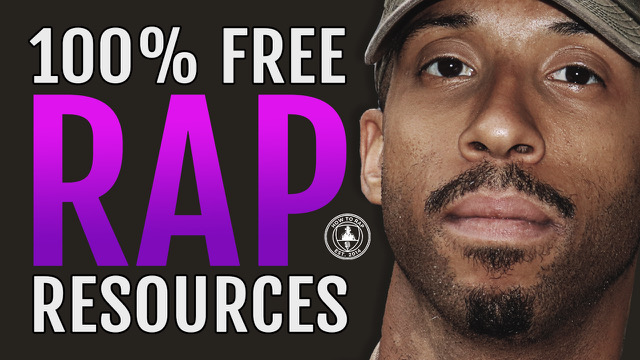 Today's article is going to be full of FREE resources for you to learn how to rap and start a career from the ground up!
I want to give you a walk-through how to best use this blog…
Your best first steps as a rapper…
How to get free video content on the regular on your music career…
And EVEN a free book!
So sit tight and read this whole thing (it's short with bullet-points), to get the most free value today!
Overview
Freesource Sundays
Every Sunday, for the foreseeable future, we're going to give away a bunch of free goodies to for following us…
Somedays it will be free books (as it is today), somedays free courses, somedays entire home studios!
But no matter what, we will be giving away some kind of free value.
So be sure to sign up for notifications on your browser to get the free sh*t ASAP!
How To Best Use This Blog
We're going to cover how to get the most information from this blog using the search tool, how each article works, and much more.
How To Get Daily Instagram Training
We'll show you how EVERY DAY, even on Instagram, you can be getting free training from us!
Why Are We Doing This?
First and foremost, let's breakdown why we are ramping up the free value in the 2020's.
While we've done a lot of "good" for people over the last five years, we haven't really given a MAJOR free resource outside of the How To Rap YouTube for people to access.
We haven't really had an organized system for our years of information to be accessed…
I mean we have some playlists, some longer tutorials…
…But nothing easy to access anytime you want from comfort of your home or studio.
Initially I thought, let me make a dope free resource to get the ego validation of, "I give the most value online! Look how cool I am! Gary Vee would be proud!"
I also, to be honest, wanted to have my own free stuff to brag about when I go to networking events and stuff like that…
Sometimes I can be SO petty!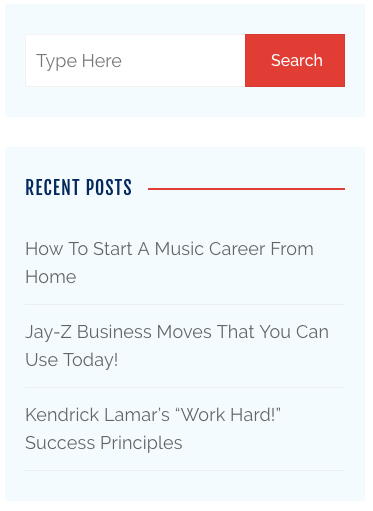 Most Music Career Advice Is Trash
But what was really going on is this dark voice in my mind that told me:
A lot of the information online isn't based on actual experiences, it's more based on regurgitating basic ideas ("be consistent", "stay inspired")
A lot of the best information online wasn't easily findable or searchable!
I personally wouldn't read much of the so-called "rap magazines" or rap media… they teach you NOTHING!
The truth is…
Nobody is able to search the new 5+ years of in-depth rap coaching we've done up to this point.
They're not able to get a quick "refresher" of the ideas we've covered, without having to scour YouTube or get distracted on other social media platforms.
And at a base level… nobody is able to access our ideas easily for free.
If you have a question specifically about FLOW… or FREESTYLE…
It's straight up difficult to find our take on it.
SOMETHING HAS TO CHANGE.
The Solution To Bad Music Career Advice
I realized that… if we were to make a blog of SEARCHABLE articles of every concept we've EVER taught online…
…Totally for FREE…
People could get the BEST info INSTANTLY by just typing in the word they're looking for.
If we were able to provide WEEKLY updates on the best articles and info we've recently covered…
…And ALL the free goodies we're giving away…
It would be EASY for you to get the EXACT info you want and need, with NO hassle…
EVEN BETTER…
What if we were to put the SAME information on the world's most active platform…
INSTAGRAM?
This was a no-brainer to me.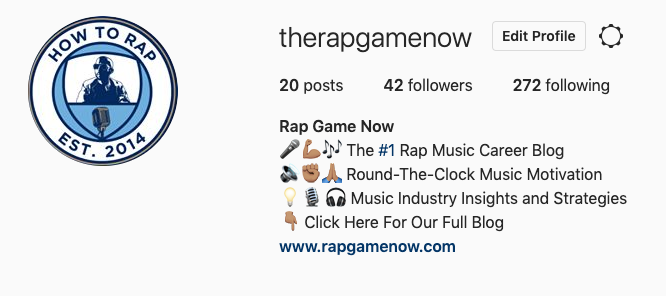 FREESOURCE SUNDAYS
So, let's cut to the chase.
Every Sunday, for the foreseeable future… we're going to be giving away free goodies.
This may be a course, this may be a book, this may be an entire studio…
But we're giving away the GOOD stuff.
Here's a list and breakdown of the free stuff from today…
RAPGAMENOW BLOG
This blog itself is the first free goodie.
The best free resources about this blog:
Search Function
On the right hand side of every post, you will see a "search tab" which you can use to look up ANY subject you want.
So, let's say for example you're a big J. Cole fan and you want to learn more about our breakdowns of him…
Simply look up "J. Cole" and you'll get a bunch of different articles to choose from.
Similarly, if you're looking for an old YouTube training of ours, let's say on "flow"…
You can look it up easily and get our whole history of trainings.
2. Daily Articles and Videos
Every video we release comes with an article, so you'll have daily access to TONS of NEW information on top of the old stuff.
The best way to make use of this is sign up for the "notifications" symbol you'll see come up after you visit the site for the first time!
(NOTE: If you've visited and said NO to the option, simply go to an Incognito or "Private" browser, wait for the pop-up, and then put in your info)
3. Easy To Read Bullet Points
If you ever just want to QUICKLY brush up on the main points of a subject, you can go to this blog and just skim the headlines of each paragraph.
Each article will be formatted in a way that you can just get the main ideas and not have to read the WHOLE article.
Of course, even better if you want to read EVERYTHING…
…But we wanted to make it so easy that if you even get stuck in the studio IN THE MIDDLE OF A SONG…
…You can visit us and get the ideas, then BACK to the BOOTH!
Now, we're still busy populating this blog with the older articles from FIVE years of training, so definitely stay tuned, but we have about 25 articles ALREADY to start with…
HOW TO START A MUSIC CAREER FROM HOME FREE BOOK
Our second free giveaway today is a whole book!
We mentioned this in yesterday's article, but essentially we've written an entire book JUST about how…
How to record an album at home that can jumpstart your music career
How to soundproof your room using existing materials to make a home studio on the cheap
How to make money on the side to start a music career even with a job or school
And MUCH more!
ANY TIME you want to access the book, you can click HERE or even just click the "start a rap career" button on the top left of this page.
RAPGAMENOW Instagram
And the BIGGEST announcement (possibly) is that we are going to take ALL of the information on this blog and put it on an Instagram page…
So that you can get the bullet points even on IG!
IF you're anything like me, when you're on Instagram you get easily distracted by memes, hot girls, money, etc.
It's sometimes even hard to remember that you're a MUSICIAN let alone what to do next…
…So we figured WHY not just make an Instagram page you to go to so that you can always be reminding yourself of the fundamentals of what to do next?
We went ahead and PULLED the trigger on this idea, and we're proud to announce…
Rap Game Now: The Instagram Page
Here, you'll get the bullet points from each article FOUR times a day…
Basically around the clock!
So even if you don't want to watch a VIDEO…
Even if you don't want to read a whole ARTICLE…
You can still be getting round the clock free training!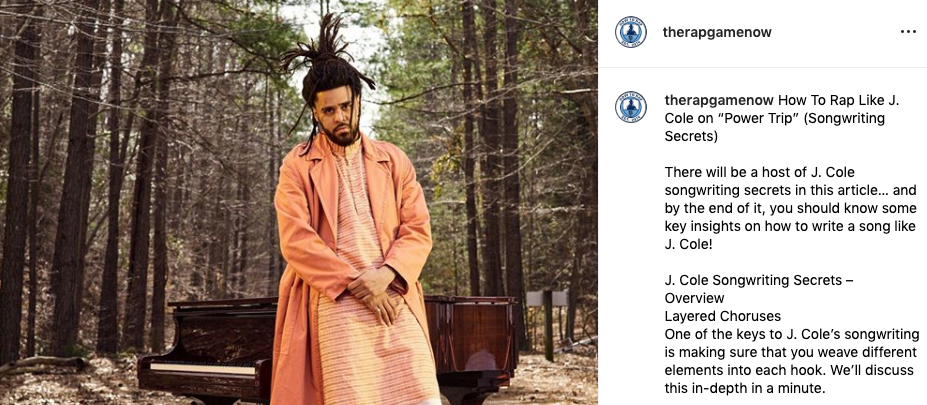 First Steps As A Rapper: The Easy Way
At the end of the day, our goal is simply to offer education to those that want it.
If you watched yesterday's video, you heard about how I was raised to believe education is the way out of a tough circumstance…
…And the way to a career worth being proud of.
We want rappers from EVERY country in the world to

get a charting hit.

We want artists from EVERY background to

make it.
So we're giving our 110% BEST to make that possible and easy to do!
Conclusion:
Free Sh*t Sundays
We're giving away free goodies every Sunday for the foreseeable future. The easiest way to know about these quickly is:
Sign up for notifications in your browser from this site
Subscribe to our YouTube and join our notification squad, the "Bell Bangers"
Follow on Instagram so you know when we're releasing new free stuff
How To Use This Blog
Let's breakdown how to use this blog easily and get the most free value:
Search ANY TOPIC you like quickly and easily in the top right corner
Read a new article EVERY DAY on the front page
Look for BULLET POINTS in each article to brush up on info quickly
How To Start A Music Career From Home Free Book
Click HERE to access our free book about how to start a music career from home, or simply click the "start a rap career" button on the top right.
Rap Game Now Instagram
Every day, FOUR times a day, we will post the bullet points from our articles on our Instagram!
You can now get round-the-clock free tips by simply following us.
Click HERE to follow our Instagram.
---
---
Comment below:
Which free stuff from today are you MOST excited about?