Nas Biography: A Hero's Journey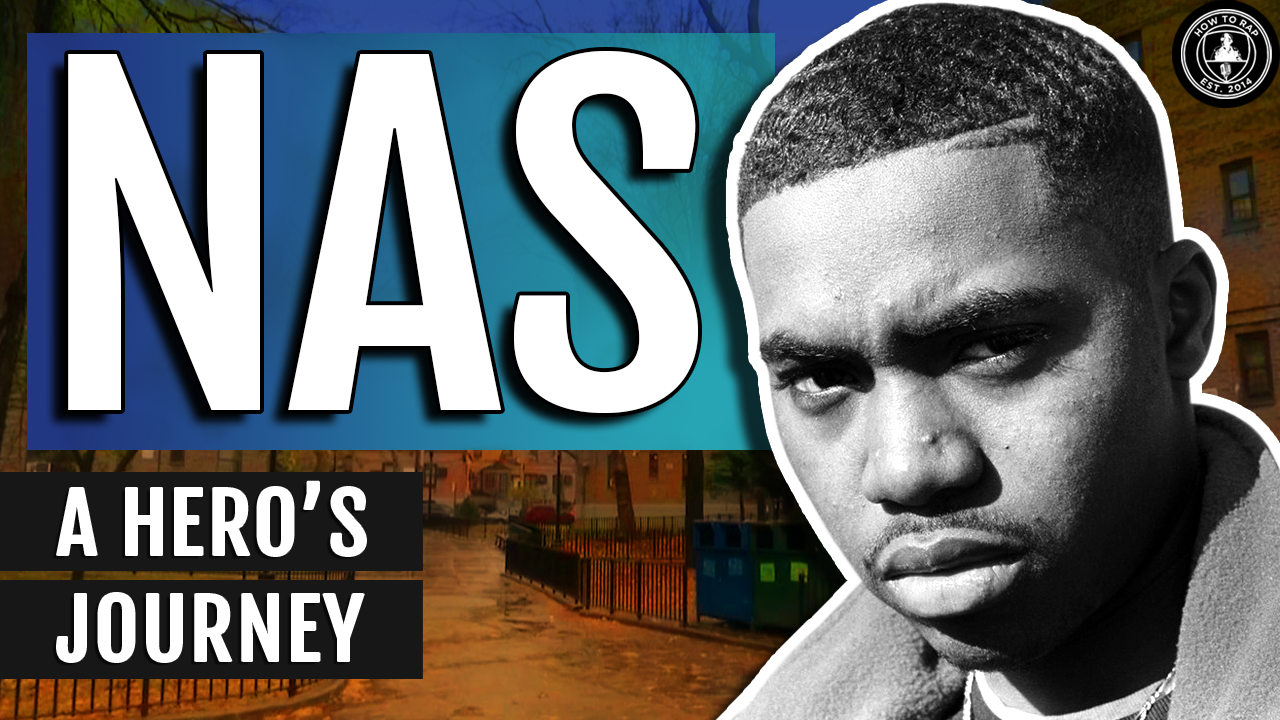 The literary scientist of stories, Joseph Campbell, created 12 steps to storytelling, known as The Hero's Journey.
If Campbell's process was good enough for George Lucas to create Star Wars, it is good enough for hip-hop. 
Queens New York King, Nasir Jones, has made street poetry his goldmine, dominating the mic as Nas. 
But how did he grow from the gritty Illmatic housing project survivor to the millionaire father of two whose Life is Good? 
Let's take a ride down Memory Lane for the hero's journey of Nas. 
Queensbridge – "The Ordinary World"
How did a kid like Nas, that dropped out of the eighth grade, become one of the most clever, vivid, ambitious lyricists in hip-hop? 
A curious mind and an environment of legends served Nas well. 
For Nas, growing up in the notorious Queenbridge Houses, the largest public housing project in the United States, was like a who's who of hip-hop in the 1980s and 1990s.
Havoc from Mobb Deep, Capone from Capone-N-Noreaga, Cormega, MC Shan, Marley Marl, Roxanne Shante, Tragedy Khadafi, Nature, and Craig G all called Queenbridge home. 
Soaking up game all of these artists, many who put out albums before or during Nas's creative coming-of-age, helped him set his bar high. 
Music was clearly in his Long Island City-located apartment when Nas and his younger brother Jabari were growing up. 
His father, Olu Dara is a recognized jazz and blues musician. His mother Fannie Ann was a postal worker. 
Unfortunately Nas' parents divorced in 1985, before he became a teen.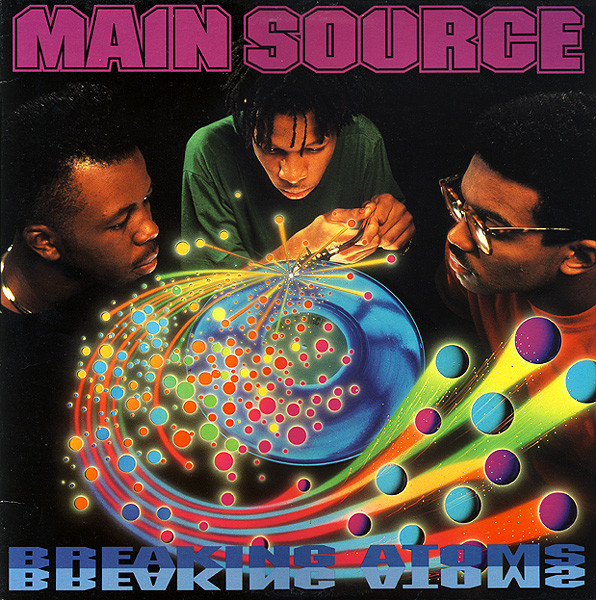 Illmatic – "The Call To Adventure"
What got young Nas out of shy mode and ready to get Illmatic? First, he would get Live at the Barbeque thanks to his early mentor, demo producer, and collaborator Large Professor.
Large Professor had already introduced Nas to legends like Eric B. and Rakim and Kool G. Rap, artists that the Profess was putting in production work for. 
When Large Pro put out his first album Breaking Atoms with his group Main Source with Toronto DJs and producers K-Cut and Sir Scratch, Nas the recording artist was born. 
Main Sources 1991 posse cut "Live at the Barbeque" featured Large Professor himself, Akinyele, Joe Fatal and a teenaged Nas—who was the clear stand out—and had the first verse.  
One year later MC Serch went solo from his group 3rd Bass, and created with own "Live at the Barbeque" sequel called "Back to the Grill."
This time, Nas showed he could hold his own lyrically with rappers like Red Hot Lover Tone, and also Serch and Chubb Rock, both who had put out multiple albums already. 
Could it be that Nasty Nas, as he first was called, was rapping since 10 years old? 
On his first solo single "Halftime" that first appeared on the soundtrack for the Zebrahead and then his debut album Illmatic, Nas spit these words:
"Back in '83 I was an MC sparkin'

But I was too scared to grab the mics in the parks and…"
Being that Nas was born in 1973, if he was rhyming on any level in 1983, that puts him only a decade into his life. 
But when Illmatic arrived, the term "instant classic" appeared to be born that day in 1994. The Source magazine, basically the bible of hip-hop back then, gave it a perfect 5-Mic rating. 
Nas even broke the typical mode of one producer working with one rapper.
Illmatic had the largest and most-wanted New York City beat flippers… Pete Rock, DJ Premier, Q-Tip, Large Professor, and also Nas' local Queenbridge homie L.E.S.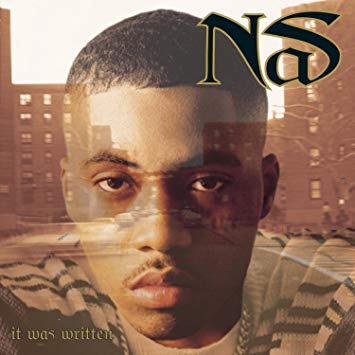 It Was Written – "The Refusal Of The Call"
The heavily bootlegged first album Illmatic set the world ablaze, and Nas was being called the second coming of Rakim, who many believed was the greatest rapper ever.
MC Serch, who shopped Nas' demo to record labels and helped make his Illmatic record deal happen, stated his love for Nas by saying: 
"If you trace hip-hop, every three or four years there's a group that breaks the mold. Nas is the new heart of what hardcore hip-hop is going to be about. Besides being the most prolific artist I've ever heard in my life, he is pound for pound, note for note, word for word the best MC I ever heard in my life."
After Illmatic, Nas was the army jacket-rocking, Timberland boot-stomping bar of quality that every lyrical legend was being compared to in 1994 and 1995. 
But when Nas returned with his sophomore album It Was Written, we were greeted with a smoother, slicker Nas. 
"If I Ruled the World" featured Lauryn Hill came as the first single, and as a shock to loyal fans. 
Lauryn's group The Fugees who put out the diamond-selling album The Score the same year as It Was Written wasn't rapping with Nas on "If I Ruled the World," she was singing. 
Where were the creatively grimy beats from Pete Rock and Q-Tip? They were replaced by a slicker sound from The Trackmasters and Dr. Dre. 
Had Nas sold out from being a street discipline to claiming a mafioso thug image as Nas Escobar? 
Was Nas trading stylistic sides and following the West Coast Dr. Dre in the midst of the media-exploited East-Coast-West Coast beef that was between 2Pac and The Notorious B.I.G.?
Between It Was Written and the heavily Dr. Dre-produced super group album from The Firm, consisting of Nas, AZ, Foxy Brown, and Nature—Nas had his own followers fairly confused. 
Crossing The Threshold
Financially, both It Was Written in 1996 and The Firm's album in 1997 seemed to outsell Illmatic… but lack the debut's unanimous critical acclaim.
Was there a way that Nas could combine the hood philosopher of Illmatic with the gangsta perspective of It Was Written? 
 This attempt took place at the end of the millennium in 1999 when Nas dropped two albums: I Am… and Nastradamus. 
These were originally going to be a double album but were released separately—each continuing the artwork style of a version of Nas in front of Queensbridge Houses. 
The I Am… picture Nas as an African pharaoh. The photographer Danny Hastings described it by saying:
"The first one, you have him being a boy, very young. The second was a little bit older. And the third one, he was a king…He already conquered the world. He was on top of the world. He was doing a lot of big things. We came with the concept of making a King Tut sarcophagus piece."
This album featured two pivotal singles that helped Nas address his haters, literally with the club-rocking hit "Hate Me Now" with P. Diddy.
"Nas is Like" was produced by DJ Premier, and was the rawer Illmatic side of Nas' hero journey.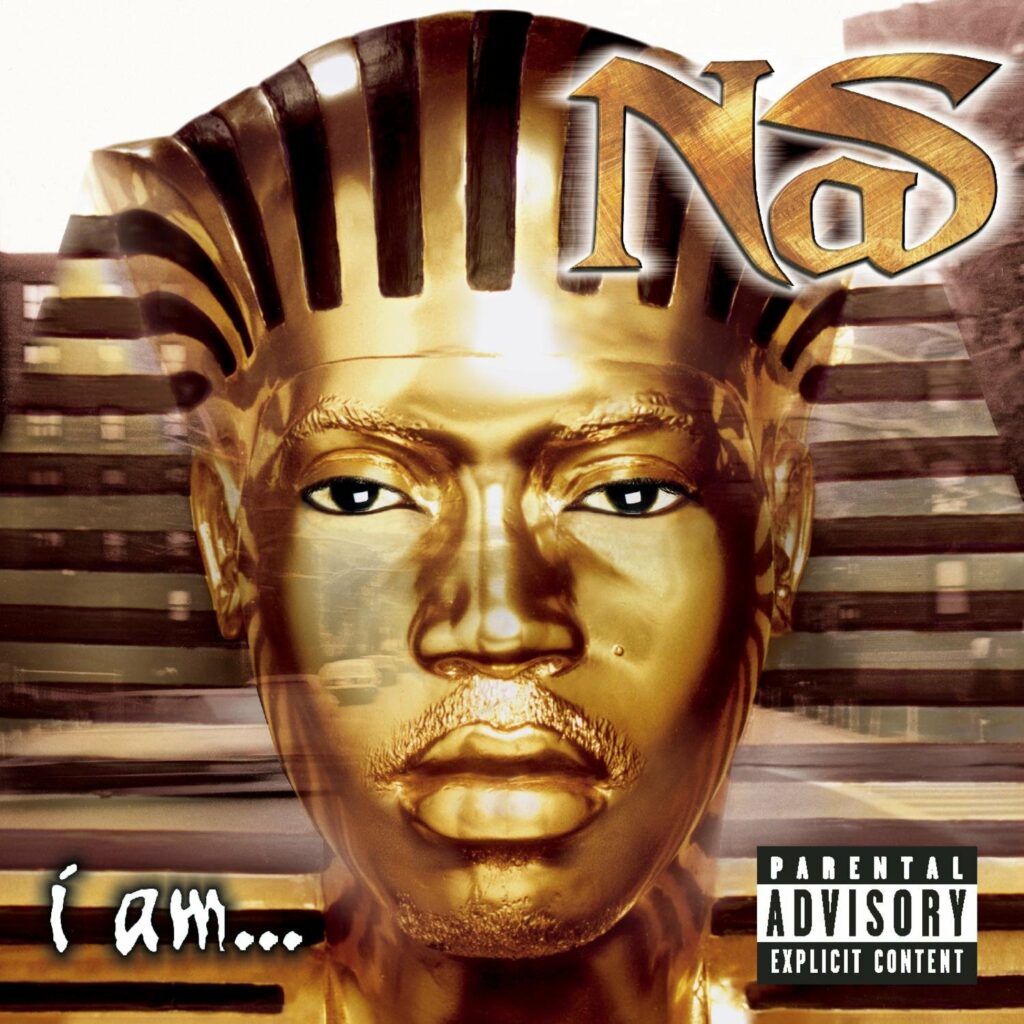 Bad Boy – "Test, Allies, Enemies"
Puff Daddy and Nas wasn't an allegiance that hardcore hip-hop fans were willing to openly embrace back then.
There was a quote-unquote hip-hop culture movement and a more glamour party vibe happening with the radio domination of artists on Diddy's Bad Boy Records.
Nas was not only caught up in the middle of the rap divide, but he literally had rappers coming for his head.
Between 1996 and 2002, Nas was feuding with 2Pac, Cormega, Cam'ron, Noreaga, and arguably his biggest match—Jay-Z. 
The love it or hate it space for Nas opened wider when he co-starred in the crime cult classic movie Belly with fellow hip-hop heavyweights Method Mad and DMX.
Nastradamus – "Approach To The Innermost Cave"
Is the Nastradamus album that lower point in his career when he was truly trying to find himself and even questioning who he is?  
The singles "Nastradamus" and "You Owe Me" were radio-friendly tracks that seemed to push toward the more R&B-ran pop world of 1999.
This lane didn't seem to gel with the more rugged side of Nas' playbook. 
Two albums in one year, and two albums that many fans pretend never happened, created a creative low-point for Nas to rebound from. 
Beef – "The Ordeal" 
In 2001, Jay-Z was considered the King of New York in rap music, Nas was the prince who aimed to be king. 
But without a single respected album in years, Jay-Z took that spot and ran with it. 
In the process of dissing Nas associate Prodigy from Mobb Deep, Nas caught the smoke too, breathing in fumes from Jay's diss "Takeover" with lines like:
"No, you're not on my level, get your brakes tweaked

I sold what your whole album sold in my first week

You guys don't want it with Hov

Ask Nas, he don't want it with Hov, no!
The Kanye West-produced "Takeover" wasn't just some little mixtape song circulating among hip-hop purists. It was prominently featured on Jay's 911-release date album The Blueprint 
Now Nas had to respond, but how would he choose to move?
The song was called "Ether" and it was a harsh, verbally fierce attack that Jay-Z heard loud and clear, especially with lines like: 
"When these streets keep callin', heard it when I was sleep

That this Gay-Z and Cock-a-Fella Records wanted beef

Started cockin' up my weapon, slowly loadin' up this ammo

To explode it on a camel and his soldiers." 
The beef kept burning up into 2002.
Nas wasn't allowed to perform at Hot 97 Summer Jam allegedly because he was planning to perform the song Ether with a mock lynching of a Jay-Z doll. 
Nas the went all the way angry and appeared on Hot 97's competing station Power 105.1 days later and not only dissed Jay-Z, but called out Nelly, Noreaga, and Cam'ron.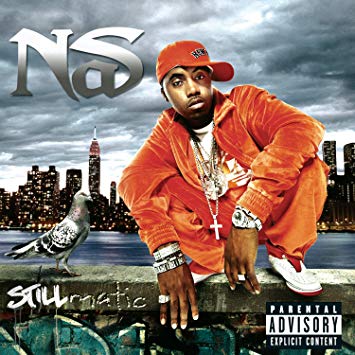 Stillmatic – "Reward (Seizing the Sword)"
Stillmatic, Nas' ode to Illmatic, including production from his before-mentioned mentor Large Professor and the epic Jay-Z battle proved that if Nas was gone—now Nas is back. 
Stillmatic gave us some of Nas' best storytelling, like "Rewind," where he literally tells a tale from its end to the beginning.
"You're da Man," "2nd Childhood," and "One Mic," all proved that the street disciple was back on patrol, making music for the mind…not just nightclubs.
As a wink to Illmatic, the song "The Flyest" he brought back AZ, who came to our attention special delivery, from his Illmatic feature back in 1994. 
We may all be enjoying The Lost Tapes 2 right now. But this concept of Nas giving us his previously unreleased heat began in September 2002. 
God's Son was another critically-acclaimed album Nas graced receptive audiences with in 2002. 
Day-one fans were over joyed to hear the Illmatic hardcore quotables on "Made You Look."
If there was ever any question about Nas' ability to enlighten the world with social commentary and speak on behalf of people of color…you heard it on The Lost Tapes.
"Doo Rags," "Black Zombies," and "Purple" were all soulful, intellectually stimulating gifts.
"Blaze a 50," "U Gotta Love It," and "No Idea's Original" gave us that cinematic Nasty Nas meets Nas Escobar flavor, straight from the passenger seat of a getaway vehicle.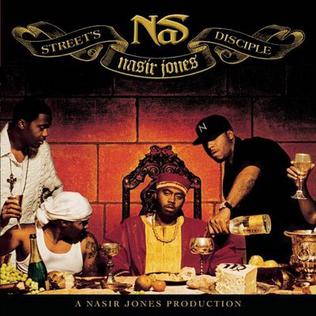 Street's Disciple – "The Road Back"
This wasn't the end of Nas' evolution into his elder stateman role that speaks for hip-hop culture, but also likes to pop champagne, wear high end fashion, and date models.
Street's Disciple pointed back to Nas' origin story with its title, a phrase Nas spit back on Main Source's "Live at the Barbeque." 
Street's Disciple was not only a double album, but it was Nas' seventh consecutive platinum record in the United States, released on November 30, 2004.
There wasn't a picture of Nas in front of his projects. But it utilized something spiritual in the form of a reenactment of The Last Supper from the Bible.  
When it came to producers, the deck was stacked with talent like Q-Tip, Salaam Remi, Buckwild. 
Nas was clearly aiming for making the headlines ring loudly with his name when his next two albums dropped.
The controversial titles of Hip Hop is Dead in 2006, and N**ger that was later switched to Untitled… depicting Nas with his back having bruises that resemble a slave whip in 2008.
"Life Is Good" – Resurrection
Finally, we got a Nas album since God's Son where he appeared to be genuinely happy, so much so that he literally told us so with its title… Life is Good.
"Nasty" and "The Don" were the lead off singles and were lyrical bangers. 
But this time, it didn't sound like Nas was back, he proved to us that he never left. 
Everything from knowledge, bragging rights, clever lyrics, and one of the greatest voices in hip-hop were here, and here to stay.
But it was his song "Daughters" that showed his growth, from the point of view of a disenfranchised youth, but as a man with a young woman to raise. 
Nas proved that he was willing to grow up right along with his audience, and still be a role model for the younger generations to follow.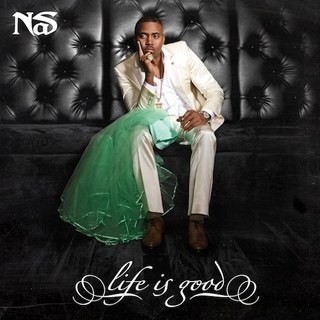 Conclusion – "The Return With The Elixir"
Everyone has their own Nas moment.
Were you digging the Nas and Kanye collaboration for the 7-track Nasir album in 2018? 
Are a stan for Nas' The Lost Tapes 2 release in 2019, with reincarnated throwbacks?
Do you like to hear Nas and Amy Winehouse throw down musically?
Are you all the way here for Nas and Damian Marley doing another album together like Distant Relatives?
What about Nas the executive producer behind the hip-hop series The Get Down?
The beautiful thing about The Hero's Journey of Nas is that it encompasses cultural pride, the power of educating one's self, the desire to to craft a strong legacy—and it is still unfolding.
---
---
Comment Below:
How did you enjoy the Hero's Journey format?