The Top 22 Rap Tips of 2022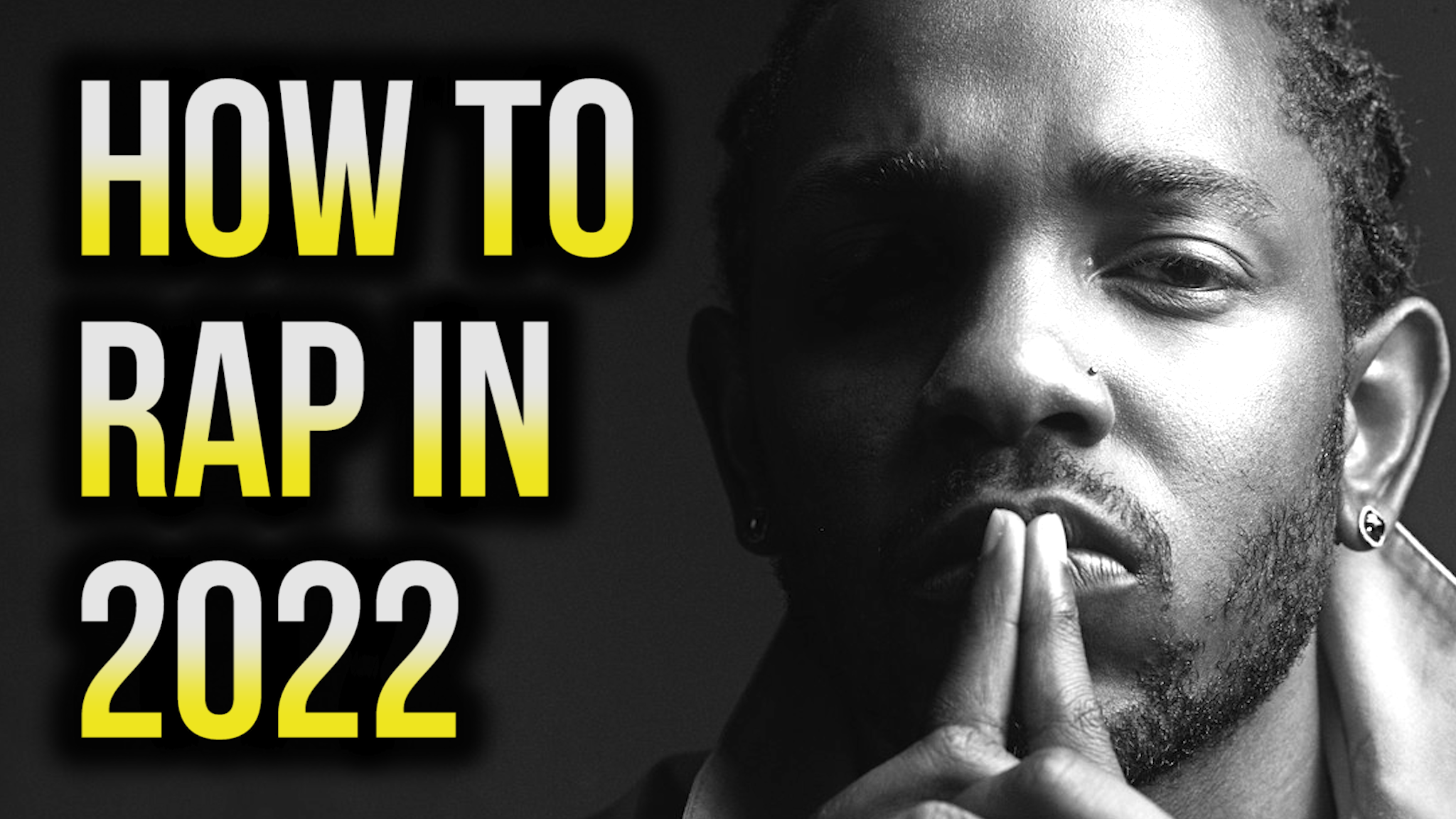 2021, much like 2020 was a see-saw-like up-and-down 12 months for rappers around the world, from the mainstream megastars to the artist trying to finesse his or her come up in the next 365.
We saw beefs heat up and then cool down such as the recent Drake and Kanye re-connection…
We saw live music have to question its future and safety after the shocking Astroworld tragedy…
Yet along the way we had some major bright spots with "culturally acclaimed" releases from everybody from lyrical rappers like Nas and J. Cole, to the melodically driven sounds of Polo G and Drake…
To the continuously widening of experimental sounds of Tyler The Creator and Kanye West.
In today's article, we're going to give you the top 22 rap tips for 2022.
These rap tips will include insights into the future of flow, melody, freestyling, live music and much more…

And having created YouTube's most subscribed channel on the science of learning how to rap and from that coaching rappers from around the world for almost a decade…
If you're an aspiring rapper or simply a fan of the culture of rap music, this video will help serve as a guide and a preview into the potential sound and scope of rap music in 2022.
#22 "Bars Are Back"
With the first half of the year seeing heralded releases from more "lyrically minded, bars-driven" such as modern icons like J. Cole all the way back to living legends like Nas, we believe at How To Rap that bars-driven rap has returned to a solid foundation as a way to gain commercial success.
With even "rapper-singer" artists like Russ and Roddy Ricch implementing more "rap-rapping" style tracks on their 2021 releases, we believe in 2022 releasing tracks with heavy bars will no longer feel out of the mainstream norm as the way it did for a while in the mid-2010's.
#21 Live-Stream Marketing Is The Future
While utilizing live streams to expand your brand online as an artist has been a staple for a few years now, we believe this will continue to expand in 2022 with the advent of modern live performance servicing the at-home viewer more and more.
The BBC noted in a recent interview with creative director Alex Lill that live performance is at a turning point: "before there pandemic even hit we were trying to reimagine how we could provide a cinematic experience for the audience at home, not just the live audience."
And because of the Meghan Thee Stallion fiasco, people forget that rappers like Tory Lanez actually exploded their fanbase in 2020 during lockdown to gain more exposure (pause) by utilizing live streaming. Don't miss the boat with this.
For you as a rapper, even if you're not at the level of doing tours yet, using live stream performances, freestyle challenges, and streaming services like Twitch will continue to be a key hack in 2022.
#20 Use "Melodic Contrast" To Step Your Catchiness Game Up
In our recent "How To Write Songs Like Juice Wrld In 4 Simple Steps" video, we noted that the generation of young artists influenced by Juice such as The Kid Laroi…
Are now using higher register notes next to lower tone melodies right next to each other in their verses and choruses to give "melodic contrast" to the track. Compton artist Roddy Ricch uses a similar musical approach to many of his biggest hits such as the mega smash "The Box".
Much of this comes from the influence of rappers such as Young Thug who push "elastic melodies" right next to regular "bars" rapping in many songs, and we believe in 2022 the melodic auto-tune based artists of this era will continue to experiment high and low notes pushed together.
Which brings us to our next rap tip…
#19 Pick Up The Top 20 Songwriting Secrets of Professional Rappers Free Course
If you're wondering how to up your melodic contrast, or if you're a "bars-heavy" rapper that wants to improve their chances that their lyrical tracks are seen as "catchy"…
…We have a 100% free video course called the Top 20 Songwriting Secrets of Professional (or Full Time) rappers where we given you our exact insights based on Coach Drew's 10+ years and six-figure full-time income as a professional rapper, which you can pick up HERE.
#18 Follow The Producer's "Signals" When Picking Where To Place A Chorus
This rap tip is similar to the kind of insight we provide in the free course.
What this means is that as rap producers become more and more skilled songwriters and not just beatmakers, often they will "program" into the beat you hear on BeatStars or YouTube…
…Where you should likely place the chorus or "hook" as you're writing. Use those sections as an indication of where you could practice rolling around a few ideas in your brain as you're writing.
#17 Quantity Still Leads To Quality
We have been saying for years that quantity leads to quality, especially for newer artists, which means that in order to find your best quality work, you often have to make a large quantity of music to get into momentum.
The way we've said this looks in the past is if you make 3 songs in a day… one will be disappointing (at least to you), one will be fire (at least to you) and one will be something you're "okay" with but others seem to enjoy.
A lot of the best projects live in that "fire" and "others like" category, and with the right planning, you can have a non-skippable project by determining which ones are best suited for the sound.
However, if you notice: there will still be 1 song for every 3 that is just not good. You have to be okay with that. No player in NBA history has a 100% or even 90% career shooting average. Humans are fallible.
#16 Rap Beef Can Have A Shelf Life
The fallibility of human beings is a great place to start with our next rap tip.
Even if you're just starting off and your version of "beef" is battling someone in your hood or your school, Drake and Kanye recently showed that you don't have to keep it going to the grave and you can let the past be the past.
We believe in 2022 as more knowledge about personal finance, independent artistry without the need of a label, and so on becomes more mainstream…
…Seeing that squashing the beef can actually MAKE you money will start to be a useful rap tip for artists.
#15 The Self-Made Mindset Is Old News
And the crazy part is you don't even need to have squash beef with someone in order to make crazy money with them.
With "mash-up" albums becoming the norm (again, auto-tune artists like Future and Young Thug all the way to bars-rappers like Dave East and Jadakiss are doing this)…
…Avoiding collaborating with other rappers or trying to front like you "did it all by yourself" will continue be exposed in 2022.
The best mindset is "who can I make money with", not "who can I show that I took money from".
#14 Experiment With Freestyling Songs As Opposed To Verses
Going back to an artist like Juice Wrld or even Kendrick Lamar's Untitled album, we can see that some of the most well-known and talented rappers don't limit themselves to only "sitting down to write".
In 2022 if you'd like to experiment with using that quantity to get quality mindset from #17… consider using some time in the studio to see if you can freestyle an entire song or at the very least a chorus. You never know what you might find.
Dr. Dre famously pointed out that the very first day he met Eminem, Shady essentially "freestyled" the now iconic chorus from "My Name Is" within three seconds of hearing the beat.
#13 Consider Picking Up The Freestyle Fortnight
With this in mind, definitely consider getting our #1 selling course, the Freestyle Fortnight: Master The Art of Freestyle Rap In 2 Weeks or Less to help you along your journey to creating songs off the top.
It includes free bonuses on rap voice, rhyme making, and even a guest coaching session on battling from Corey Charron of MTV's Wild'n Out, King of The Dot, and Ultimate Rap League. Click HERE For More Info.
#12 Take The "I Didn't Know He /She Had It In Them" Approach To Battling
In our recent "How To Write A Rap Diss, Step-By-Step" video we pointed out the almost all of the "flawless victory" rap battles of the last twenty years…
…From Nas's "Ether" to Drake's "Back To Back" to Pusha T's "Story of Adidon" were RESPONSES to initial disses sent at the respective rappers.
If you're thinking that's 1999 the best way to blow up is by dissing somebody first like 50 Cent did with "How To Rob", you're probably going to be disappointed in 2022.
It's better to keep your pen sharp and wait for someone ELSE to diss so that you can deliver the knockout hook like Nas, Drake, and Pusha T in their battles.
#11 Use "Massive Metaphors"
One great way to spice up your disses and thus your bars is to use what we call "massive metaphors". In our recent "How To Improve Your Rap Wordplay" video we pointed that Kendrick Lamar uses the massive metaphor of comparing himself to icons as massive as The Pope and 2Pac on his legendary "Control" verse…
…And he seems to be continuing the trend by using biblical language extensively throughout his late 2021 verse on Baby Keem's "Family Ties".
Take note of the trend of massive metaphors for your wordplay and up the bars to impress everybody in 2022.
#10 2-In-1 Songs
Another aspect of a song like "Family Ties" is that is what we call at How To Rap a "2-In-1 Song"… where there are two distinct sections of a song that COULD be two separate tracks, but end up being one continuous song on your playlist.
Additional major tracks in this style include "Sicko Mode" or more recently, "N 2 Deep" on Drake's Certified Lover Boy.
If the two biggest rappers in the game – Kendrick and Drake – are using the 2-In-1 song method in 2021, it's safe to say that these types of songs will continue to be a nice addition to your creative palette as an artist in 2022.
#9 Hit The "Like" Button On Rap Videos You Enjoy
Another nice addition to your creative palette is the ability to support your favorite rap videos on YouTube by hitting that like button…
WINK WINK.
For real though, I know I personally forget to "like" videos I genuinely LIKE all the time, so a great way both give free support AND tell the algorithm you want more videos of that type helping you with rap is to simply hit the like button. Anyway…
#8 Stop Thinking America Is The Only Place To Blow Up In Rap
One of the most common questions we get here at How To Rap is, "I am from XYZ country, how do I blow up in America?"
The God's honest truth often is… you don't. You blow up in your own country (or another country that speaks your language) and enjoy an awesome life like another rapper.
First off, there are many rappers in AMERICA who aren't big overseas and have amazing lives. So why wouldn't the same be true of rappers in other countries not having to be big in America?
Whether it's the Russian rap scene, the massive Spanish-speaking audience in Latin America and beyond, or smaller markets like German Rap, Australian rap, etc. you CAN become wealthy and important beyond your dreams without going to the USA.
#7 Stop Thinking New York or LA Are The Only American Cities To Blow Up In Rap
On the flip side to all our American readers, you don't have to move to NYC or Los Angeles to blow up in rap anymore.
In fact, with the high cost of living, larger scope of competition, and overall just arrogance and overpopulation of those places (I've lived in both), you might be better off creatively building your empire from elsewhere.
#6 Two-Bar Flow Changes
Now, back to some lyrical points.
Switching the flow "early and often" is one of our staple pieces of advice here at How To Rap.
With artists from Kendrick Lamar to Roddy Ricch being synonymous with various flow changes, in 2022 it will continue to be important to switch your flow.
Now, in the mid-2010's it was most common to see rappers change their flow around every FOUR bars, but nowadays it's as common as every two bars honestly.
For more information on how to change your flow, click HERE to learn about our free bonuses courses on flow specifically.
#5 Samples Still Have A Place In Rap
In the late 2000's and early 2010's we saw samples start to take a back door to more all original produced trap beats and so on.
However, much like the #22 rap tip that bars are back, we are seeing rappers like Drake and J. Cole return to the art of the sample quite a bit, and we believe in your beat selection using a bit of sampling will help keep you up with the times.
Additionally, rappers who like to appeal the Golden Age 90's feel of rap like Griselda have built entire careers on preserving the sample-sound, so it's definitely still a tone audiences enjoy.
#4 "Knowing Your Business" Should No Longer Be Scary
With financial literacy hitting the culture with shows like Earn Your Leisure and rappers from Kanye West to Joe Budden putting the words "masters" and "publishing" in our ears 24/7, being familiar with how the music BUSINESS…
…Emphasis on BUSINESS works will continue to be relevant in 2022. Be sure that you are familiar with books such as All You Need To Know About The Music Business by Donald S. Passman in order to stay current on your paper.
#3 Self-Doubt Is An Acceptable Rap Topic
It seems that a lot of up-and-coming artists still have this 2003 vision of what a rapper is or what a rap needs to be about, and often will not make many songs about self-doubt.
There are entire careers built on writing music about depression, lost love, and feeling alienated.
XXXTentacion, NF, Lil' Peep, and so on all come to mind as artist that used self-doubt as one of their main lyrical points.
In 2022, we see this trend continuing as mental health, much like financial literacy in the last tip, becomes more mainstream.
#2 Stop Waiting For Corporate Co-Signs
With many rappers notably shunning the Grammy's, refusing to do interviews, or even literally PISSING in Grammy's like the MAGA lover himself Yeezus…
…It's clear that artists feel their back in control of what THEY decide is the right co-sign… which is often the people.
Selling out for a record label deal is NOT seen as cool anymore, and so don't feel like you need to wait for that big name or big label to "put you on" to hustle.
#1 Expand Your Brand Past Just Rap
Look, we'll end this on an important reminder:
Just being "able to rap" isn't enough in 2022. You should have a fully-fledged and dynamic personality, story, and brand to build off of.
Back in the early days of Hip-Hop, you could be dope and get a label to get marketing around you.
In 2022, you should be a marketable entity with a vision for how you want your fashion, your tour, your marketing and much more to work in tandem.
So, in 2022 as you develop your career, make sure you not only take your music into account as many of these tips suggest, but your overall presence as a HUMAN BEING in order to have the best year of your life professionally as an artist. 
---
---
COMMENT: Which tip was your favorite?