Chance The Rapper: A Hero's Journey (2020)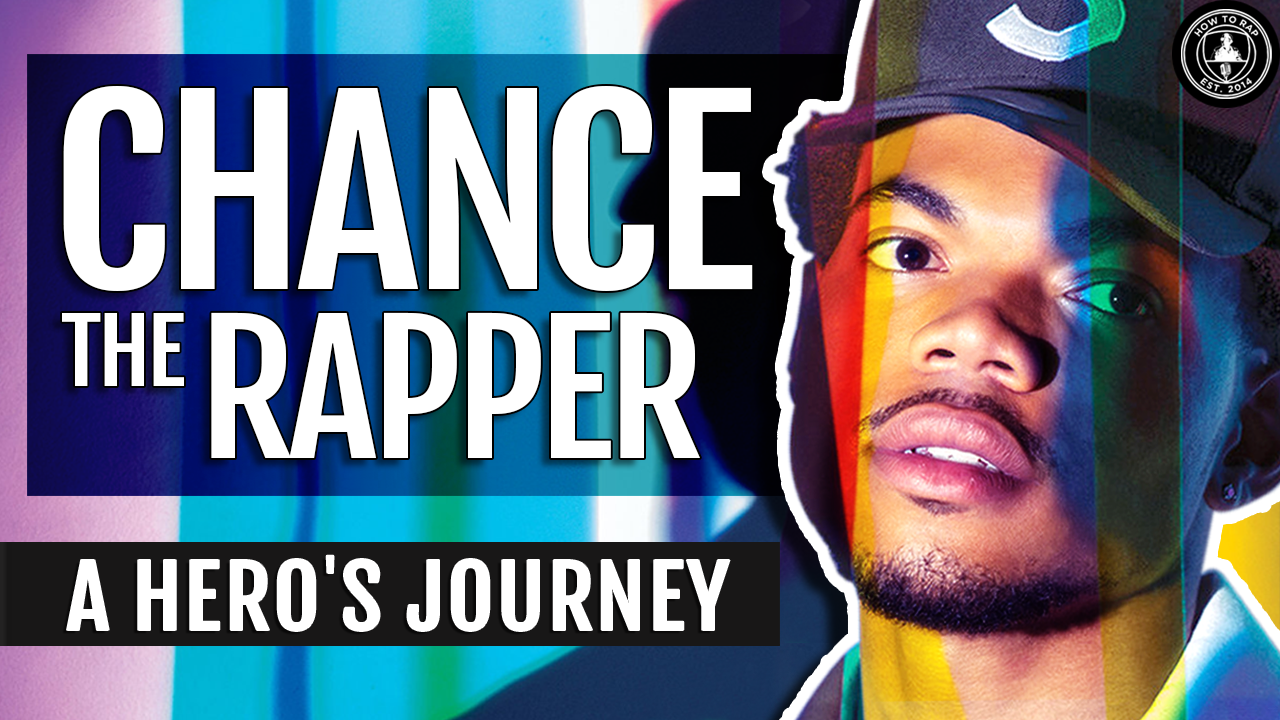 Co-written with Jason Cuthbert
The literary scientist of stories, Joseph Campbell, created 12 steps to storytelling, known as The Hero's Journey…
If Campbell's process was good enough for George Lucas to create Star Wars, it is good enough for hip-hop…
Windy City wordsmith Chance The Rapper has joined a respected top-tier fraternity of Chicago's cleverest lyricists.
Common, Twista, Kanye West, Lupe Fiasco, and Rhymefest paved the way. Chance earned his place and is keeping the legendary legacy Chi-Ca-Going.
The gun smoke clouds raining over South Side Chicago have been described in the drill rap details of Chief Keef, Lil Bibby, G Herbo, King Louie, and Lil Durk.
But along with Vic Mensa, Sir Michael Rocks of The Cool Kids, and Noname, Chance The Rapper has joined the new school of street smarts-meets-book smarts.
How exactly did Chance turn his chance at fame into a crystal-clear reality? Just follow along on The Hero's Journey of Chance The Rapper.
West Chatham – "The Ordinary World"
Plucking the word "Chance" out of his own first name, Chance The Rapper grew up Chancelor Jonathan Bennett, on Chicago's South Side.
But this wasn't a guns and bullets domestic home life. Chance was blessed to be situated with both parents in the middle-class neighborhood of West Chatham.
Michael Jackson got the ball rolling for Chance's interest in audio expression. His parent's gospel and jazz music also infiltrated his ears and inspired his heart. Speaking of parents…
Papa Chance, Ken Williams-Bennett, was a political aide to past Chicago mayor Harold Washington and our favorite president, Barack Obama—as a senator.
Mama Chance, Lisa Bennett, was also politically employed, working for the Illinois Attorney General.
The Obama connection continued as Chance's dad also began to work in the Department of Labor during President Barack Obama's first term.
Chance even got to meet share his pre-fame rap desires with President Obama, who responded to the youngster's dreams with the positive affirmation of "Word!"
Chance The Rapper also has a younger brother named Taylor Bennett who has his own rap career, and began around the same time as his older bro.
But what really got Chance to take a chance on "the rapper" side of his stage name?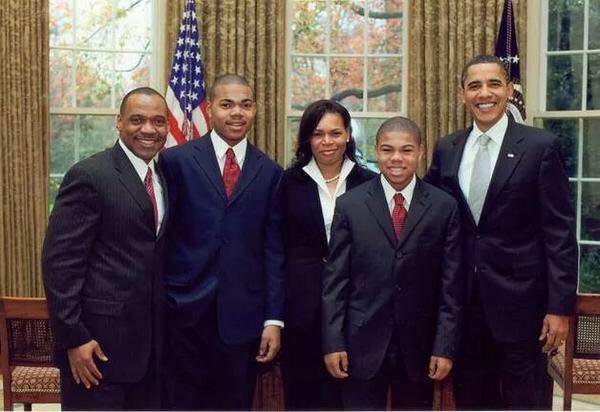 Through The Wire – "The Call To Adventure"
It was listening to the song "Through the Wire" by Chi City's own Kanye West while strolling through Hyde Park that sparked the flame for Chance The Rapper.
This led to Chance purchasing and listening to Mr. West's first entire hip hop album, Ye's debut The College Dropout.
After having started rapping during the 6th grade, Chancelor's freshman high school year at Jones College Prep High School was when he formed a rap duo called Instrumentality.
He began grapping the mic early on at the YOUmedia Lyricist Loft at Harold Washington Library in Chicago.
Taking home second place in a Chicago-based songwriting contest, Chance even made a fan out of then-Mayor Richard M. Daley.
10 Day – "The Refusal Of The Call"
But not every adult figure in Chance's young life was supportive of the spunky upstart. Several teachers at Jones College Prep High School made fun of his musical desires.
They apparently didn't want Chance to go down the financially turbulent trail of a music career. But even as a teen, Chance was a man with his own plan.
During Chance's senior year of high school, it came "get high" school instead when marijuana possession on campus got him sent home on a 10-day suspension.
During senior year, he recorded his first full-length project, the 10 Day mixtape—named after that 10-day forced vay-cay.
The first track from 10 Day was called "Windows" and dropped in the December of that year of 2011.
By February 2012 the hater-ation from his teachers would begin to be proven completely wrong.
Chance The Rapper got some super love from Complex magazine's "10 New Chicago Rappers to Watch Out For" column.
Finally, Chance released the 10 Day mixtape on his own on April 3, 2012, getting hundreds of thousands of downloads and attention from Forbes magazine in its Cheap Tunes section.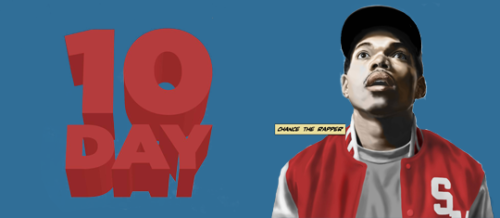 Kevin and Kanye – "Meeting The Mentor"
Kanye West was definitely a mentor to Chance The Rapper… he is the reason why he started rapping in the first place.
But Ye's influence was only from afar, because the two didn't actually meet each other until August 2014 at the Bonnaroo Music Festival.
There was another key mentor in Chance's musical life that was much closer and physically present…
Kevin Coval, an older Jewish poet from the Illinois suburbs of Chicago, would be labeled by Chance as his "artistic father."
"From '10 Day to 'Acid Rap,' Chance came around with me to schools to perform and there would be a little bit of bread, and so he would use that little bit of bread to get studio time for 'Acid Rap,' and yeah, it was rocket launch…I think the thing that Chance and I share is a real desire to make the city better and the knowledge that we can. We are not afraid to do work here."
Kevin Coval's 2017 poetry collection book A People's History of Chicago contains 77 poems, one representing each Chicago neighborhood, portraying a full history of The Chi.
Acid Rap – "Crossing The Threshold"
Chance The Rapper's independently-released second mixtape Acid Rap sizzled the five senses on April 30th, 2013—two weeks after his 20th birthday.
He has admitted that he used the hallucinogenic drug LSD during about 30%-40% of its creation.
But Acid Rap wasn't meant to be a 53-minute and 52-second commercial of drug use. Chance clarified the title by saying:
"It wasn't the biggest component at all. It was something that I was really interested in for a long time during the making of the tape, but it's not necessarily a huge faction at all. It was more so just a booster, a bit of fuel. It's an allegory to acid, more so than just a tape about acid."
Chance had a few heavy hitters from Chi Town on Acid Rap. BJ the Chicago Kid was featured on "Good A*s Intro" and "Everybody's Something."
Twista and Vic Mensa showed up and showed out on the red hot "Cocoa Butter Kisses" and Noname on "Lost."
There was also Queens New York's Action Bronson on "NaNa," and Kendrick Lamar's Black Hippie homeboy Ab-Soul on "Smoke Again."
Actor and Atlanta TV show creator Donald Glover, known on the mic as Childish Gambino, on a track confidently called "Favorite Song."
Chance Gambino – "Test, Allies, Enemies"
Speaking of Chance's equally talented and middle-class creative comrade Childish Gambino, the two have built up quite a history together.
Chance explained to XXL magazine how they met through publicist Dan Weiner following a South By Southwest performance:
"I sent him the '10 Day tape and I hadn't really talked to him since South By…I didn't get a response from him for a minute and then he hit me up randomly, like, 'Yo, you wanna do a song with Childish Gambino?' I was like, 'What?!'"
They kicked of their rap relationship on Childish's sixth mixtape Royalty on the song "They Don't Like Me."
The decade of years between the older Childish Gambino and Chance The Rapper meant absolutely nothing. They connected artistically and frequently.
Gambino scooped up Chance and put him on his Camp Tour as his opening act. Chance also appeared on Gam's sophomore album Because the Internet on "The Worst Guys."
Will Chance and Childish be dropping their long-awaited project together? In Open Late with Peter Rosenberg Chance stated:
"We got six songs that are all fire…But I think the album's gonna be more than 14 songs. I think it's gonna be a full thing."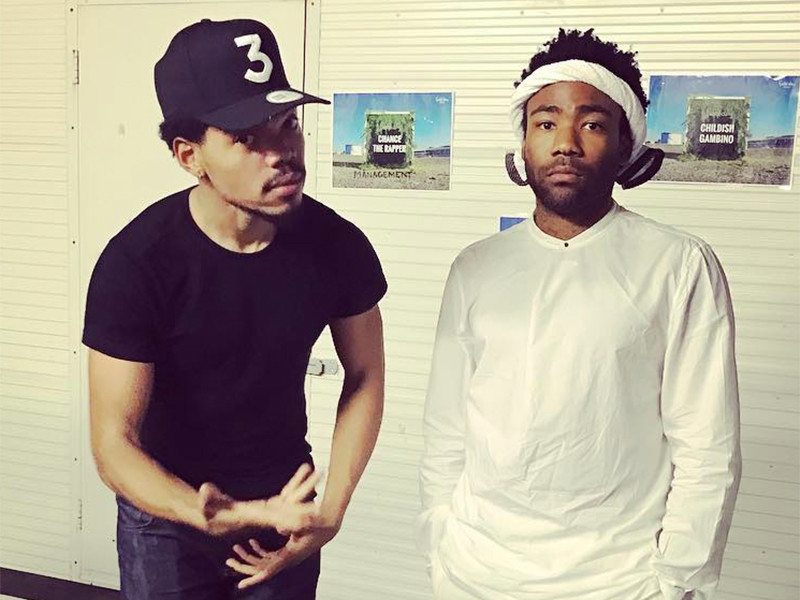 The Coloring Book – "Approach To The Innermost Cave"
Coloring Book was Chance The Rapper's third mixtape and the biggest impact in his career. It was celebrated fashionably with his iconic New Era "3" caps.
Recorded in a rented Los Angeles mansion, Chance had a star-studded project—starting with his mentor Kanye West on the first track "All We Got."
Lil Wayne, 2 Chainz, Young Thug, Lil Yachty, Justin Bieber, Anderson Paak, Future, T-Pain, Kirk Franklin, Ty Dolla Sign, and Roc Nation's elusive rapper Jay Electronic all rocked out.
This project brought took Chance The Rapper right into the mainstream orbit of the Tonight Show with Jimmy Fallon, and a first week debut of number 8 on the US Billboard 200 chart.
Coloring Book became the first to surpass 500,000 with only streaming album equivalents and the first streaming-only album to chart on Billboard's ranking.
"Independence? – The Ordeal"
The success of Coloring Book continued to make people question whether or not Chance The Rapper was really Chance The Independent Rapper or not.
Joe Budden went sounded skeptical during their often-tense interview on The Joe Budden Podcast. When Joe implied that Chance's independent stance was misleading the public, Chance replied with:
"I'm the first ni**a to do this successfully," responds the guest. "So I have to show a bunch of kids that they can do that sh*t. You trying to tell them that they can't do that sh*t is counterproductive; you're feeding kids into the [label] system. You're trying to tell them that I'm not independent. You're trying to tell them that they can't even call Apple. You can call Apple!"
Chance also took to Twitter on March 17, 2017 to clarify things:
"I never felt the need to correct folks on my relationship with @apple but now that more people have tried to discredit my independence. I wanna clear things up. @apple gave me half a mil and a commercial to post Coloring Book exclusively on applemusic for 2 weeks… That was the extent of my deal, after 2 weeks it was on SoundCloud for free. I needed the money and they're all good people over there… I feel like if I didn't clear it up people would keep trying to discredit all the work we did to make 'Coloring Book' what it became… I think artist can gain a lot from the streaming wars as long as they remain in control of their own product. I just wanna remain transparent. Folks out there without a deal need to know they're doing everything right just keep at it… If you come across opportunities to work with good people, pick up cash and keep your integrity I say Do It."
Coloring Book – Reward (Seizing the Sword)
Coloring Book proved to be a huge come-up for Chance.
Out of seven total Grammy nominations, Chance The Rapper took home three trophies.
Chance won Best New Artist, Best Rap Performance for the hit single "No Problems" (with Lil' Wayne and 2 Chainz), and Best Rap Album for Coloring Book.
That 2017 Grammys year was the first year they allowed streaming-only albums to be available for awards consideration.
Chance made history as the very first artist to win a Grammy with a streaming-only album. All of this without the help or marketing muscle of a record label.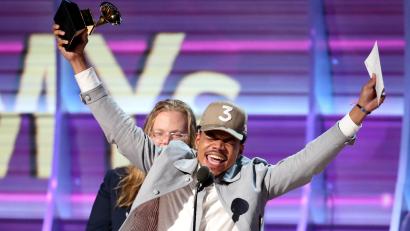 Chance The Activist – "The Road Back"
Chance The Rapper is also Chance The Activist. He co-created a nonprofit organization called SocialWorks in Chicago back in September 2016.
Chance announced on March 6, 2017 his intention to donate $1,000,000 to Chicago Public Schools to assist with the lack of government funding. provided.
Chance purchased the Chicago journalism website Chicagoist from WNYC in July of 2018.
During the 2019 Chicago mayoral election, Chance was financially supported and campaigned with Amara Enyia. Additional donations came in from Kanye West too.
Chance The Christian – "Resurrection"
Chance has referred to Jesus Christ more often in later songs, and labeling himself a Christian rapper after the release of his Coloring Book mixtape…
He also rediscovered his Christian faith when his daughter Kensli was born with atrial flutter…
On January 31, 2016 Chance further committed to his save life by taking to Twitter and tweeting:
"Today's the last day my old life, last day smoking cigs. Headed to church for help. All things are possible thru Christ who strengthens me."
The mother of Kensli is Chance's girlfriend-turned-wife Kirsten Corley whom he started dating in 2013.
After resolving a child support case, they settled out of court and got engaged on July 4th of 2018.
Chance and Kirsten exchanged wedding vows as man and wife on March 9, 2019—with Kanye West and Kim Kardashian in attendance.
Return With The Elixir
With so many critically-acclaimed mixtapes, the question remained, would Chance The Rapper ever release an official album?
The big day for Chance's debut album The Big Day was slated on Friday July 26th 2019.
The lead-off single "Groceries" featuring TisaKorean and Murda Beatz was released on May 17th 2017.
The hero's journey of Chance The Rapper has gone from his first high school mixtape 10 Day to The Big Day, his first grown man album with a wife and daughter.
Chance The Rapper never gave up on Chicago and he never gave up on what got him there—family, an independent spirit, and genuine music.
---
---
Comment Below:
Which rapper should we cover next?