How Rappers Record In The Studio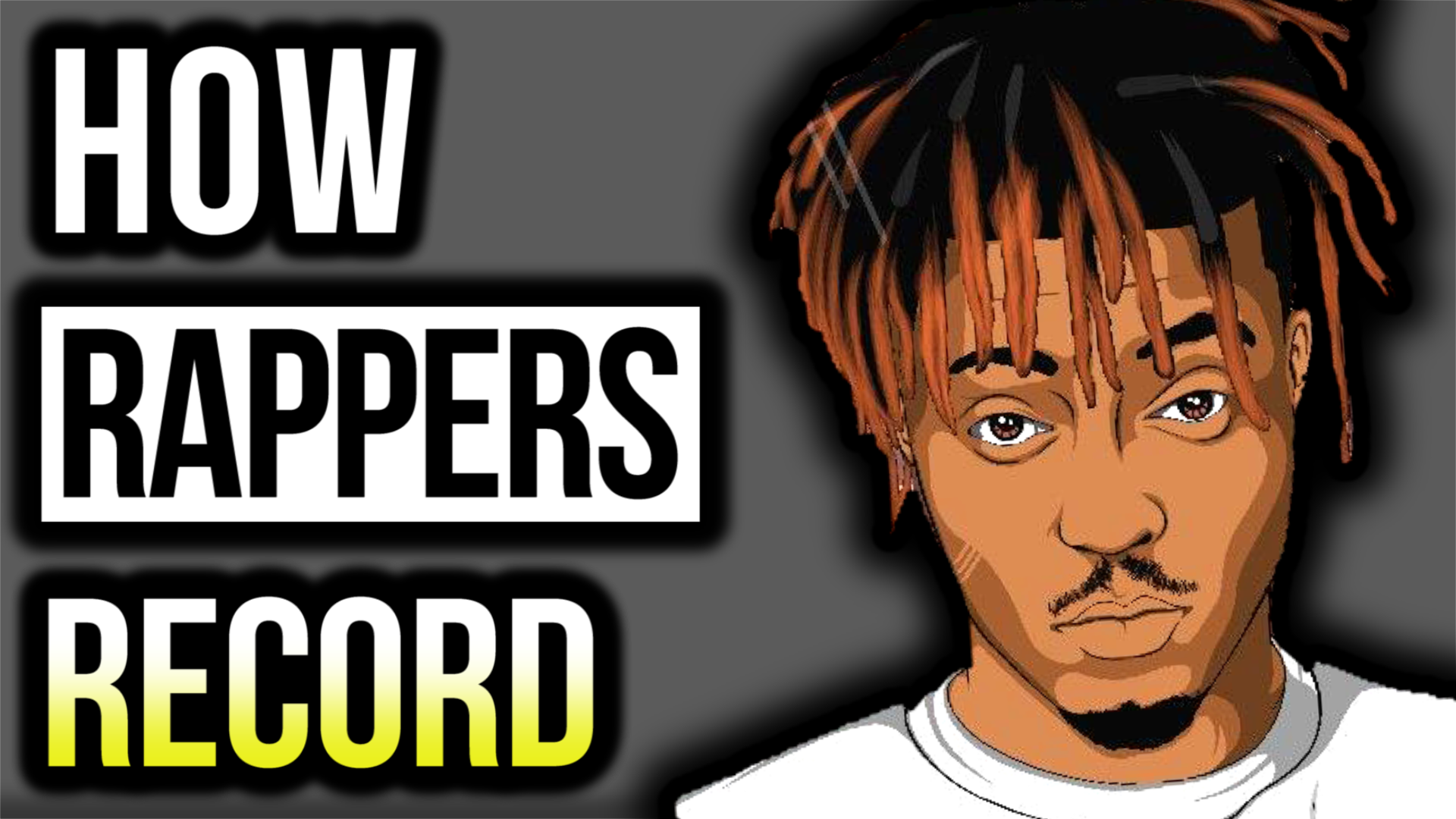 Co-written with Jason Cuthbert
Your favorite hip hop songs aren't going to just write themselves.
It takes a creative spark, thriving collaborations, and a consistent work ethic. But to be a prolific rapper with an archive of contagious hits, you need a personal, proven, and repeatable workflow.
Giants like Drake, Tory Lanez, Travis Scott, Joyner Lucas, and the late Juice Wrld have all customized their process to create quantity along with quality. Not every track is going to crack 1 billion streams.
But the more times you shoot for the moon, the more chances you have to blast off your songs to exist among the stars.
Imagine being a fly on the wall to observe how rappers record in the studio?
Drake
Drake doesn't just record records, he breaks recording records…globally.
On March 21st 2020, as North America was entering into mandated self-quarantines at the hands of the COVID-19 pandemic, Drake smashed the record for most Billboard Hot 100 entries ever with his 208th hit.
How does the Toronto superstar do it time and time again?
One way is by not wasting his time in the studio on throw-away experiments.
"A lot of my hit songs I've written in a very short period of time. 'Hold On, We're Going Home,' I felt like we finished that in like two hours…I'm not a guy that does 40 songs for a project and picks 13 of them. If I'm gonna go as far as to track over a beat I usually have the utmost faith in it that it'll end up somewhere. I don't really dispose of too many songs. I have stuff that didn't make this album, definitely. But I don't have 20 or 30 of them. I have four or five records that just didn't make it because again I was trying to keep it concise."

– Drake (CBC Radio, 2013)
Even a recording artist as extra-large as Drake is willing to listen to outside opinions.
If you are only making music for an audience of one, then you can be your own biased critic.
But when you are ready for the world, ask yourself, 'Where is my committee of honest ears that I can trust?'
"There are about three or four major opinions that I respect. [Producer] 40 [Noah Shebib] knows what I'm capable of, and he's not afraid to say, "You can do that better." I never take criticism personally from anyone — I love feedback. But when you get a bunch of people in the studio that just can't wait to tell you how good you are, that's a scary thing. Then you just start doing bulls— and they're convincing you that it's good."

– Drake (Entertainment Weekly, 2011)
The entertainment industry can take a musician all over the world when it is time to put in work.
One minute you are in London as a guest feature for a singer you respect. The next moment you are big enough to be in one of Kanye West's Hawaii sessions.
Drake knows this international recording life all too well. But when he is in album mode, he gains a lot of energy from home-sweet-home.
"When I go to big studios in L.A., I feel like, 'I gotta make a hit!' In Toronto, we built this little spot for ourselves. You walk in and there are bottles of wine, Persian rugs, candles, exposed bricks. It's quaint, man. This album is about living it and owning it and letting you know exactly what I go through. I can't go back to the old me — it's impossible. I'm proud of who I've evolved into."

– Drake (Entertainment Weekly, 2011)
During Drake's highly ambitious double album Scorpion, Murda Beatz witnessed the importance of Drake creating music in a comfortable environment, mixing work with pleasure. In fact, the two Canadian hitmakers collaborated, while Drake played video games, discussing the beat and female vocal sample needed for "Nice for What."
"He invited me to his spot in Toronto; he was playing (NBA) 2K…I just made the beat in front of him…He obviously paused the game because the beat was fire. Then he wrote and cut the record. We probably had the beat and song done in an hour and a half."

– Murda Beatz (Rolling Stone, 2018)
Tory Lanez
Tory Lanez, another Toronto titan of the recording studio, has been mastering his own mode of capturing memories in music. In 2019, Tory hopped on Instagram with behind the scenes video footage of the workflow that he utilizes to create those bangers like "Luv," "Talk to Me," and "Broke in a Minute."
The core steps to Tory Lanez's process include:
1.) "Listen to some fresh new beats."
2.) "Don't waste your creativity, go inside the booth asap!"
3.) "Pick a beat."
4.) "Be Creative, think outside of the box."
5.) "Lay down melodies."
6.) "Try switching up flows and melodies."
7.) "Make yourself a deadline."
8.) "Believe in yourself."
9.) "You need to constantly push yourself harder."
10.) "Put in that extra work!"
11.) "Do whatever feels right to you."
12.) "Vibe with a song."
13.) 'The fact that you write gets you better."

Why exactly does Tory put an extra emphasis on how he wants his audience to feel when they hear his music?
"You never want to be like, confined to having to do the hook or verse first because then you are just going to screw yourself in the long run. Let it all just flow however it comes out. Songs don't need to have structure. They need to have a vibe. They need to feel good. That is all people care about. When you're in the club, you don't care how long a song is. You just want it feel good. You want it to feel right. You want it to feel the way you want it to feel. That's it."

– Tory Lanez Instagram
During the making of Tory Lanez's The New Toronto 3, Tory's engineer Michael Romero had a front row seat to the rapper/singer studio flow. Mood is everything when a songwriter is ready to make outside distractions evaporate. How does Tory Lanez like to set the vibe off in his work environment?
"He likes it bright in the studio. He doesn't really like dim lights. He's like, "I ain't trying to go to sleep in here. I'm trying to work." The weed is going."

– Michael Romero (Revolt, 2020)
Being intentional about what you want to have around to influence you while recording creates a comfort zone that puts your mind at ease.
While Tory Lanez was crafting The New Toronto 3, his engineer remembers seeing a healthy amount of the animated Dragon Ball Z series getting played in the studio.
"We were going through "Dragon Ball Z" from the beginning. I think we were in the middle of the Frieza battle with Goku with the iconic first Super Saiyan transformation. I think Tory was channeling a bit of that."

– Michael Romero (Revolt, 2020)
Travis Scott
While Houston rapper Travis Scott was recording his blockbuster album Astroworld, he established a workflow with his dozens of collaborators that felt more like being on a lavish vacation then being at work.
"It was a crazy house right off the beach. We had a basketball court and a pool. It was a nice little vibe. Everything set up to work overnight."

– Sonny Digital (Billboard, 2018)
There was a massive number of collaborators and producers on deck to bring Travis Scott's vision for Astroworld to planet Earth. Nav, Gunna, Mike Dean, Frank Dukes, WondaGurl, Sheck Wes from G.O.O.D. Music, and Sonny Digital were just a few of the heavy hitters that convened in the paradise of Hawaii.
"I did a lot of sessions with him, actually…What's cool about people like Travis is that they're just getting a bunch of people in the room and seeing what happens. For a lot of it, I was just a team player. At some points, there were 10, 20 people in the room. You could just be there and hang out and not do anything for like an hour. And then something perks your ears up, and you can be like, 'Oh yeah, yeah, plug me in, I've got an idea.' We'd go for hours until three in the morning."

– Kevin Parker of Tame Impala (Billboard, 2018)
When it comes to the volumes of songs that Travis records, actually audio volume plays a big role in feeling the music in his bones while it is being made.
"I've never heard music played that loud in my life, and possibly never will. I'm talking huge speakers. These studios have these speakers that are like, 12 inches each. And they were blowing out. Your eardrums rattle. Even the hi-hats kind of make your ears rumble a bit. That's fuckin' intense. After about a half-hour, I think your ears close up a bit so you can deal with it more."

– Kevin Parker of Tame Impala (Billboard, 2018)
Joyner Lucas
Joyner Lucas is a rapper's rapper, a lyricist's lyricist.
He studied the greats like Eminem and Will Smith during his early years of crafting his approach to gaining musical recognition.
He now has the pleasure of having songs with both of those legends already at this early stage of his career.
One element that Joyner has taken with him into the studio over the years is a strong competitive nature.
Even though he has claimed to not be a big sports fan, he has hit the booth with the champion spirit of an NFL Super Bowl-winning squad against Logic, Hopsin, and Tory Lanez using the feuds to fuel his fire.
What Joyner Lucas also is in the studio is a visual visionary.
He actually starts his recording process with a very vivid battle plan for his hit singles before they even get written.
"I take the video-first approach, and I write the video treatment first before I come up with the actual song. So, I'm writing the soundtrack to the visuals. I come up with that in my head first, and then once I know what the song is about is going to be about, once I know what the video is going to look like, I go ahead and create the record around the structure of the video. That approach works for me. That is my lane."

– Joyner Lucas (Revolt, 2017)
Juice Wrld
Before Juice Wrld unfortunately lost his life to a drug overdose at the early age of 21, he was creating songs effortlessly that channeled his feelings.
"Most of the time I don't write, I freestyle. Certain songs, If I do write, It starts with me hearing a beat and me instantly having an idea. If I'm by myself and I have an idea for this song, and I want to finish it. I feel like if I have an idea, I'm not going to remember it six hours later when I go to the studio. So sometimes I take a voice memo down or if it's something I want to dive deeper to, I end up just writing the whole song."

– Juice Wrld (Hypebeast, 2018)
When you have the passion and momentum of Juice Wrld in the studio, there is no time limit to your workflow. You live in the moment.
"Juice is the person who, when you press play [on a beat], he doesn't hear it for more than five seconds before he says, 'load it up' and goes off top [ad-libs a vocal on the spot]…This is at four or five in the morning. He kills the first beat, then he's like, 'play the next one.' He goes off top again. I've never seen him actually write."

– Rvssian (Rolling Stone, 2019)
Speed was definitely on Juice Wrld's side when it came time to carve out his creativity while the record button was on.
"'Robbery' is the only old song…

Everything else I made in about 72 hours — I made like 23 songs in those days."

– Juice Wrld (Rolling Stone, 2019)
---
---
COMMENT: Now that you have gotten a glimpse at how rappers like Drake, Tory Lanez, Travis Scott, Joyner Lucas, and Juice Wrld record in the studio, which tips and tricks would help you step your songwriting game up?