How Rappers Write Their Rhymes In The Studio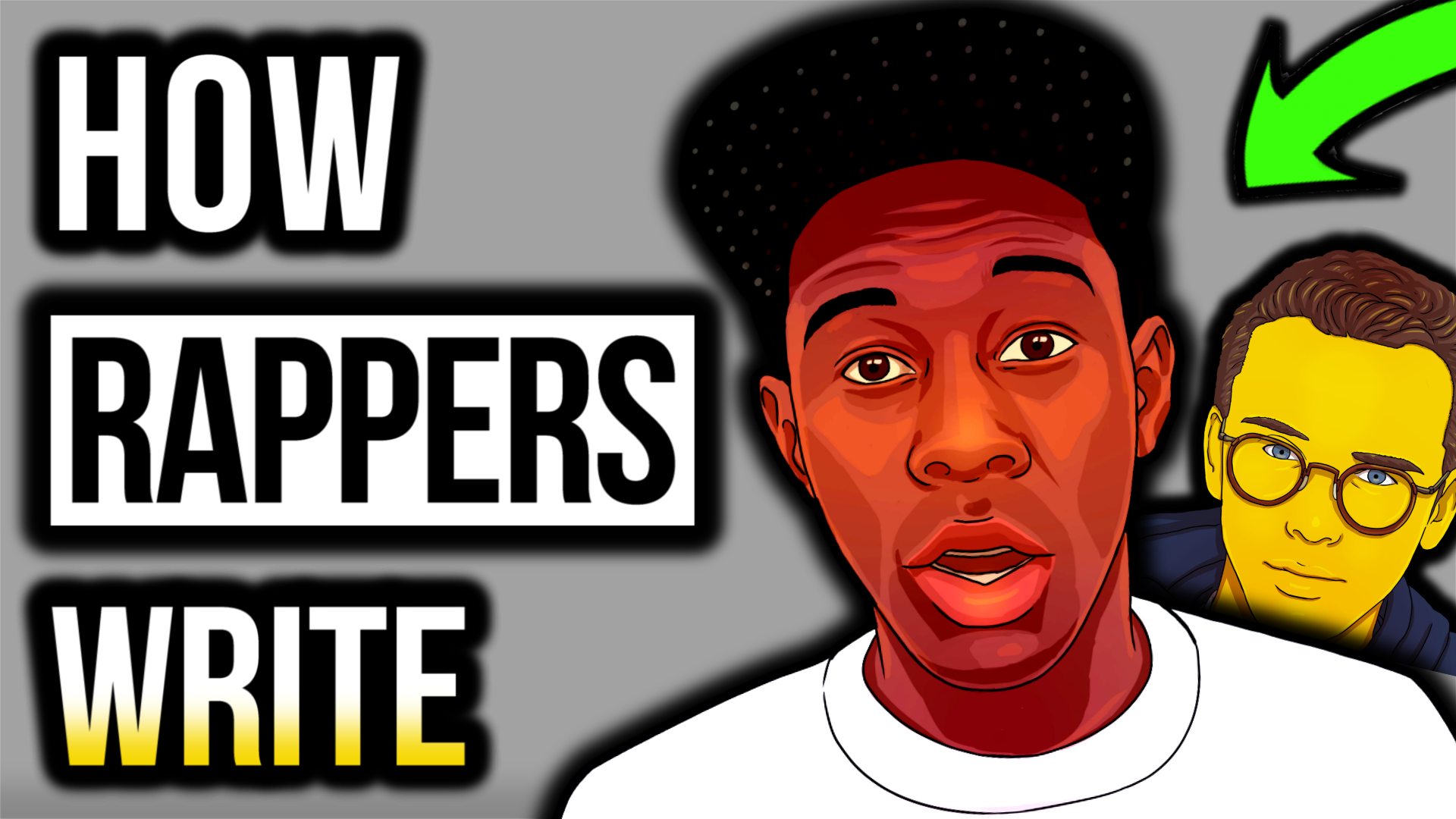 The recording studio for your favorite rapper is like a hospital for them to give birth to their new ideas.
But before they became pregnant with hit songs, they had to find a comfortable way to mass-produce them.
Microphones, drum machines, computers with digital audio workstations, and monitor speakers are just cold pieces of equipment.
It takes creativity to warm them up.
Are you ready to get your own newborn musical babies out of your brain and into the world?
Don't let the intimidation of being new to the recording process stop you. Check out how rappers record in the studio to help you find your way.
#7 Pen and Pad
Before songwriting was done with minicomputers in our pockets called smart phones, a simple pen and pad of paper were the tools of the trade.
Even as the advancements of technology escalate in the music industry, some rappers still prefer to unplug from the digital world and use
a handwritten approach.
Eminem is one such rapper who has his manual labor with ink and paper to thank for his 9-figure net worth.
"I write, and write, and write until my brain hurts and I write every day. I have a rhyming disease. In my head everything rhymes. Something about the pen and paper to me is better just because I can look at all of my ideas and I can see them at once… For me, I remember which side
of the page it's on. I keep a book and write my ideas in that."

– Eminem (Konbini, 2018)
Eminem also explained that his recording process differs from his mentor and collaborator Dr. Dre.
The producer extraordinaire Dre may sometimes plant a microphone right next to the mixing board and let the rapper run their rhymes.
Eminem prefers the intimacy of rapping in a recording booth, all alone with his words and his weapon of choice, the mic.
There are also rappers that are over a decade younger than Eminem that also love the old school pen and pad workflow when they record in the studio.
J. Cole discussed how he switched his writing process between his first and second albums.
For his sophomore effort, Born Sinner, Cole wrote the album by hand. He was inspired to make that move after reading a book called The Artist's Way: A Spiritual Path to Higher Creativity by Julia Cameron.
The author recommended waking up and automatically writing three pages of whatever comes to your mind first thing in the morning. This daily writing habit helped to pull him out of writer's block.
It also pushed him toward going back to the nostalgic notepads that he grew up writing his raps in.
Just think about how you could create an amazing songwriting souvenir for yourself by writing out all the songs for your next album by hand with a pen and pad.
When you are super famous, that very same notebook might become extremely valuable. You won't be able to say the same for those generic cellphone notes you will eventually lose or delete.
#6 Cellphone in Hand
Not everybody is interested in utilizing the lost art of handwriting. The glowing cellphone screens of your favorite rappers can be seen in their palms while they rock out in front of studio mic stands.
Who keeps a cellphone in the clutch when it is time to record? The highly prolific rapper Logic has plenty of songs stored on the ready inside his smart phone.
He has shared videos of himself laying down lyrics for "44 More," as well as his "Lost in Translation" studio sessions in Japan.
Logic has a hectic touring schedule, he runs his record label BobbyBoy Records, and he writes movie screenplays and novels, like his 2019 fictional book Supermarket.
The portability and convenience of cooking up raps in his cellphone keeps his productivity up during brief pockets
of time in between his busy routines.
How do you organize your cellphone notes when you are in creation mode? Do you prefer to record yourself humming melodies or spitting out new lyrics? Or do you like to type out whole songs to record when you finish?

#5 All From Memory
Hip Hop legend Jay-Z is well-known for writing his raps in his head with an invisible keyboard and dropping his hit songs live and direct, all from inside his brain.
Brooklyn producer DJ Clark Kent worked on Jay-Z's debut album and witnessed the myth of Jay not writing his rhymes in person.
He spoke about how impressed another one of Brooklyn's greatest rappers of all time, The Notorious B.I.G., was during one of those studio sessions.
"Jay goes in the booth and changes everything. He goes, 'You ready?' Big is like mystified. I was like, 'I told you: he don't write no rhymes.' And from that point, Big stopped writing rhymes. He's like, 'I'm not gonna be the guy that's gonna be here writing when this guy can do that.'"

(DJ Clark Kent, VladTV, 2016)
Your mind is a muscle. If you don't use it, you lose it. Try playing these Jay-Z brain games and build a song in your head, line for line.
#4 Party in the Booth
Some rappers like to bring the feeling of hot nightclub energy into their recording sessions.
What better way to capture the feel-good vibes of a festival party than to literally have one while you are creating songs?
This is exactly what Tyga did when he created his megahit summer anthem "Taste." It ended up being the second or third song he made that night. First, he stepped out to a nearby nightclub, had a ball with his friends, and returned to the studio with some drinks and female company to keep the party going strong.
After speeding up the beat to a faster tempo to match his mood, he started mumbling a flow, recording lyrics as they came to him, and finished it off in half an hour.
#3 Bring the Band
While some rappers like to have fun with their friends while making music, others like to populate their studio time with big bands, numerous musicians, and vocalists to magnify their audio output.
Chicago's Chance the Rapper likes to work with musicians when he is crafting his songs in the studio. After reworking previously recorded songs with live instruments in preparation for his concerts in the past, Chance further developed his love for arranging songs layer by layer.
#2 The More the Merrier
Many rappers aren't satisfied unless they leave with massive amounts of songs when they call it quits for the day.
When Playboi Carti was interviewed by The Fader in 2019, he told them that he began working on his project Whole Lotta Red towards the end of 2018.
His recording process was split between the studio and his own microphone that he had set up at his dining room table.
Guess how many songs Playboi Carti laid down for that album? Upon scrolling through the files, he had saved in a computer folder, he estimated that he created about 50 tracks.
What is it that pushes him towards that level of output?
Carti said he is inspired by beats that sound like nothing he has ever heard before. He treats his daily recording rituals as a way to get to know himself better with each new song that be brings to life.
Lil' Wayne is another superstar who will have an endless archive of audio art during his lifetime and after he is deceased. While speaking to MTV in March of 2020, Wayne seemed shocked when the reporter assumed that he only had 80 songs saved for a rainy day.
He cleared the air by stating that during his last recording session alone he left with 53 files. If roughly five albums worth of music was completed during one studio stop, can you imagine how many Lil' Wayne songs have been finished during his 20+years career that we have yet to hear?
#1 Keep Pushing Harder
In order to be among the best rappers, it takes a competitive nature. That doesn't always mean that you are literally battling everybody else. It means that you are honest about how strong your new music is, and you push yourself to go beyond your own limitations.
Odd Future's founding member and Grammy Award-winning rapper Tyler the Creator spoke about how important it is to him to be aware of what his favorite songs are and to use them as motivation to reach his own songwriting goals.
"I will never make a song better than Stevie Wonder's, 'Where Were You When I Need You?' So I always use that like, God dang I have to make something good like that. And that's what pushes me. I think I will never make something as good as the songs that I love."

(Tyler the Creator BigBoyTV, 2015)
---
---
COMMENT: What are the songs that are going to push you to be your very best when you are recording your own music? What is your favorite track?