The Unforgettable Finesse of French Montana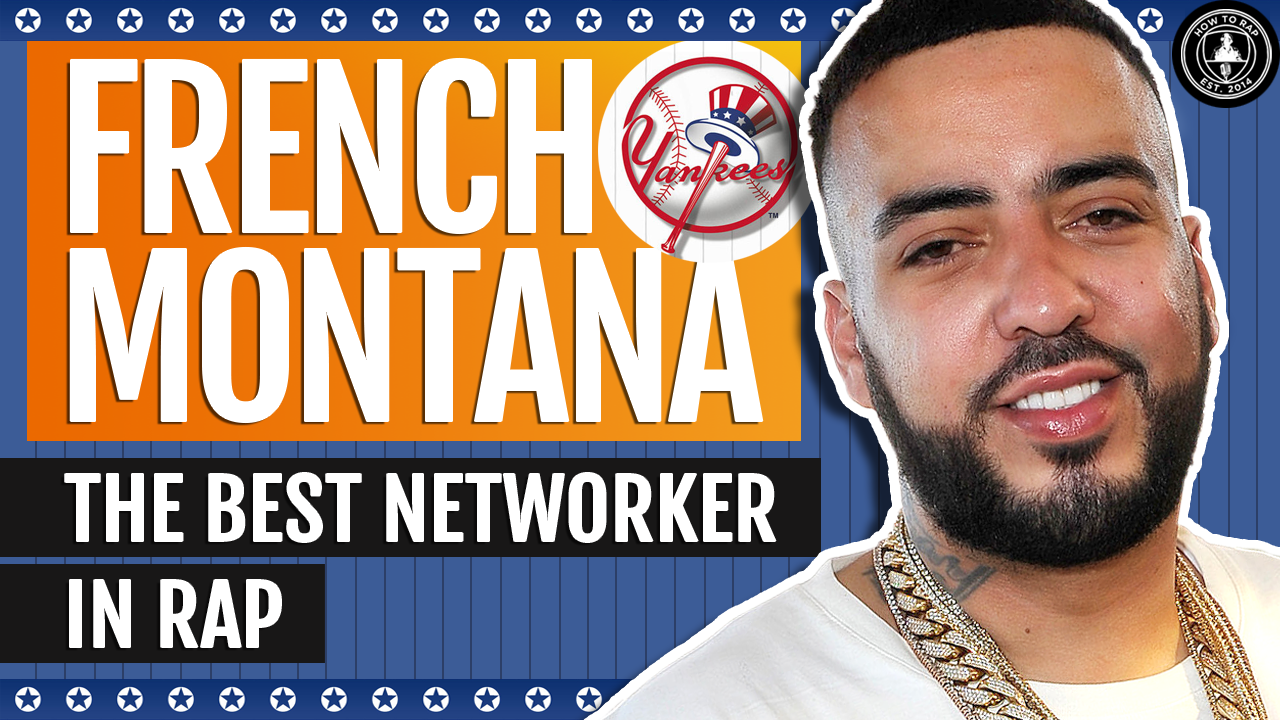 (Written by Jason Cuthbert)
French Montana was born in Morocco, on the continent of Africa, the home of civilization.
French also grew up in the home of hip-hop, the South Bronx. Networking and communication clearly didn't remain a problem…
Montana spoke both Moroccan Darija and French when he landed in the BX.
But, he learned English in high school and on the New York City streets.
A young Montana even helped his single mom of three kids financially as the main breadwinner…
He was armed with a global mindset and a go-getter spirit since childhood.
French Montana has proven, relationship after high-profile relationship, that he may be the greatest networker in hip-hop history.
Relationships have gone an extremely long way for French.
Think about it, every platinum-or-better single from French Montana to date has featured another artist:
"Pop That" (featuring Rick Ross, Lil Wayne and 2 Chainz).
"Lockjaw" (featuring Kodak Black).
"No Shopping" (featuring Drake).
"Cookin" (with Fat Joe and Remy Ma featuring RySoValid).
"Unforgettable" (featuring Swae Lee).
"No Stylist" (featuring Drake).
But how exactly did this literally African-American rap star get the world of entertainment to want the cell number to French Montana saved in their contact list?
Relationship #1: Cocaine City
French Montana used to be the teen battle rapper Young French.
Then in 2002, there was the rise of Cocaine City, the DVD series. French explains its origin to DJ Vlad by stating:
"[Cocaine City started up] with me and one of my best friends, his name is Camz. One day, we were sitting down watching Smack DVD drinking and smoking, and we were like, 'Man, we can do this.' We knew a bunch of rappers that said let's go get it. I did my first one with Pee Wee Kirkland, Remy [Ma], a couple of other people, and then I threw myself into the mix. After that, it was history."
Cocaine City started as a platform for Young French to build an audience for his own talent.
Then after eight years of success from 2002-2010, it became one of the highest-selling street DVDs, 14 volumes and film spinoffs.
Longtime friends like Brock, Droop Pop and Cheeze who contributed became the initial rappers that became known as the Coke Boys.
Relationship #2: Max B
French met Max back in 2008 through a mutual friend from the 115th and Lenox area of Harlem.
They both already knew many of the same people. They collaborated on a Jim Jones diss track.
After Max parted ways with Jim Jones professionally, the two Uptown New Yorkers maximized their mountain of collaborations…
Even with Max B incarcerated, the French/Max duo still won't stop.
Most recently, on July 9th, 2019, Max and French released their 9-song Coke Wave 4 mixtape.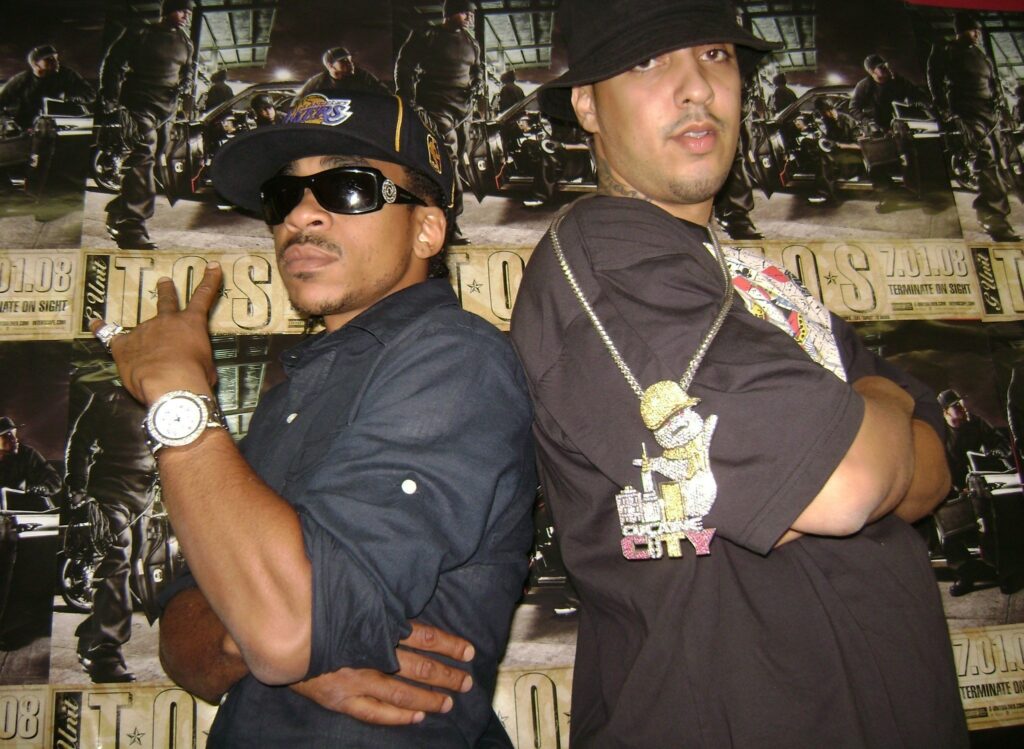 Relationship #3: Akon
Montana made a major link-up with music icon Akon, hooking up briefly with his Konvict Music outfit in 2009.
They met through a friend they had in common, Gaby Acevedo, who was then the president of SRC Records under founder and chairman Steve Rifkind. French described this connection with Akon by saying:
"Akon tried to help me out. He gave me a shopping deal. A shopping deal is when an artist takes a liking in you, and they try to take you to a label to get you signed. I was gonna go get signed to his label, but they were going through problems with Interscope, Akon's label over there. [As a result], my deal was over with him, so I went and did my own thing."
Relationship #4: Rick Ross
French Montana was then approached by Miami rapper Rick Ross to hear Ross' upcoming Maybach Music Group collaborative album Self Made Vol. 1. Montana ended up recording with Ross for that album, released in 2011, and their dozens of collabos continued…
It went from "All Birds," "I Did It For My Dogs," "Marble Floors," and "Big Homie," to "Trap House," "Lose It," "They Don't Love You No More," and "Nobody." Rick Ross' MMG and P. Diddy's Bad Boy even shared the duties of releasing French's debut studio album Excuse My French.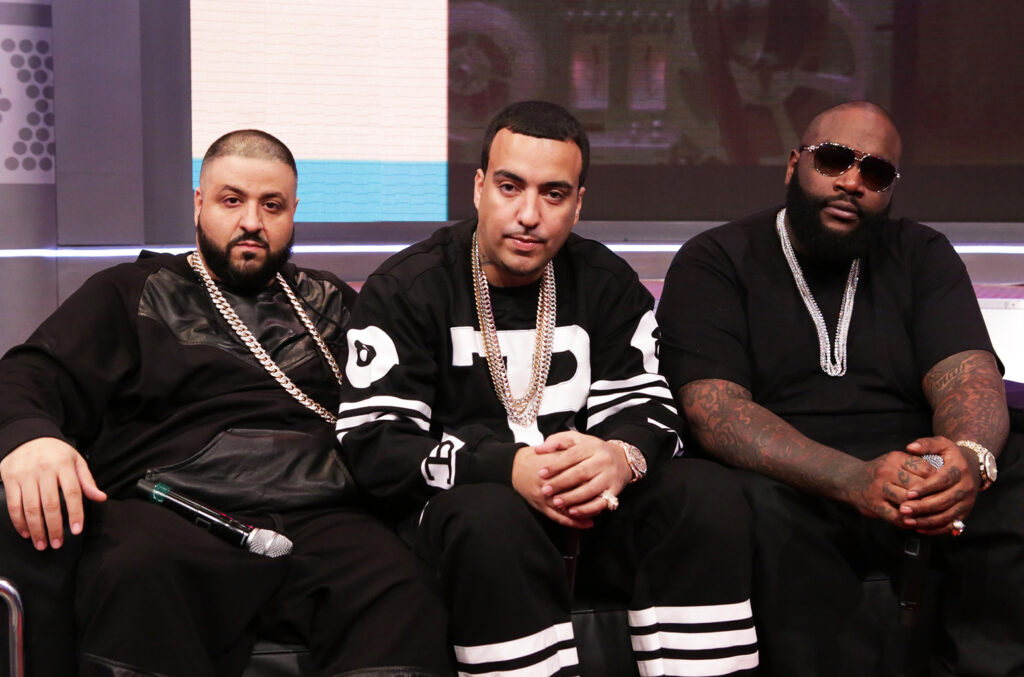 Relationship #5: P. Diddy
P. Diddy's Bad Boy Records is legendary. It used to be the home to The Notorious B.I.G, The Lox, Mase, and Faith Evans.
Now it currently releases music for Janelle Monáe, Machine Gun Kelly, and the Networking King French Montana who signed in 2012.
French has explained to Complex how this Super Bowl-level P. Diddy networking accomplishment occurred:
"I bumped into [Diddy] in Vegas. He told me that he's been looking to meet me. He was looking for me, so I gave him my number and he called me that same night. He was like, 'Look, we about to leave.' I had my flight in the morning, so he said, 'We about to take the G5 back. Ride with us and let's talk.' I went with him, and we spoke. Ever since then it's been history.
Rocking with P. Diddy, the near-billion net worth owner of Revolt, and ownership partner in Cîroc vodka, has been the biggest hookup for French in his entire career.
Mr. "Cîroc Obama" made French a "Cîroc Boy" brand ambassador.
This also led to French Montana getting his own flavor of Cîroc in 2017, appropriately called, "French Vanilla."
Relationship #6: Drake
When the Bronx and Toronto light-skin bearded bros French Montana and Drake started playing off of their similar playboy lifestyles, a friendship bond and catchy songs ensued.
You know those hits: "Pop That," "Stay Schemin'," "No Shopping," and "No Stylist".
French "Mac N' Cheese' Montana and Champagne Papi Drake even developed a name for their social partnership…the "Splash Brothers".
This guy code came complete with the "10 Snipe Commandments," ten rules of engagement they established when courting groupies in the bedroom…
Their "10 Snipe Commandments" included:
Thou shall never tell a ting about another man's splash in order to execute his own splash

Thou shall never pillow talk or discuss business with a ting.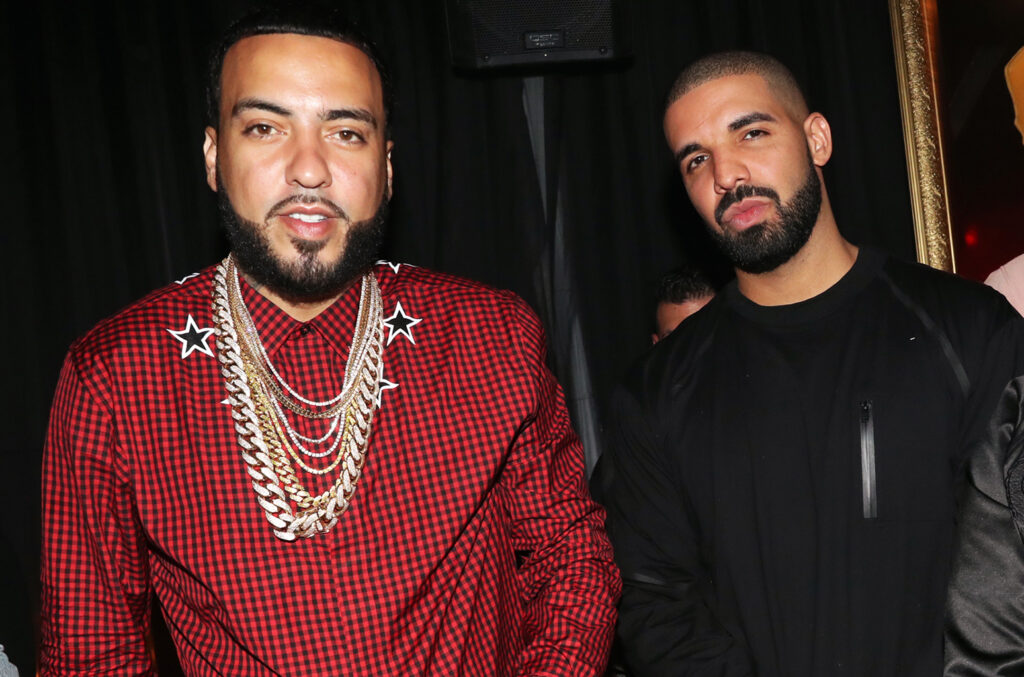 Relationship #7: Khloé Kardashian
Khloé Kardashian and French Montana dated way back in 2014, the year her sister Kim Kardashian married Kanye West.
This went down after the demise of Kardashian's marriage to Lamar Odom…
You may have complicated opinions about how their relationship had some overlap with Khloé's marriage to Lamar or how French had dated Khloé's friend…the rapper Trina.
Hate it or love it, this romantic bond made massive headlines for both parties involved…
The downfall of the French Montana and Khloé Kardashian eight-month dating run was documented on Keeping Up with the Kardashians—the longest running reality show in US television.
If French Montana is the greatest networker in hip-hop history, what can we learn from Mr. Mac N' Cheese?
Keep consistently putting yourself out there in the faces of powerful people.
Young French did this with Cocaine City DVD interviews, mixtapes, and a hella long list of collaborative songs.
Eventually, older, more successful celebs will want to pick your brain, tap into your swag, or better yet, do business with you.
---
---
Comment Below:
Had you heard any of these French Montana finesses before?