Dr. Dre Teaches How To Make A Rap Album In 3 Steps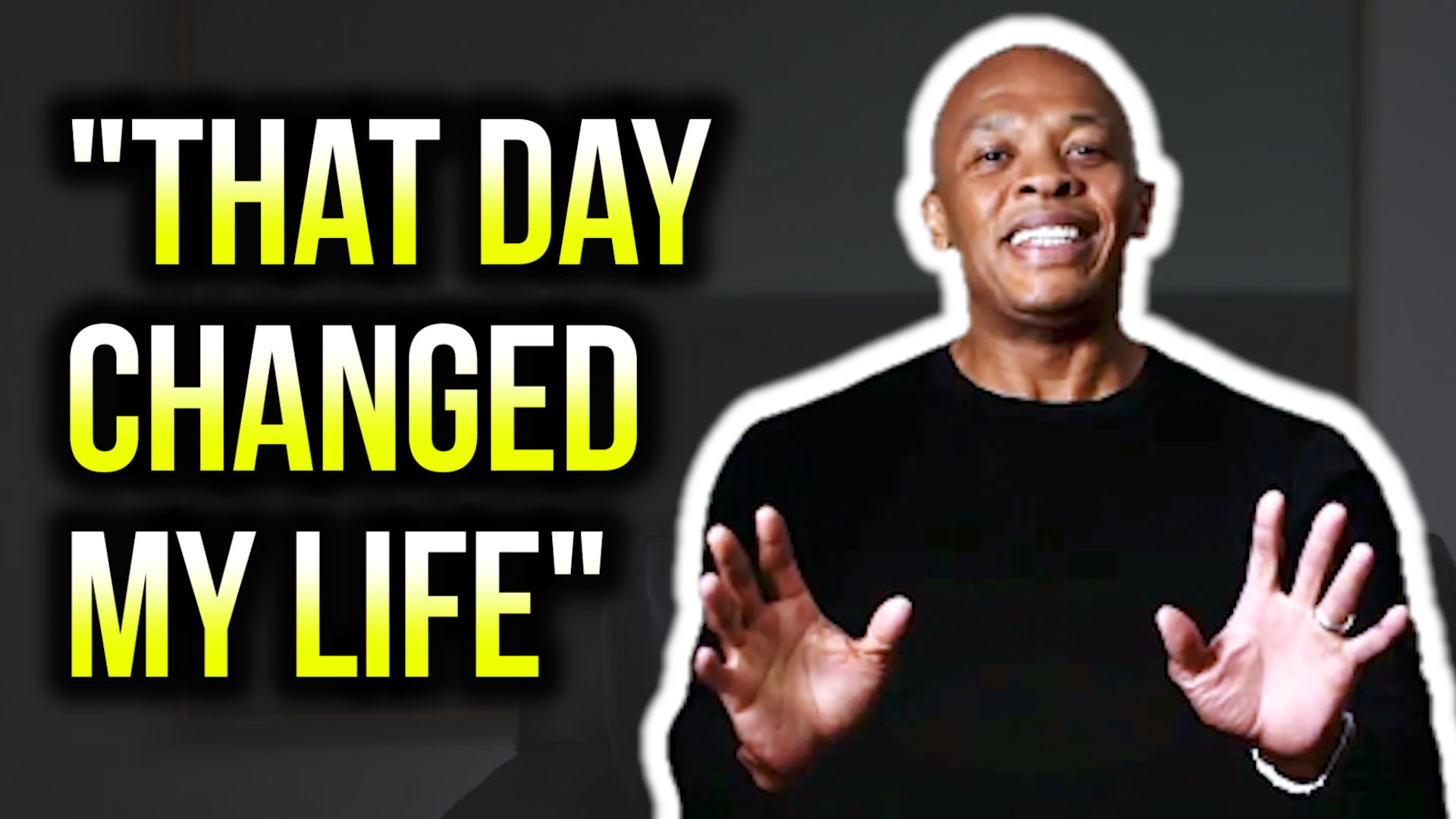 "That day in Jimmy's house in his garage completely changed the corse of my life forever… In the 90's, all of a sudden I'm on my own again and I have to go find new artists, new musicians, to work with… fortunately for me I had done it once before when I separated myself from Eazy and Jerry Heller and ruthless so I know what starting over feels like… but the 2nd time I had Jimmy.

'There are some artists in music, all they are is searching for inspiration… and then there are artists that are just searching for hits. And (Dre's) just searching for inspiration. And if hits come… great.'"

Dr. Dre and Jimmy Iovine Interview
In this clip, Dr. Dre has given us the master keys through a doorway to the secret world of how to make a rap album in a classic way such as his iconic 1999 project The Chronic 2001.
In a minute we'll see him discuss his thoughts on how to make a rap album of the world's best and brightest musical collaborators such as an Eminem and Snoop Dogg, but step #1 gives us an excellent preview of what's to come:
#1 Search For Inspiration And Let The Hits Come
While it would way too simplistic to simply say that rappers should "wait around for the perfect moment" to release a project…
…In fact one of the main things that holds artists back is overthinking their music…
Certainly the mantra of "search for inspiration and let the hits come" is an excellent way to avoid the "one-hit wonder" phenomenon.
Often, "one-hit wonders" are artists who have spent years trying to chase that "one hit", they actually succeed, but since their motivation to blow up is driven by "hits" and not true artistic inspiration, once they have their hit – they have no more gas left in the tank.
Although we go more in-depth into the exact science of being permanently inspired as a rap artist in our free video course "The Top 20 Songwriting Secrets of Professional Rappers" which you can pick up by clicking here…
Let's give you three insights on how professional rappers both SEARCH for inspiration WHILE having hits come along the way:
A) Quantity Leads To Quality
Every single rapper, producer, and engineer in the game is working on music ALL of the time and creating a massive QUANTITY of music, out of which QUALITY songs will emerge.
"I was always in the studio, you know I was always recording… I never stopped making music. I just took a break and pulled back from the spot light. You know at that time it was a good way for me to just be away and just be in the studio and make music"

Eminem Interview
Think about how many times we've heard some of our favorite rappers ever claiming that they've been to Dr. Dre's legendary and mysterious "vault" of classics and recorded some music in his studio.
This indicates that although Dr. Dre only RELEASES a small quantity of music he is CREATING a massive QUANTITY of music.
Therefore, rather than assuming that quality over quantity means "only work on a few songs at a time", really it's about creating music 24/7, always "searching for inspiration" and then having a sharpshooter approach to releasing the best tracks…
Hence "letting the hits come".
B) Collaboration Leads To Creativity
Sometimes the best way to get inspiration is from others.
Rather than going for the "lone wolf" approach to learning how to make a rap album, often the best solution to knowing what to do next is being humble enough to have rappers and producers at your side.
Step #2 will discuss how Dr. Dre cultivated the skill of collaboration with artists like Snoop and Shady, but understanding that the best way to have "hits fall out of the sky" while still be inspired is one of the most solid ways to know how to make a rap album.
C) Themes Leads To Teams
Dr. Dre has never shied away from having an overall theme to his albums.
His first two projects of course were "Chronic" related, however even his "Compton" album had a theme to it, inspired by the Straight Outta Compton film based on his earlier life.
Similarly, other classic albums Dre had a direct hand in making such as good Kidd mA.A.d City and The Slim Shady LP had heavily themed skits and "coming-of-age" style themes throughout the project.
Working with a team AND having an overall theme, even if it isn't a straight "concept album" can often be helpful when learning how to make a rap album.
#2 Check For Apprentice and Master Opportunities
"I just felt like I needed to bump into the right artist or the right musician or whatever… and I didn't have that at the time…

Eminem was the missing link… Hearing that demo with Eminem and how it made me feel and then meeting him and how we saw eye to as far as the work goes and how we would work in the studio…

He was hungry, I was hungry, and that spontaneous combustion and that just brought everyone together that was happening at the time"

Dr. Dre and Jimmy Iovine Interview
We have covered a lot here on Rap Game Now about the importance of mentor-mentee or "apprentice and master" situations.
You can hear rappers such as J. Cole and 50 Cent talk about this extensively in some of our recent breakdowns.
In any case, we believe that finding a guide in their journey as an artist is not talked about enough when it comes to rappers.
Almost every single major artist not only has a mentor to guide them, but they can have different mentors for different reasons.
In the interview we're quoting from in this article, you can see that Jimmy Iovine himself is actually serving as a sort of "album mentor" for Dr. Dre throughout the process of creating what would be a classic album.
Alternatively, Dr. Dre is serving as a mentor to Eminem both in his career and in the life cycle of the creation of The Chronic 2001.
Lastly, it's interesting to see that even though Eminem was most definitely the "apprentice" in this process, his youthful exuberance and creativity served as INSPIRATION for HIS mentor (there's that word from step #1 "inspiration").
How To Make A Rap Album: Inspire and Be Inspired
Therefore, artists should not think of being someone's apprentice and being just a one way street.
Both the artist and the mentor themselves are gaining energy and putting batteries in each other's backs.
If Eminem had not stepped up to the plate to help Dr. Dre pen such classics as "Forgot About Dre" or "What's The Difference", who's to say that The Chronic 2001 would be such a hallowed body of work?
However, if Dr. Dre had not been a supportive and enlightening mentor to Eminem, who's to say Shady would have ever made it to be statistically the highest-selling rapper of all time?
If you're an artist reading this, there's no reason you shouldn't be copping our free video courses HERE in order to get on our radar so that perhaps we could mentor you along the way.
There's absolutely no ego and being on both sides of the table: master and/or apprentice.
#3 If It Ain't Broke, Don't Fix It
"We found out that we were doing it really works and that's all we needed… it's like, okay the Slim Shady LP they like that… now that they know what works wait 'til they hear this… and we started working on my 2nd solo album 2001…"

Dr. Dre and Jimmy Iovine Interview
There are many versions of the expression "if it ain't broke don't fix it" such as "don't reinvent the wheel".
Dr. Dre is showing artists how to get of their own way when learning how to make a rap album by using their prior successful work to guide them on their new project.
This isn't to say don't challenge the audience with new ideas:
Clearly Dre's other proteges such as Kendrick Lamar are known for constantly re-inventing themselves every album…
However, looking for what they call "proof of concept" in business is often a great way to know that the future project is on the right track.
In the case of The Chronic 2001, extensive use of humorous skits, dark ominous beats, and the conversational "IDGAF" of The Slim Shady LP were later echoed in The Chronic album.
Dre is telling us that by using The Slim Shady LP as a proof of concept, they knew they could successfully translate some of those themes into a new project.
You don't want to go into an album shooting blindly from the hip as they say.
Overall, the emphasis of inspiration through collaboration, building on what works, and not being thirsty for only hits should be through-lines as artists decide how to make a rap album.
Not being afraid to let other people in the studio guide some of the main aspects of the project is crucial, and who knows…
If artists follow these steps… maybe we'll actually get something CLOSE to a Detox level project…
Even if Detox never actually comes out!
---
COMMENT: What is the BEST track on The Chronic 2001 in your eyes?