50 Cent Teaches Rap Songwriting In 3 Simple Steps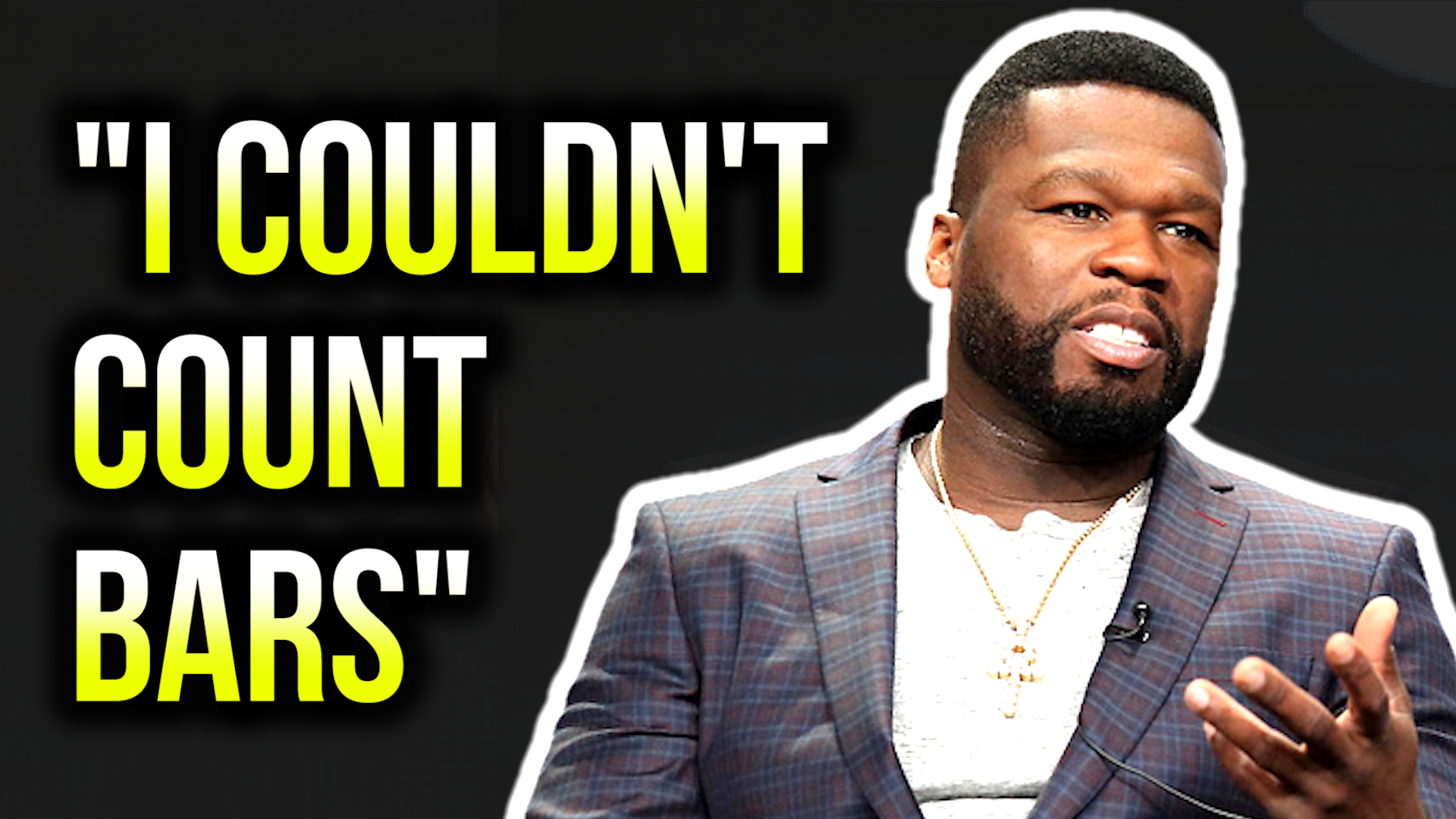 "I didn't actually know how to count bars when I met Jay. I would write a verse and it would be 12 bars, sometimes 14, sometimes 18… everything but 16 bars you know… he kind of trained me to write the chorus, and he was like… he'd write make the chorus to the record 3-4 times before I started. And this is why sometimes I have habits based on that. Sometimes I'll put more than one melody on the actual record. So for example, on P.I.M.P., I'll say, "I'm a P.I.M.P… and then there's a part in the record where I'll say, I'm 'bout my money you'll see… " So, there's a bridge area on the record and I learned how to do that under Jay's tutelage"

50 Cent Interview
In this clip, 50 Cent has subtly provided us with provided us with a little-known and often unmentioned diamond of a gem in the process of rap songwriting:
#1 Melodies Make The Music
While rap as an art-form is certainly not only tied to melody as its defining characteristic…
The generation-defining influence of 50 Cent's melodic hooks and infectious bridges on Hip-Hop is undeniable.
In a minute, we'll see 50 break down further exactly how he used his Southside Jamaica Queens swagger to first grab the attention of his future mentor, Run D.M.C.'s Jam Master Jay…
But for step #1, it's crucial to understand that:
Outside of his well-known marketing skills, business acumen, and larger than life persona…
50 Cent's melodic chorus writing ability is one of the main things helped set him apart from other artists in the early early 2000's.
Many artists had all the street credibility in the world, big artist co-signs, and so on…
But none of the rap songwriting and chorus constructing capabilities that 50 did to appeal to a mass audience.
In fact, the current "hook writer in chief" of this generation Drake (someone who could not be further away from 50 Cent in other ways), admitted that 50 Cent had a direct influence on his chorus-writing sensibilities when he was coming up.
So how exactly did 50 go about teaching himself rap songwriting and chorus techniques?
Let's run back the clip as we delve into step #2.
#2 Choruses Don't Have To Be One Shot, One Kill
"He kind of trained me to write the chorus, and he was like… he'd write make the chorus to the record 3-4 times before I started. And this is why sometimes I have habits based on that. Sometimes I'll put more than one melody on the actual record."

50 Cent Interview
50 here describes three crucial rap songwriting secrets that we'll break down step by step:
Develop The Habit of Writing Many Choruses
Be Able To Write The Chorus Before The Verse
Put More Than One Melody On The Record
First, let's talk about the habits needed for multiplatinum level rap songwriting.
Develop The Habit of Writing Many Choruses
One of the main ways 50 Cent went from underground to mainstream and caught the attention of Eminem and Dr. Dre was by his prolific production of high quality mixtapes.
50 Cent was notable for having reinvented the public's conception of what a mixtape could be.
Instead of simply rapping over random beats or just having his crew on a bunch of unsorted tracks…
50 would take a famous beat that was "trending" at the time as we would say now…
And write a completely new chorus and song concept on top of it.
By doing this, often 50 would not only catch the public's attention by using a popular beat at the time and show he could rock on your favorite artist's music…
…He more importantly demonstrated that he could make a CATCHIER SONG than the original artist who paid for the instrumental… and he gave it to us, for FREE.
Therefore, really what this came and comes down to is having a habit of writing many choruses on any form of track thrown at you.
If you'd like to learn how to do that yourself, we have a free video course called the Top 20 Songwriting Secrets of Professional Rappers which will show you six-figure rap songwriting secrets for free, which you can pick up by clicking here.
Be Able To Write The Chorus Before The Verse
Secondly, 50 explains that although he could "spit bars" and rap and rap and rap, he needed a multiplatinum rap legend like Jam Master Jay To explain to him that the CHORUS is the keystone, the bedrock, the foundation of the track for many listeners.
50 isn't saying necessarily that you always have to write the chorus FIRST – he's saying you should be able to.
In fact, if you look at modern rap from the 2010's and 2020's, the frequency with which the chorus STARTS the song is much higher than in the 1980's and 1990's.
I would put to you that this has a lot to do with the influence of smash hits like "In Da Club", "Wanksta", and "Many Men" by 50, all of which start with the chorus.
Put More Than One Melody On The Record
This is probably the biggest hack to 50 Cent songwriting of all.
Prior to 50, with a few notable exceptions like Nelly and his arch nemesis Ja Rule…
Most streets rappers would have one melody if any on their track, often sung by a singer… and rarely would have a bridge.
From very beginning 50 would have bridges, intros, and other melodic sections throughout his track:
Sometimes I'll put more than one melody on the actual record. So for example, on P.I.M.P., I'll say, "I'm a P.I.M.P… and then there's a part in the record where I'll say, I'm 'bout my money you'll see… " So, there's a bridge area on the record and I learned how to do that under Jay's tutelage

50 Cent Interview

This of course isn't just limited to "P.I.M.P." other examples include:
The "My flow my show brought me the dough" bridge of "In Da Club"
The "girl what we do… the things we do" section of "Candy Shop"
The "I just want to chill and twist the lahh" intro melody of "21 Questions"
Utilize your ability to build the habit of rap songwriting through repetition and don't feel like the first chorus you think of has to be the only melody on the track.
#3 Mentors Are A Must
"I decided I was going to write music for a living… 'He told me that his probation officer suggested that he goes into rapping'… 'Then one day in 1996 he had a chance meeting with Run DMC Jam Master Jay in a Manhattan night club.' I kind of hustled my way in to the situation with Jay… I went straight into talking to him like I knew how to do. 'I think it was the way 50 approached him. He just liked the way he said he was gonna be big' and he was like, 'A'ight well stop by and rap"

50 Cent Documentary
Now, we've already covered in step #1 exactly how Jam Master Jay's mentorship would directly effect 50's rap songwriting abilities, however let's be clear here:
Every single major rapper had some form of a mentor during their come-up, and in fact often had #ManyMen voice… many mentors… many, many, many mentors.
It should go without saying that even before Dr. Dre and Eminem, 50 Cent had Jam Master Jay. Before Dr. Dre, Eminem had the Bass Brothers and the Outsiderz, and before Jay-Z and Dame Dash, Kanye West had No I.D. – the list goes on.
In any case, rap songwriting isn't just about what the artist writes on the page. It's also about the creative influences the artist pursues over the course of their development.
If you're an artist watching this and interesting in mentorship from us at Rap Game Now for example, there's no reason why you shouldn't have picked up the free video courses in the video description which will get you directly on our radar.
In fact, doing that is easier than approaching somebody in a Manhattan nightclub like 50 Cent had to do.
If you're just a fan and support of the culture watching this, use this video as a reminder to not only study your favorite rappers but also dive deep into the music and careers of their mentors to help enliven your understanding of your favorite rap artists.
In any case, step #3 is all about understanding how classic rap songwriting is made through the skill of collaboration, not through some self-made myth where you just wake up "born with it" and never have to learn anything from anyone else.
Overall, what both artists and fans alike should take away from this article is the fact that rap songwriting is a process and a journey like anything else.
We see here that even the most hardcore, unquestionably "real" rappers such as 50 Cent start from somewhere… and often that somewhere isn't a perfectly "born with it" ability to construct songs or market their music.
50 Cent didn't even know how to count bars before he met his first mentor Jam Master Jay. Think about that.
Just a few short years later, by following these steps, 50 Cent had used those songwriting habits to not only gain the attention of more powerful mentors in Dr. Dre and Eminem, but to use his own rap songwriting skills he developed to create one of the greatest rap albums of all-time and completely change the face of rap forever. 
---
COMMENT: What do you think is the catchiest 50 Cent chorus of all time?