Jay-Z Says New Rappers Have A "Losers Mentality"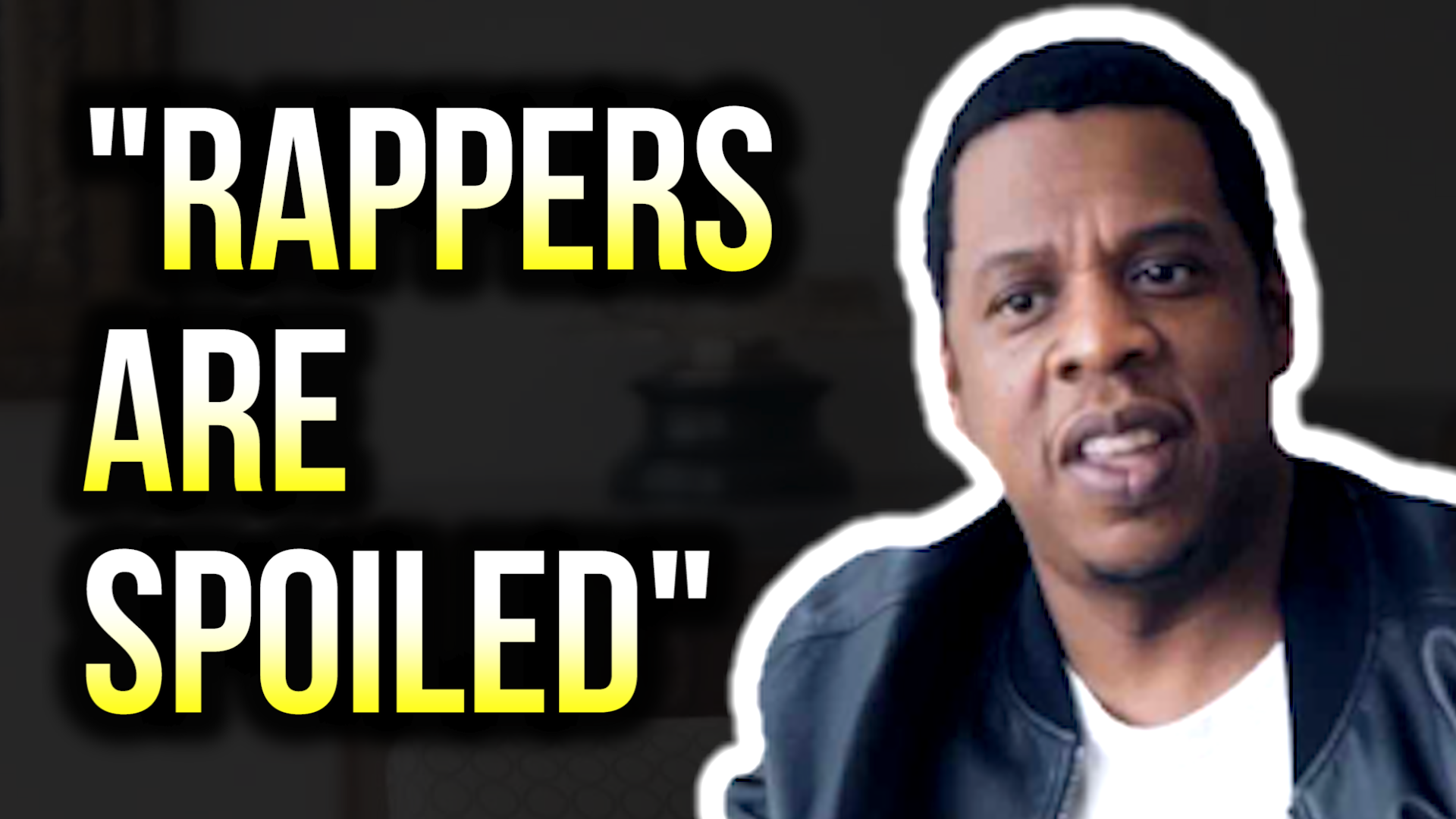 "It's almost like a loser's mentality…everyone is so spoiled. 'he won't let me shine'! I even heard someone say 'Yo, why Jay won't let Kanye..?'

Kanye is Kanye, he's going to do what he does. That's a loser's mentality.
You've got to be able to compete. Steel sharpens steel.

You gotta get out there and earn your spot. It's not given. It's such a spoilt brat, loser's mentality. It's annoying."

Jay-Z on Music Motivation During Breakfast Club Interview
Although this particular clip comes from 2013 and therefore doesn't mention some of Kanye's more recent antics… 
Jay-Z's message n the unfortunate 'loser mentality' of many new rappers extends to this day, and gives us a window into the different between a millionaire and a billionaire music artist's thought process.

Jay-Z has been at the pinnacle of Hip-Hop royalty for decades now, and that kind of power and influence doesn't come without a shift of mentality from being a "new rapper" to a living legend. 
For new creatives interested in that beginner to billionaire mental level-up, let's hear Jay-Z describe step #1 to a winner's mentality in music motivation…
#1 Take Responsibility For Your Development
"The goal is not to be successful and famous. That's not the goal. 

The goal is if you have a specific God-given ability it's to live your life out through that want… 

And (secondly), we have a responsibility to push the conversation forward until we're all equal"

Jay-Z On Music Motivation During New York Times Interview
Jigga here is giving us a different method of describing music motivation…
Most new rappers fall for music marketing tricks where the belief is all you need to get on a Spotify playlist, get somebody to "let you shine" and Jay talked about in the first clip, etc. and supposedly you'll be fine. 
Hov's message in step #1 is something different… rather than chasing fame, clout, status, or any version of attention seeking… new rappers should focus on how genuinely their art is pushing the cultural conversation forward and honing their God-given ability. 
Jay-Z should know something about this himself as someone who both wrote raps every single day in his own words, but also had to dive deep in his personal music motivation in order to have the inspiration to keep going, even when he wanted to give up: 
"It was more of a hobby… and it was such a gift to me, like it was a gift… It wasn't really hard for me to create raps. It was hard for me to write rhymes and things like that. I used to write every day. Every single day. In the kitchen, I was banging on the table every day… my Mom was like, "please give us a break back here"… I stopped writing but I kept getting ideas". 

Jay-Z Music Motivation On Almost Giving Up Rap
Therefore, new rappers must both take responsibility to turn writing into a habit like Jay says here, and use that daily writing practice to push the conversation forward in well-organized, memorable songs, not just random raps…
…We dive deep into how to organize your best ideas into a memorable set of bars in our free course, "The Top 20 Songwriting Secrets of Professional Rappers" which you can pick up by clicking HERE…
But what if a rapper is already writing consistently, and runs into a little bit of static with a fellow artist? That's described in step #2…
#2 Turn Beef To Billions
Whether it's genuine beef or simple jealousy, Jay has been the focus of his fair share of feuds over the years, but he's always managed to come out of it stronger.

Here are three ways Jay-Z shows new rappers how to deal with haters and truly dominate in Hip-Hop…

First and foremost, as we've made clear a rapper is someone who writes songs. 
It doesn't matter what other talents the artist might have, if they can't create a catchy memorable formatted song to discuss their experience… they won't make it. They always to use their words, and Jay-Z is a king when it comes to the smart diss.

His feud with Nas might be one of the most famous of the 21st century and it saw the two trading shade on multiple tracks over the years. Jay even names checks him, delivering these blows on the track Takeover, amongst others. 
"I know you miss it, Nas, the (fame!)

But along with celebrity comes 'bout seventy shots to your frame"

…

"Went from Nasty Nas to Esco's trash

Had a spark when you started but now you're just garbage"

Jay-Z "The Takeover" (2001)
If an artist can obliterate their enemies with words, they become untouchable, and Jay's smart takedowns have kept him at the top of the pile for years. They also keep people talking about him, and that's how he's stayed on our minds.
#3 Don't Just Join The Business, Be The Business
Jay didn't have an easy childhood and he worked his way up from the bottom with hard work and determination. He collaborated with lots of artists before he ever had his own single, learning from mentors like Jaz-O and building a base with strong foundations. He celebrated the hustle and opened doors for himself.

Once he had made waves in the Hip Hop scene, he didn't stop there. Whilst a lot of rappers are content with record sales and endorsement deals, Jay wanted more. He didn't just see himself as an artist, he saw himself as a major brand.

"I'm not a businessman, I'm a business, man"
He went from singles, to albums, to TV appearances. He started his own fashion line, became co-owner of the 40/40 club and became a co-director of Budweiser Select. He started his music company Roc Nation and then branched it out into Roc Nation Sports and can count the Obamas and British Royalty amongst friends.
Jay Z's businesses aren't just money making schemes though, they're things he feels passionate about on a personal level, and that means he's committed on a deeper plane to their success.

"My brands are an extension of me. They're close to me."
These days it doesn't really matter if you like his music or not, literally no-one can deny that Jay-Z is is one of the most savvy minds in rap.

He didn't wait for someone to give him space. He MADE space, and nobody can take that away from him.
#4 Make It A Family Affair
Jay-Z and Beyonce met in the late 90's and since then have become one of the most influential couples alive, not just in music but in society as a whole. They've collaborated many times over the years supporting each other every step of the way, and their 2014 "On The Run" tour was filmed and even earned them an Emmy nomination.

Their daughter Blue Ivy sometimes makes an appearance and has starred in videos, cementing the family as a solid, untouchable unit. Showing this side of him, one of loving husband and father, reminds us all there's more to life than a clever one liner and a catchy beat.

Jay-Z is also very close with his Mom. Together they created the Shawn Carter Foundation, a not for profit "helping individuals facing socio-economic hardships further their education at post secondary institutions". When she bravely came out to him as a lesbian, they recorded a duet on his 4:44 album called Smile, celebrating her bravery and her new freedom!

There is no way to fully know how much of a massive difference this decision has made in an industry so often tied up with homophobic tropes.
"I really cried. That's a real story. I cried because I was so happy for her that she was free."

But family isn't always blood, there's artistic family and business family too. In Roc Nation, he's created a club of artists and collaborators of his own. The music side boasts a roster including Alicia Keys and Rihanna, and the sports side of the business represents all sorts of stars from NFL players and WMBA stars to and up and coming British Soccer players.
Jay also recently established Roc Nation School of Music, Sports & Entertainment, and it's important to him to help inspire the next generation of superstars and future industry leaders. 
If an artist can cultivate a creative family that lift each other up and celebrate each other's successes, their legacy becomes much more than just your own.
Jay-Z's life has, in many ways, become the blueprint for rappers who want to leave a legacy that's more than just music. 
He has shown that following your passions and forging your own path can lead to greater success than you could even imagine and is now so influential, no whiny wannabe or snarky rhyming couplet is really going to hurt him that much.

When you're as powerful a figure as Shawn Carter, and as influential a brand as Jay-Z, not only can the doubters not touch you, the rest of the world can see it too.
COMMENT: What is Jay-Z's most shrewd business move ever?