How To Rap Like NBA Youngboy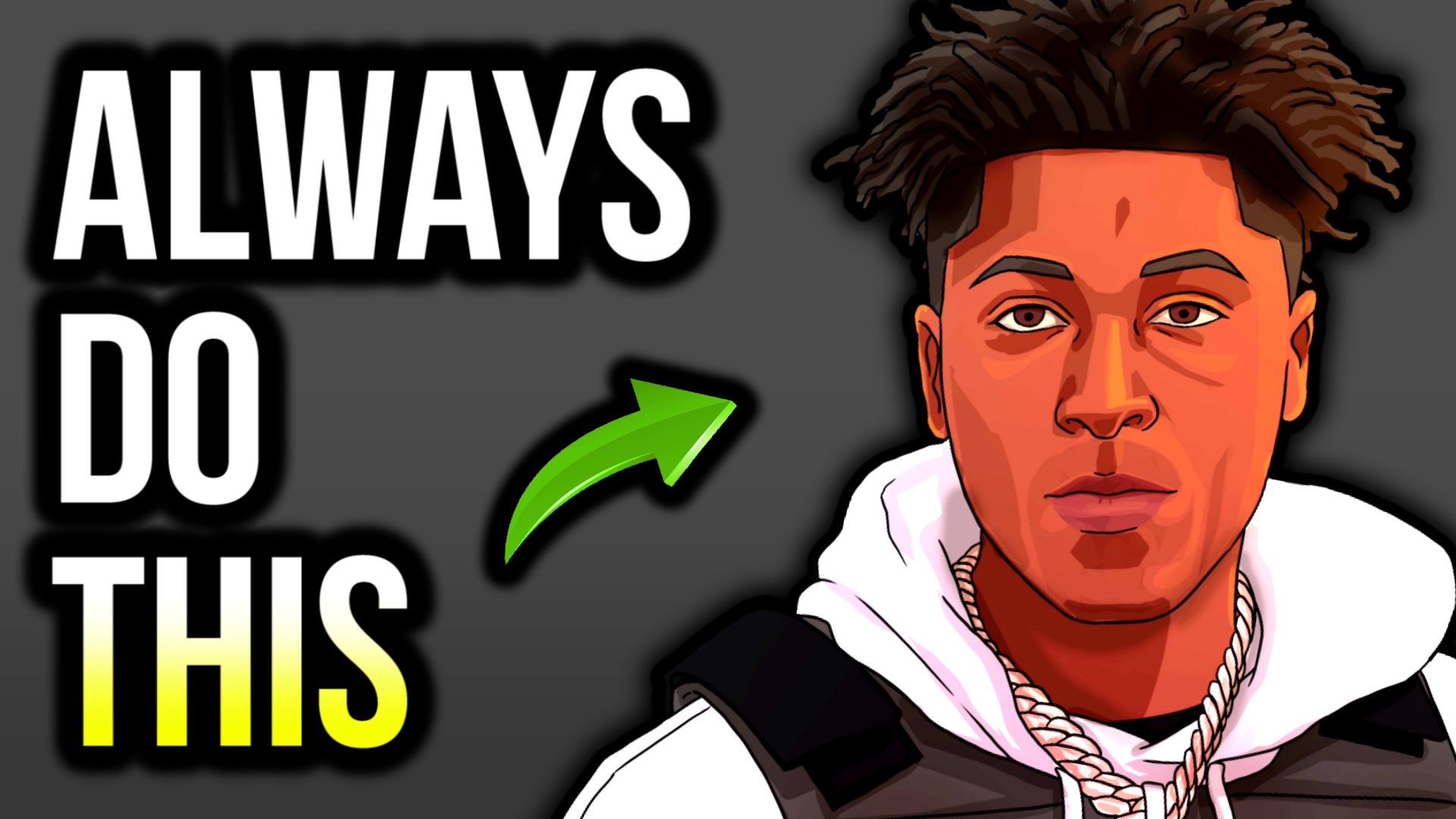 Before you jump to conclusions and start assuming that the biggest music acts on YouTube are the Taylor Swifts and the Drakes of the world, take a pause. Just entering into his 20s, Baton Rouge's own, YoungBoy Never Broke Again, is reigning supreme.
It is hard to keep up with his vigorous routine releases. NBA Youngboy already has a dozen official music videos on YouTube that have crossed the 100 million views mark, with his track "Genie" granting him his wishes at over a quarter million plays.
What can we all learn from NBA Youngboy to step our game up and get some golden glow on our next songs? To know how to rap like NBA Youngboy, you are going to have to pay close attention to his melody, flow, and voice.
NOTE: Before we begin to teach you how to rap like NBA Youngboy, be sure you're subscribed our YouTube channel "How To Rap" WITH notifications by clicking HERE because we drop weekly videos on how to rap like the most lit rappers of today.
"Slime Belief" (2018)
From his 12-song Realer project, "Slime Belief" is the most popular track, holding his own. Melody mostly takes the backseat during the verse and is mainly reserved for the chorus:
"Can you make it better? Trap out like Griselda
Post up with Berettas, hustlin' through the night, yeah."
He approaches the hook with that drunken jingle style that fits in with every big spender who left the bar for the dance floor 30 minutes before the club closes.
This is a great way to move from the sober intensity of the verses to give that strength a break with the easygoing whimsical vibe of the chorus.
This is definitely a faster flow for Never Broke Again, smashing multiple syllables together like boxing gloves attacking a punching bag.
He sounds like he is proving himself to his haters, his doubters, his enemies, and even to himself. His energetic flow provides an adrenaline rush straight to the brain.
NBA's voice is used to overlap each previous bar with the present tense bar. This appears to be achieved by NBA Youngboy punching in his lines on the mic, recording bars separately to bum rush over each last line.
It almost sounds like a whole posse of NBA YoungBoys rapping his verses. But it's all him.
Another braggadocios anthem that that builds off of his combination of a hardcore flow, small doses of melody, and drilling lyrics through the beat with a voice that feels like it means each and every statement.
"No Smoke" (2018)
Straight off of his AI YoungBoy mixtape, YoungBoy Never Broke Again brings his threats live and direct with a saucy melody over a beat that sounds like you are about to hear a relationship song about love turning to hate. Instead he warns all adversaries.
This the type of song that feels like the type of energy that has led to his real life legal issues.
You hear the music of a young, hungry rapper who it is very easy to believe that he really began rapping at age 7 and was inspired by his own mother who he has said used to rap.
The sing-songy flow on "No Smoke" makes even more sense when you hear what he told Billboard magazine about his musical desires:
"I got the rapping down…I feel like if I knew how to sing, you couldn't stop me, for real."
The verses are wordy, but they are swimming through the sound waves with a flow the sounds like an untrained blues singer letting you know about all the current woes in his life.
He speeds up the first few words of the bar, takes a slight pause, and then unloads the rest of his clip.
The rap flow he uses sounds like a car speeding all the way up to a stop sign, pausing for a split second, then revving the energy right back up again. It gives you the ability to rock back and forth to his words.
His voice sounds like an old soul in a young boy's body on this one. He punctuates the words with the force of a hammer, driving them into the walls of your brain for extra emphasis.
This is a been-there-done-that joint. He clearly is letting you know what he is prepared for and experienced in, and it won't end peacefully.
"Outside Today" (2018)
"Outside Today" peaked at number 31 on the Billboard Hot 100 and went on to be YoungBoy Never Broke Again's second highest-charting song, after "Bandit", which featured Juice WRLD. But this one is all YoungBoy going solo.
His melodic swagger isn't overdone. It manages to make the song sound like when you are singing in the shower, getting stress off of your chest, not afraid of who can hear you. This is a song where he isn't shy at all with his adlibs.
There are moments where he doubles up on entire bars. Then there are sometimes where he feels compelled to just throw in some singing interpretations of his lyrics.
He even adds an occasional sound effect of gun shots or tires screeching to an immediate halt.
These vocal flourishes create a cinematic adventure out of "Outside Today," making it into a mini movie, speeding across your ear drugs energetically.
NBA's voice also has a strong sense of desperation, and just a slight amount of vulnerability. "Outside Today" is his moment where he is not 100% that his actions are going to have a successful outcome for him with lines like:
"Tryna hide from the camera, I ain't goin' outside today
Couldn't find Hi-Tec, so I'm drinkin' on Act' today
I'ma pull up in style, we gon' do a drive by in the Wraith
I'ma take it to trial, pray to Lord I beat the case, yeah."
He sounds almost out of breath, in panic mode, like he has a million deadly concerns on his mind that are all trying to take him to the grave. If you have ever seen the scene in the mafia movie Goodfellas when gangster Henry Hill is running around rapidly, sky high on cocaine, trying to tie up all the lose ends in his life, then you know the mood on "Outside Today".

"Genie" (2018)
YoungBoy Never Broke Again approaches this song as one of his more heartfelt emotional offerings from the very beginning. He clearly states on the intro:
"This a pain song but I'm letting everything go
I promise when, I speak specifically about anything
'Cause that's my way of showing I don't care no more
I'ma just go with my life
Until death call my name."
His soothing melody sounds like he is searching for peace, with his most R&B flair. Gone is the rugged, bitter anger, and aggression of many of his big hits. This has a fluid flow, dreaming for love, loyalty, and a life without handcuffs and sirens.
His flow captures male and females with "Genie." Who can't relate for the desire of trust and truth in our friendships and relationships?
YoungBoy manages to use his voice with a gentle touch without sounding too soft that he has become a completely different artist, like Lil' Wayne meets Anderson Paak is how he sounds on "Genie."
"Make No Sense" (2019)
Even with a completely aggressive song about hustling, YoungBoy applies a melodic delivery that squeezes between the kick and snare drum claps effortlessly.
This one hits on the harder side of his style spectrum. He is not trying to seduce the ladies this time. This is all about giving go-getters something to hum along to.
The way that he sways his flow in unison with the calm piano riff coupled with the songs upward tempo gives "Make No Sense" light and dark elements that balance each other out.
He brags about being Baton Rouge's 'Gucci Mane in 2006' with total sincerity. The chorus stutters up and down the track, giving it a boost of energy that differs from the smoothness of the verses.
NBA YoungBoy asserts his voice forcefully without yelling and screaming, especially after the second hook when the drums stutter.
His adlibs are more subtle. By mostly sticking to his lead vocal track it gives this catchy hardcore track have more of a raw edge.
With over 119 million Spotify plays and counting, "Make No Sense" and its quick and easy running time if under 2 and a half minutes is ready to roll over and over on repeat.
"The whole 38 Baby, the only song that was written on that mixtape was "38 Baby." Every other song from there was freestyled. I'd go in the booth, do four bars, listen to it, aight bet, punch in, let me do this. I'd do another four bars or eight bars and ask Montana or Fee, "You like that shit?" Take it out, do it over, keep going until I get that sh*t done." (XXL, 2017)
Now you have a better understanding of the mechanics inside the melody, flow, and voice performance that go into knowing how to rap like NBA Youngboy.
---
---
COMMENT: What's your favorite NBA Youngboy song?