How The Kid Laroi Writes Melodies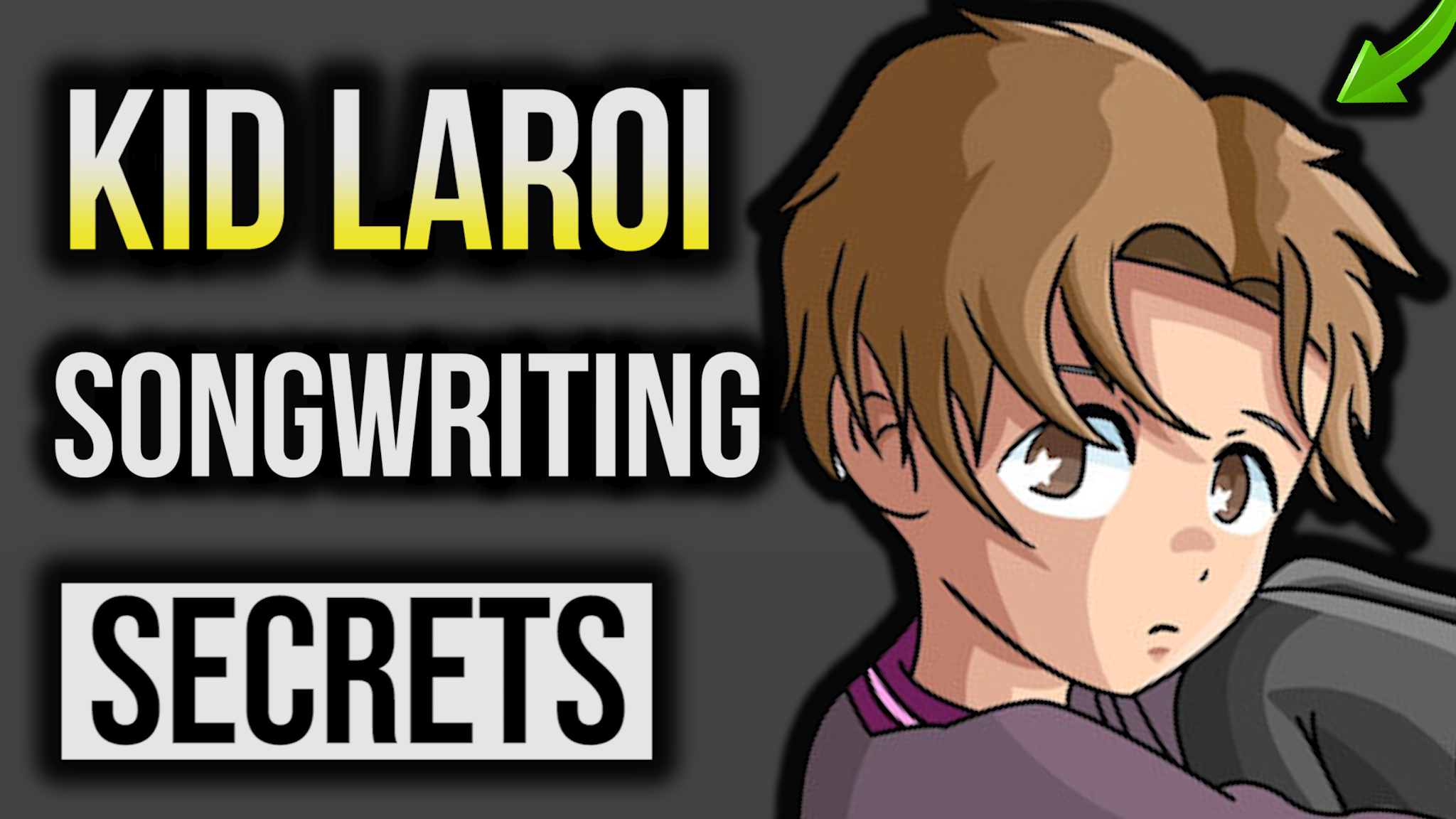 In today's article we're going to explain 5 secrets to how The Kid Laroi creates song and writes melodies.
Australian artist The Kid Laroi has been on a meteoric rise to fame, culminating in his recent Billboard #1 collaboration with none other Justin Bieber, "Stay".
As we'll demonstrate in this video, his strategic use of falsetto, his calculated octave control, and much more has lead him to become a notable voice in many recent charting songs.
Additionally, The Kid Laroi has benefited from creative influence from someone who was and is essentially melodic Hip-Hop royalty at this point – the late great Juice Wrld.
With this in mind, we'll be demonstrating to you in an easy-to-follow fashion exactly how the Kid Laroi writes melodies with songwriting secrets and examples from some of his biggest tracks.
So, if you're an artist wishing to learn how to write melodies like The Kid Laroi or if you're just a fan of his music, this is the video for you.
<<YouTube Training Coming Soon>>
#5 The Influence of Juice Wrld
We would be remiss to not start this article without discussing the undeniable influence the late great artist Juice Wrld had on The Kid Laroi's development not only in coming to visible prominence in the industry…
…But also in the actual melodic decisions The Kid Laroi makes throughout his songs.
In 2019, The Kid Laroi signed with Juice Wrld collaborators Lil Bibby and G-Money's Grade A Productions thus solidifying the professional and personal creative partnership with Juice.
After this in addition to being mentored by Juice Wrld and joining him on his Death Race For Love Tour, Laroi and Juice collaborated on many tracks both when Juice Wrld was alive and passed.
Now one key element that Juice Wrld introduced into mainstream 2010's rap was the use of fast, commonly-tempoed "rap bars" with rock style melodies.
In other words, rapping at the same tempo most rappers would with many words flying fast into your ears at a short period of time…
…But instead of just sayin the words, adding some varying notes to it.
The Kid Laroi has taken up the mantle for this style of rap quite a bit exemplified in songs going back to one of his first notable tracks, "Let Her Go".
Additionally, by changing octaves quickly in a short period of time the way Juice Wrld did on many songs, The Kid Laroi keeps each 2-4 bar scheme of "rap singing" so to speak very entertaining for the ear.
An octave is the distance between one musical pitch and another with double its frequency.
In other words, you can sing the same note "low", "medium", and "high" and they will show up as the same note on a sound wave chart because the musical frequency as far as vibration rate is the same.
We explain this in further detail in our free How To Rap Dictionary which discusses the top 100 keywords every rapper must now to start a career, which you can get by clicking HERE…
But the main point is The Kid Laroi really learned how to write a melody in a catchy and effect way in part due to his collaborations with Juice.
That interaction between low and high notes throughout a song is one of the key elements of both Juice Wrld's and Kid Laroi's music.
#4 Use of High and Low Octaves
With that in mind, one of the essentially hacks to learn The Kid Laroi writes melodies is understanding why and where he places low melodies – meaning deep melodies – and high melodies… meaning choosing to rap or sing higher notes.
Re-listen to the low voice tone with which Laroi says, "hold up, baby pour up" in "Not Sober" versus his usage of higher notes immediately after in "mix the Hennessy with the cola" in the same series of lines.
That Hennessy line in particular reminds of us another high and low octave notable artist in Roddy Ricch, who uses that effect for maximum impact on tracks like the #1 smash "The Box".
In any case, by using the melodic contrast of a series of low notes next to a series of high ones, Kid Laroi increases the catchiness of each line within itself.
Often the way this is achieved is by an artist like Laroi recording only 2 bars at a time before telling the engineer to "stop" so he can re-listen to the music and think of another line.
Rappers such as Lil' Wayne, Kanye West, and Big Sean are on record as using this technique as well to think of raps line-by-line to help them morph along with which unique change in the beat.
Kid Laroi himself has been using the line-by-line changes in flow and melody going back to his early tracks like "Addison Rae" and "Let Her Go", so it's safe bet to assume he uses creative songwriting techniques to strategically increase the catchiness of his tunes.
#3 Strategic Use of Falsetto
Demonstrating thoughtful tactics to increase catchiness extends in Kid Laroi's music down to his #3 secret: strategic use of falsetto.
Falsetto is a voice register that an individual can use to sing higher pitches than they usually do.
In it, the singer's vocal cords are used to vibrate more quickly than the typical rate. Now while, the term falsetto can be used for either men or women as all voices have the capacity to produce it…
…The easiest way to think of falsetto is when you were kids and a boy would try to impersonate a girl.
In the case of how The Kid Laroi uses falsetto write melodies, go back and listen to the word "same" in the chorus of "Stay" with Justin Bieber.
You'll notice a distinct change in the "tone and color" of Kid Laroi's voice there that sounds again like he a 5-year old doing a girl's voice JUST for that word… and that is him doing that word in falsetto.
Just to lock this in for you, The Kid Laroi uses a similar effect on the song "Without you" on the word "you".
By using falsetto on specific words, The Kid Laroi can make an otherwise straightforward phrase such as "without you" turn into an infectiously catching line.
Now, falsetto is one of a ton of extremely common techniques used by professional rappers and songwriters. We talk extensively about all of them in our free video course "The Top 20 Songwriting Secrets of Professional Rappers and Songwriters" which you can pick up totally for free by clicking HERE.
But now that you know what falsetto is, you can notice when not only The Kid Laroi but many other major artist employ it as a tactic to take regular lyrics and make them exciting for the listener.
#2 Utilizing "Melodic O's"
Taking regular lyrics and giving them new life is also exemplified by The Kid Laroi's usage of what we call "The Melodic O's" here at how to rap.
This is where the actual words being sung are just like, "oh oh", or "nah nah" such as the iconic ending of The Beatles' "Hey Jude"…
Or in Kid Laroi's case, the section right after "…if you can't be right here" in "Stay" where he melodically sings out the simple words, "oooh uhh oh oh".
Ironically, Kid Laroi's collaborator Justin Bieber does a similar tactic on his DJ Khaled song "No Brainer" which may have influenced how the Kid Laroi wrote some melodies on "Stay".
Kid Laroi uses a similar tactic on "Without You" as well, however this step is fairly self explanatory since it is one of the most common tactic through the history of pop music.
In your case, this can also be an excellent way to help cure "writer's block" as a songwriter and rapper if you have had hit a difficult spot in writing.
Ask yourself if there's a way to add some "melodic o's" for a couple bars in order to fill in the gap while also making the track more catchy.
Additionally, the usage of the stretched out melodic notes in that portion can come as an enjoyable change in the tempo of your words, or "flow", when compared to some of the rapping you'll likely be doing…
#1 Extension of Notes During The Beat Drop
Which brings us to our final secret on how the Kid Laroi writes melodies:
He often extension a long note or two when the beat "drops".
A beat drop is the release of the tension built up by an introductory section in the instrumental meant to build up energy in the song.
This relationship between tension and release is one of the key aspects of songwriting that ranges from how verses and choruses are constructed down to things like which notes to place and when.
In the case of Kid Laroi, listen to what the melody in "take you oooouuutt" in "Addison Rae" does for the rest of the song. It occurs right when the "beat drops" and brings up the energy of the overall song.
He does a similar tactic on "Diva" with Lil' Tecca and those examples help to widen the overall scope of the hooks of the songs.
Much like looking for the opportunity to create "melodic O's" or strategically use falsetto can help to resurrect an otherwise normal lyric into something unforgettable, extending some notes when you hear the beat drop can vastly increase the chances an audience will find your song catchy and not just… regular.
How The Kid Laroi Writes Melodies Conclusion
The key elements you should learn from this article are the importance of finding opportunities to make common lyrics into catchy lyrics.
You can do that through tactics like extending notes, using falsetto, or adding some melody to sounds…
…And you can study important melodic influences such as Juice Wrld to understand The Kid Laroi's work better.
In the comments we'd love to see what you personally believe is the catchiest Kid Laroi song.
---
---
COMMENT: What do you believe is the catchiest Kid Laroi song?