How Rappers Got Their Names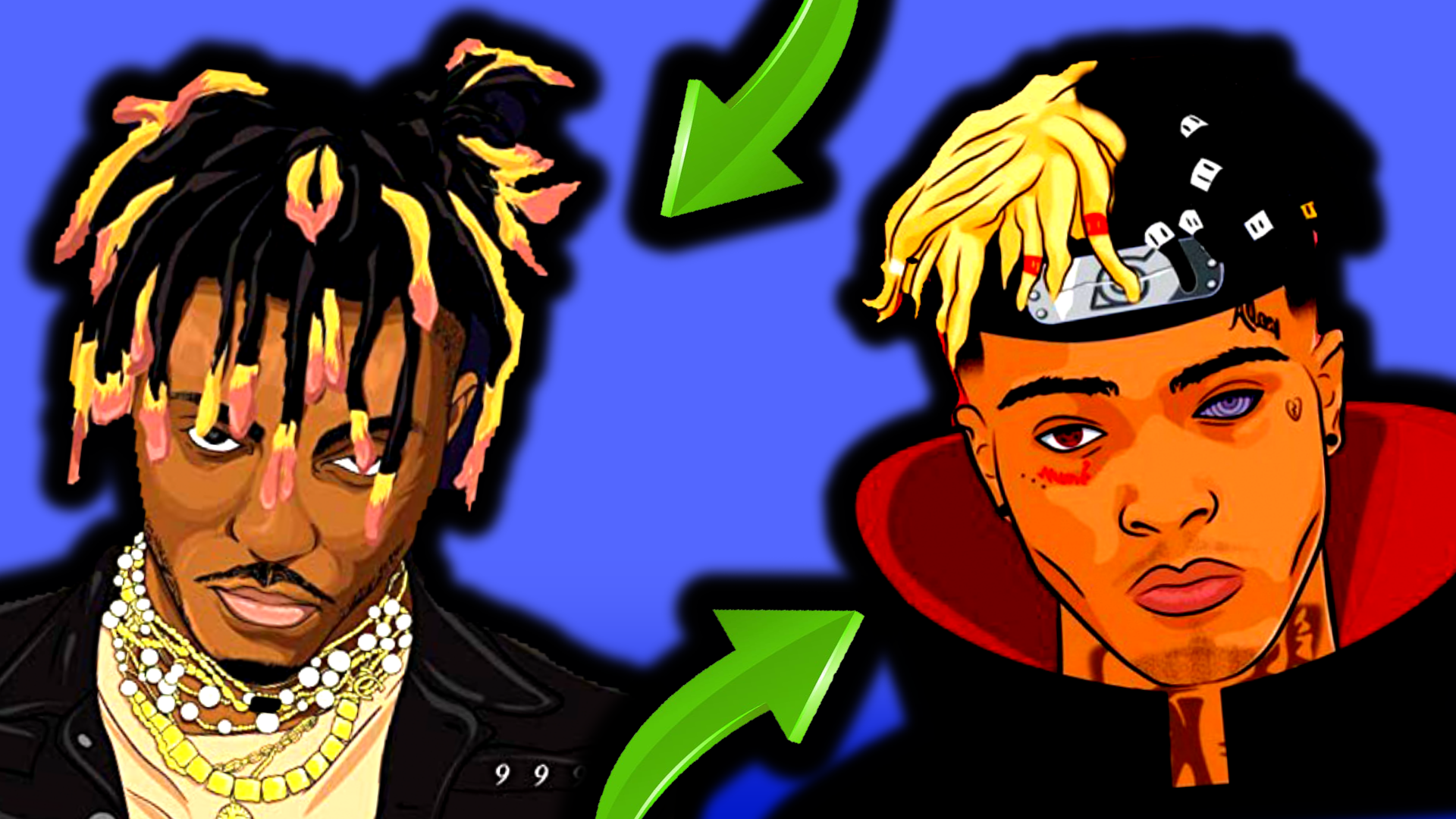 Co-written with Jason Cuthbert
Just how important is a rapper's rap name to their overall image?
This stage title follows every song that they put out, every music video they flex in, and every single concert they sell tickets for.
Some rap names have a deeply personal meaning to the performer, while some are just nicknames that happened to stick.
One thing is for sure, whether their hip hop moniker is simple or complex, every rapper has a story of how they wound up being called that name that they autograph for their audience.
Mainstream major league rappers like XXXTentacion, Juice Wrld, Tekashi 6ix9ine, DaBaby, Megan Thee Stallion, Lil Uzi Vert, and Future are no different when it comes to rap name origin stories.
Find out how these seven celebrities got their alter egos established.
7. XXXTentacion
The controversial Florida rapper XXXTentacion, who was tragically shot to death in 2018, was born with a radically different name… Jahseh Dwayne Ricardo Onfroy.
From SoundCloud to multi-Platinum smashes like "Sad!," "Moonlight," Jocelyn Flores," and "Look at Me!," XXXTentacion rocked the mic with a name that wasn't always easy to pronounce.
With the pornographic association to the triple X's in his name, XXXTentacion is a title that makes you pay attention as soon as you see it written out.
But what is the story behind XXXTentacion's name?
While discussing the subject with Miami's 103.5 The Beat, XXXTentacion explained that 'X' represents the unknown and 'tentacion' means 'temptation' in Spanish.
Put it all together, and XXXTentacion means unknown temptation.
6. Juice Wrld
The second rapper on this list who died way too young at age 21 is Juice Wrld from the South Suburbs of Chicago.
Born Jarad Anthony Higgins, Juice Wrld has three studio albums and 30 singles in his rapid, short-lived career.
When Juice Wrld was being interviewed on Atlanta Georgia's HOT 107.9 radio station, he shared how his name switched from JuiceTheKidd to Juice Wrld:
"Me and the producers I was working with, it was just like, we all agreed that I needed something different. So, I just turned it into that. So, 'Juice,' I had that original name, I had the haircut, and everybody knew that I liked that movie with Pac. So that was what that was about. And the 'Wrld' came from a social media handle, and I couldn't spell it like 'WORLD' because somebody already had it, I guess. The 'World' ain't really have no meaning until, like, I recently found meaning in that part of my name. It just represents, globally, like taking over the world pretty much. Being globally known."

Juice Wrld Interview, HOT 107.9
5. 6ix9ine
Tekashi69, the loud rainbow-haired Latino rapper from Brooklyn, maybe known just as much for his offline antics as his online viral videos for Billboard blockbusters like "Kooda," "Keke," and "Gotti."
6ix9ine stayed in the headlines after legal issues led to his prison sentence that he was able to talk his way out of early.
When Daniel Hernandez chose the name 6ix9ine, it ended up looking just as colorful as the vivid collection of tattoos that illustrate his body.
The "Tekashi" side of his rap handle was inspired by Japanese anime, of which Danny was a big fan.
He has said that the cleverly spelled 6ix9ine section of his rap name is a number that he has been obsessed with for quite some time.
In 2014, one of his very first songs was called "69," which showcased explicit pornographic images.
The "69" sexual position makes that an obvious reason for his provocative rap name, especially when you consider the subject of sex popping up in several of his songs.
But 6ix9ine's Instagram account posted a different definition for the origin of his stage name:
"I never lost sense of where I came from. That's what makes me 69. The true meaning of 69 is just because you're right doesn't mean I'm wrong. You just haven't seen life from my perspective. Turn the 6 upside down; it's 9 but remains the same in a different perspective. Open your mind and heart."

6ix9ine Instagram Account
4. DaBaby
After being born in the Midwest, Cleveland, Ohio, to be exact, Jonathan Lyndale Kirk, better known as the rapper with the larger than life personality DaBaby, moved to his beloved home of Charlotte, North Carolina at age 7.
Known for his zero tolerance for disrespect, his highly entertaining music videos, and big records like "Suge," "Bop," and "Intro," DaBaby had several other names since delving into his music bag.
The year 2005 would prove to be the time he decided to take his rap career all the way serious.
DaBaby's other alias, "Baby Jesus," wouldn't last long.
In fact, after just one mixtape, the name Baby Jesus came to a close, and the rap name DaBaby took flight.
Utilizing the name Baby Jesus caused DaBaby some concern because he didn't want to stir up any unnecessary controversy that would negatively distract from his music.
Being that DaBaby clearly wasn't making any sort of gospel rap, he didn't need the confusion to get in his way.
DaBaby made this clear to Big Boy on Fuse:
"DaBaby works. I'm the youngest of three brothers. Three boys on my momma's side. So, I've been the baby my whole life."

DaBaby, Fuse Interview
3. Megan Thee Stallion
The current Queen of Houston hip hop came into the world with the name Megan Jovon Ruth Pete and now has us all calling her Megan Thee Stallion.
Megan Thee Stallion had a horrible way of winding up in the headlines after being a victim in the shooting that she experienced that has been allegedly connected to Toronto superstar rapper Tory Lanez.
Even before Thee Stallion dropped her debut album Good News on November 20th, 2020, with features from Beyoncé, DaBaby, Big Sean, SZA, Popcaan, 2 Chainz, Lil Durk, Young Thug, and City Girls, Megan Thee Stallion blew up the world of music on Cardi B's 2020 anthem "WAP."
With a highly descriptive name like Megan Thee Stallion, how did she get this rap name?
Her moniker 'Stallion' came out of men referring to her by this term.
You see, 'Stallion' is Southern slang for an attractive woman that is of the thick and voluptuous variety.
There is also a flipside to 'Stallion' in that it can also be used to describe someone who has many lovers attached to their lifestyle.
In the dictionary sense, stallions are known to be relentlessly powerful horses that are loaded with endless testosterone.
It's not surprising that Megan would adopt the animal as her artist identity. Megan's music oozes dominance, confidence, and sexuality, which would make her stage name perfectly fitting for her powerhouse style. It could also be related to her attention-grabbing presence, which is accentuated by her impressive height of 5′ 10″.
Megan expressed this when she was talking to The Source magazine:
"Honestly, I call myself Thee Stallion because obviously, I'm tall and fine. So, men are immediately intimidated by the height anyway. I'm 5'10"… Then, when I'm rapping, I come off very strong. I feel like guys don't know how to come at me at first, but they get to know me, then they're like, okay, maybe she's not going to rip my head off."

Megan Thee Stallion, The Source Magazine
2. Lil Uzi Vert
Lil Uzi Vert doesn't rap like a rapper that you would expect to come straight out of Philadelphia, such as Black Thought, Cassidy, or Beanie Sigel.
But he has still shot his way up the charts with a bold barrage of bangers that have made him filthy rich.
While talking to Vibe, Lil Uzi Vert confirmed the roots of his rap name:
"I was rapping one day, and some guy was like, 'Man, you rap fast, man—like a machine gun, like a little Uzi or something."
The makes perfect sense, but what about the Vert part?
Vert doesn't anything like his real name, Symere Bysil Woods.
Lil Uzi Vert told E!:
"Vert,' actually came first. 'It was, like, vertical—like, straight up
1. Future
Who exactly is responsible for coining the name 'Future' for the legendary Atlanta rapper whose birth name is Nayvadius DeMun Wilburn?
While being interviewed on the NPR show Microphone Check, Future talked about getting this name bestowed to him at only 17-years-old.
"G-Rock. G-Rock from the Westside, from Allen Temple. He gave my name, The Future; he was like, "Man, you the future. "Man, you the future." Just stuck with the name… He gave it to me cause I was young, and everyone in The Dungeon was probably 28… At that time, everybody was 28 or older; you know what I'm saying? I was the youngest one in The Dungeon. They was like, "You the future of The Dungeon." And here like what — five, ten years later? Man, it is what it is."

Future, NPR Interview
Now that you know how XXXTentacion, Juice Wrld, 6ix9ine, DaBaby, Megan Thee Stallion, Lil Uzi Vert, and Future got those names, you have some insight on how stage names can evolve from a sudden idea to a permanent title.
Do you have an interesting backstory behind your own rap name?
---
---
COMMENT: Do you have an interesting backstory behind your own rap name?