Big Sean Teaches How To Stay Motivated As A Rapper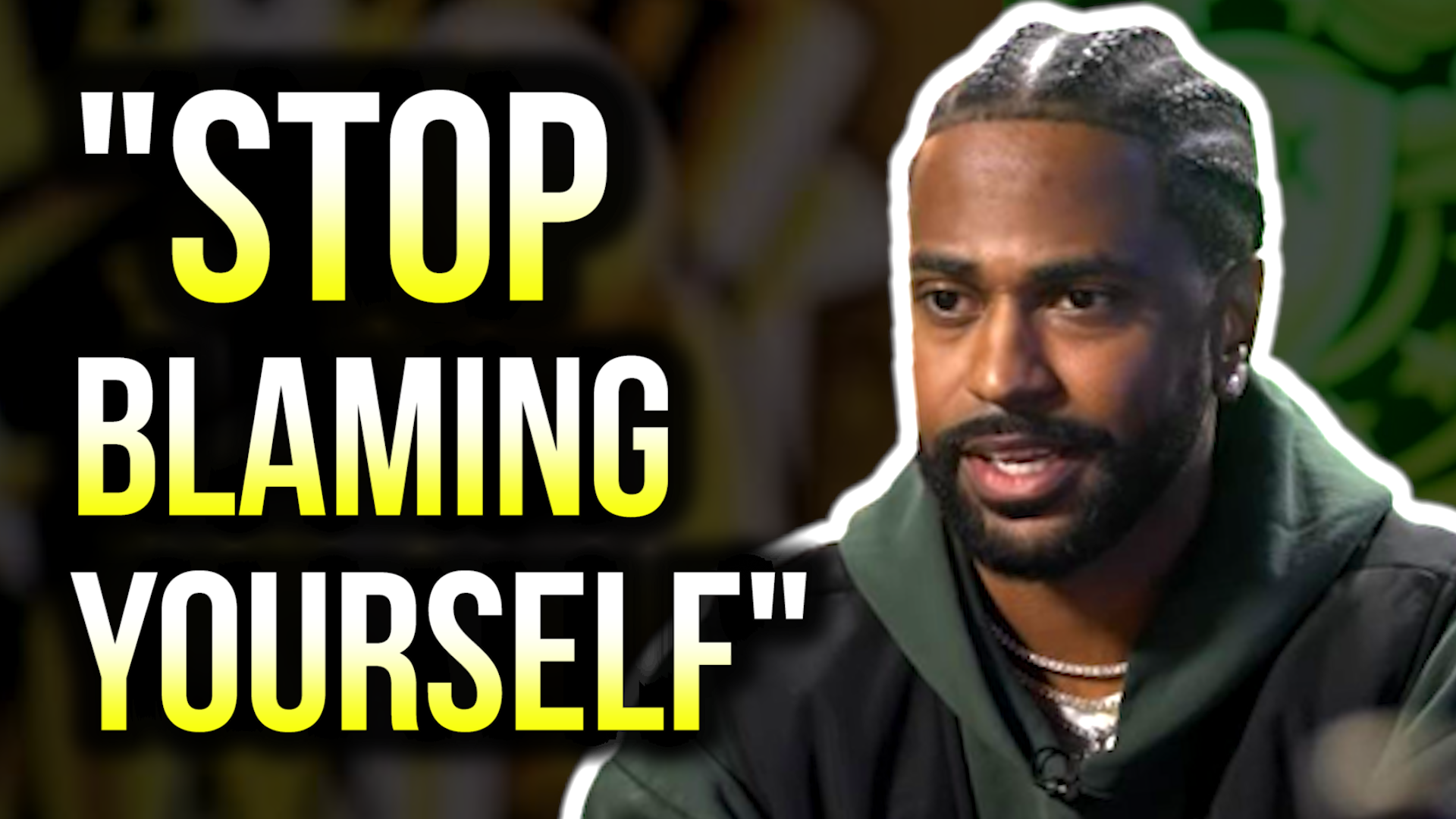 "You're blocking yourself, and you've got to realize that. Stop blocking yourself. It doesn't matter if you don't have money, don't say you don't have money! Be like "I've got money. Money's coming in right now. It feels good to be rich!"
If you keep that mentality and you really believe it – but you have to believe it because you just have to – you will be whatever you want to be, and it's never too late to be who you want to be."

Big Sean Interview
In this clip, we hear Big Sean describe how to stay motivated as a rapper by remembering arguably the main thing defines rappers: the power of their words.
That ability to speak truth into existence is one of the keys to Big Sean's success as we'll hear him describe in a minute, but let's first listen to him talk about one of the darkest moments of his life where he would first test his own ability to stay motivated as a rapper, helping to remind of this quote:
#1 It's Often Darkest Before The Dawn
"Music didn't work out at first. It didn't work out for me.

That was a first time in my life where I hit a very big depression. I hit a very big wall of anxiety. And this is a very pivotal moment in my life where it didn't even feel like living, and not to be dramatic, but I was 18 years old…

And that's a pivotal moment, coming out of high school and all my friends went to college I didn't go, I ended up meeting Kanye West right before and this is my idol…

And I feel like I manifested that."

Big Sean Interview
Big Sean wasn't your stereotypical street rapper who engaged in a lot of illegal activities prior to fame.
In order to manifest his own success, in fact, he had to go against the normal grain set out for his middle class life of going to college like his family and had to actually believe that an academically thoughtful kid could make it in the rap game.
Although many people might see growing up in an academic family as an advantage, Big Sean had some of his darkest moments in his life realizing that he believed in his own music so much he was willing to give up college for the chance at becoming a rapper.
In this quote, we see Big Sean recounting how his darkest moment came RIGHT before he met Kanye West, and his ability to translate his own visions into reality helped him to stay motivated as a rapper.

#2 Visualize The Details
"This is my mini grand piano…I'm taking lessons. The older I get I see how connected everything really is musically, so I wanted to just expand on that."

Big Sean Architectural Digest Tour
Sean's skills at visualization have come so fine tuned over the years that he used to in his words manifest even his own dream house.
Here we see a famously spiritual Big Sean giving a tour around his home with industry leading design publication Architectural Digest, discussing how Feng Shui is a big part of his home life.
Big Sean has visualized the detail of his home down to the fact that copper rings are dotted around the interior to help the energy.
The classic saying "tidy house tidy mind" is obviously important to Sean, and that desire for clarity feeds into his work ethic and professional career.
For all of the artists out there reading, have you visualized your success down to the point that you know EXACTLY what your dream home will look like?
Even further, do you treat your CURRENT studio and workspace with the same respect you will treat your FUTURE baller mansion?
Big Sean shows respect for his space partially because he's always visualized the details.
He's a germaphobe, doesn't let people wear shoes in his house, he meditates, and visualizes what the future holds, which allows him to see a clear path forward, something to aim towards.
A clean, clear space acts as a blank canvas for him to focus his creativity on.

#3 A Focused Mind Leads To Focused Music
"I wasn't lying in my song when I said I meditate… I really be meditating… I gotta get my mind right before I get in the booth.

When I meditate I usually go somewhere super quiet by myself. First I close my eyes, I get real centered. When my mind's racing I try to slow it down as much as I can. I try to concentrate on my breathing."

Big Sean On Meditation
Big Sean's connection to spirituality and meditation feeds into his art, which feeds into the way he visualizes his future, and that cycle of creativity can be an inspiration to any up and coming rappers who want to make their own unique mark and achieve their artistic dreams.
If you yourself interested in a more organized motivation course in how to stay motivated as a rapper, click HERE to check out our freestyle motivation course that comes as a free bonus to our bestselling training for more info…
But recognize how Big Sean doesn't just "puff the la" to get zoned to rap.
He has a specific regimen for his motivation, in this case meditation, which helps ground him.
Rather than simply letting the fates and muses give whatever rap that day they went to when you go in the studio, consider having a more organized series of steps before getting into the booth.
The truth of the matter is, artists who struggle to stay motivated to rap often haven't risked enough often enough to get to that mastery level.
You have to do what Big Sean has done in his own life, described in this next step:
#4 Take The Chances Life Gives You
As we've already covered, Big Sean's life story is steeped in visualising and believing in himself, making him synonymous with speaking his dreams into existence.
He went to Cass Technical High School in Detroit, Michigan, known for producing big names, and he was the rapping guy in his time at the school.
He would freestyle at the local radio stations and generally make himself known around the city.

During his time at Cass Tech, Kanye West happened to visit Detroit and while he was there for an interview, Big Sean's friends bigged him up to rap for Kanye.
Kanye was a huge star, and most high school age kids would have totally bailed on an opportunity like this, but not Big Sean.

In typical "visualizing the person you want to be" fashion, he used his sense of self belief to his advantage, went to the radio station and basically leapt on this opportunity to rap for Kanye.
A couple of years later, Kanye signed him, and the rest is history.

Since then, Big Sean has worked with many of his heroes, from Eminem to Jay-Z.
Most people only dream of these kinds of collaboration, but he made them a reality by taking every opportunity life gave him and believing he could turn them into something special.
#5 Believe In Yourself and Don't Get In Your Own Way
Self-doubt is the curse of so many people, and it can result in the kind of lost opportunities that can make or break a career.
When Big Sean says "it doesn't matter if you don't have money, don't say you don't have money" he's forcing you to put your excuses aside and be proactive.

Since he didn't come from a family of entertainers, you can see how this mentality has helped him gain success.
Similarly, when he says "it's never too late to be who you want to be," he's reminding you that you always have the power to make positive choices and turn your life around.

If he hadn't had the courage and self-belief to rap for Kanye that day, Big Sean might not have become the huge name he is today, and the only person holding him back would have been himself. This positive, spiritual mind-set has not only resulted in power and money, but creative collaborations that reach around the world.
His spiritual mantra of believing in the kind of life you want and that life will follow, got him to where he is, and he's a living, breathing example of everything he wanted to do.
—
From a simple college bound kid at a Detroit high school to a household name artist worth literally millions, Big Sean has well and truly made his mark.

Through determination, self-belief and a personal spiritual connection to his work and his creativity, he's a firm embodiment not only of success in Hip-Hop, but in the American Dream itself.
Now, if you found this video inspiring check out our playlist on YouTube by clicking HERE where you'll hear rappers such as Kanye West teach how to stay confident as a rapper, 50 Cent teach rap songwriting, Eminem teach how to start rapping, Lil' Wayne teach how to get signed, and much more.